KEF XQ30 - £1,500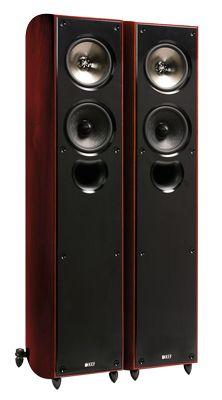 KEF XQ30 - £1,500
This beautifully designed and finished compact floorstander has an advanced Uni-Q mid/treble driver
Although it operates globally as part of the Hong Kong-based Gold Peak Group and takes advantage of competitive Chinese manufacture, the KEF design team still operates out of Maidstone, Kent, using proprietary technologies like the Uni-Q co-axial drive units that have been steadily refined over the decades.
The XQ range sits quite high up an impressively large collection of hi-fi and home cinema speaker systems. The smaller of two floorstanders, this £1,500 XQ30 is an attractive and compact design, based around a recent development of KEF's proprietary Uni-Q driver, alongside cunningly curved cabinetwork. It has a beautiful lacquer finish, over black paint or either birdseye maple or khaya mahogany real wood veneers.
The 130mm Uni-Q driver is a 'coincident' variation on the co-axial theme, using ultra-compact neodymium magnets to place a tiny tweeter in the centre of the bass/mid cone. With the addition of a matching 130mm bass driver in a ported enclosure (for which blocking foam bungs are supplied), the whole thing feels very solid, weighing a substantial 14.8kg. The curved top, base and sides all help increase the stiffness and avoid concentrating and focusing the internal standing waves.
Two pairs of terminals fit directly through the enclosure, and wires links are supplied. Outriggers at the rear improve stability, though the rather blunt cone feet look better suited to hard floors than carpeting.
SOUND QUALITY
The listening test results for this very stylish-looking speaker were rather disappointing, with the panel agreeing to award it the lowest marks of the day.
Although generally described as smooth and pleasant, less complimentary adjectives like 'slow' and 'bland' also appeared, along with complaints that dynamics were rather muted and that fine detail was difficult to make out.
While there's no disputing the panel findings, they do seem unfortunate for a design from a leading and reputable brand that seems to tick all the boxes. Further hands-on examination seemed worthwhile. The option of fitting the port bungs and placing the speakers close to a wall was explored, but didn't prove helpful. The most likely root of the problem is that the XQ30 has a very strong presence output.
Listening test attempts to match the levels of different models subjectively tend to focus on the presence band (where the ear is most sensitive), so a speaker with strong presence may well be played rather more quietly than its competitors, to its detriment.
Whether or not that explains the listening test findings, the XQ30 does have an unusually strong presence output and its top end character isn't particularly sweet, either.
While this ensures fine clarity at low volumes, the sound does tend to become a bit hard when the volume is turned up. Furthermore, the bottom end wasn't all that convincing and some midband coloration was also heard.
This KEF is unquestionably one of the most stylish speakers around and decent material value for money, too. Whether the sound quality appeals, however, may be a matter of personal taste.
LIKE: Cute styling, beautiful presentation and lovely finish
DISLIKE: Strong presence can become aggressive when volume is turned up
WE SAY: Lovely styling, but strong presence compromises the sound

DETAILS
ORIGIN: UK/China
WEIGHT: 14.8kg
DIMENSIONS: (WxHxD) 190x860x247mm
FEATURES:
• Tangerine waveguide' Uni-Q mid/treble driver
• Curved enclosure sides, top, base
• Gunmetal front
• Twin terminal pairs
DISTRIBUTOR: GP Acoustics
TELEPHONE: 01622 672261
WEBSITE: kef.com
Inside this month's issue:

Occasioned by the closure of Q magazine, I've put together an Opinion piece on the sad demise of the once great British music press, and much more...
Standout tracks from our
Music Reviews
section, plus our current favourites to play in the
HFC
office.