Kudos X2 - £1,350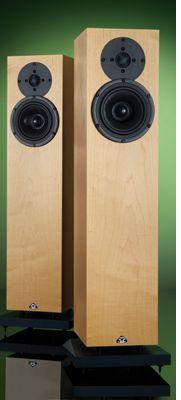 Affordable Xcellence
Kudos's £2k Cardea C2 was a finalist for 'Best Speaker over a £1,000' in last year's HFC Awards. Paul Messenger looks at a bright newcomer
Kudos might be a relative newcomer on the British loudspeaker scene, but it has rapidly established popularity among dealers and customers alike. And that's in spite of the fact that its original Cardea range of floorstanders and standmounts carry quite substantial pricetags.
Made in England
The basic idea behind the new X-series is to provide Kudos quality at rather lower prices. However, the £1,350 asked for a pair of these X2s does seem quite hefty in a marketplace where the lower price end is dominated by models produced in the Far East. The X2, therefore, does seem quite costly when compared, say, to the Malaysian-built Radiance 2 from Acoustic Energy (HFC 334), but that seems to be the price premium for using UK and European-sourced components. The question must be whether any advantages in presentation and sound quality help to offset that price premium.
Pure simplicity
This is a simple two-way floorstander, essentially devoid of unnecessary frills, as much in the interests of sound quality as in keeping the costs down. Although there are certain advantages in going to multi-way systems, most of those only really become apparent when a system is being played at fairly high sound levels. At normal listening levels, the simplicity of the two-way may well be advantageous.
Furthermore, all the essentials are in place here and the ingredients, including English cabinetwork, Norwegian drive units and crossover components from UK suppliers Clarity Caps and Volt, are exceptional.
The drive units, tailored by SEAS for this application, consist of a 150-millimetre cast-frame bass/mid unit with a 95mm-diameter flared and doped paper cone, which crosses over to a 25mm fabric-dome tweeter.
Extended footprint
The sharp-edged enclosure is built up from 18mm MDF and comes wrapped up in a wide choice of mostly real wood veneer finishes – black, cherry, maple, oak, rosenut, walnut and satin-white.
This is a very compact loudspeaker, just 170mm wide and 780mm tall, so the addition of a pretty little black painted plinth, cleverly shaped with some chamfering, extends the footprint and ensures good basic stability even when the spikes are fitted. Small optional vestigial grilles covering just the drivers are held magnetically in place.
One unusual feature is that the spikes used here are locked by plastic thumbwheels, an arrangement that proves very effective, both in keeping the spikes tight and also avoiding stripping the mounting sockets. The plinth is attached to the enclosure proper via spacers, allowing the reflex port that's fitted into the base to operate. Signals are fed via a single pair of multi-way socket/binder terminals.
Surprise package
The measured findings might lead one to believe that this floorstander would put in a rather indifferent performance, but that wasn't the case at all. Mounted well clear of walls, as the in-room measurements indicated, the X2 delivers a surprisingly entertaining performance that belies its measured unevenness.
Driven by a high-class system, based mostly around Naim amplification components, the sound is lively, coherent, expressive and quite dynamic, with little of the 'boxy' or nasal colorations that the measured unevenness might lead one to expect,
.
The relatively small size of the bass/mid drive unit was evident in the significant harmonic distortion that was produced when feeding the speakers with high-level 20Hz sine waves in order to carry out the in-room measurements.
Despite its lively coherence, this is not a particularly sweet-sounding speaker and it can become a bit aggressive when being driven hard. However, it's the top end where this starts to become most apparent and at anything like normal listening levels this didn't prove to be a problem.
Indeed, the midband and top end are this speaker's real strengths, delivering music and speech with fine coherence, good timing and plenty of brio and enthusiasm that makes the X2 a thoroughly entertaining listening experience.
The bottom end is rather less impressive, lacking a bit of warmth and rather more in the way of grip and authority. Its net energy level here is about right to match up with the mid and treble, but definition, poise and timing are less than the best, so the overall effect is of a speaker that leads with its midband and top, leaving the bass as a bit of an afterthought.
Depth also seems a shade constrained when playing naturally recorded choral material. Inevitably, in view of the ingredients, the X2 does have its limitations. Although the measured behaviour might have been better, the sound quality is what really matters, and here the X2 is always involving and entertaining, providing the volume level isn't pushed too hard.
LIKE: Floorstander sounds lively, coherent, informative
and entertaining
DISLIKE: Quite pricey, lacks overall smoothness and bass end grip and authority
WE SAY: Pricetag reflects UK manufacture and top-quality components give a lively and informative sound

DETAILS
PRODUCT: Kudos X2
ORIGIN: UK
TYPE: Two-way floorstanding loudspeaker
WEIGHT: 12kg
DIMENSIONS: (WxHxD) 166x780x206mm
FEATURES:
• SEAS-sourced bass/mid driver
• Grille magnetically secured
• Compact enclosure
• Downward-firing ports
DISTRIBUTOR: Kudos Audio
TELEPHONE: 0845 601 9390
WEBSITE: kudosaudio.com
Inside this month's issue:

Group Test of wireless in-ear headphones, Vertere's DG-1 turntable and Phono-1 Mk II phono stage, T+A's Series 8 mini system, Freddie Mercury's lockdown tips and much more...
Standout tracks from our
Music Reviews
section, plus our current favourites to play in the
HFC
office.