Spendor SA1 - £1,295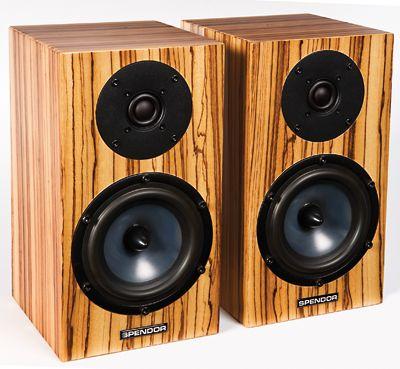 Spendor SA1 - £1,295
The BBC-inspired, relaunched SA1 isn't cheap, but its loveable presentation won over our blind listening panel
Over the years Spendor has introduced a number of small sealed-box sub-miniatures inspired by the BBC LS3/5a. Its first design, christened the SA1 and with a squatter, dumpier shape than a 3/5a, was launched in the mid-1970s. It was highly regarded, even though the company subsequently took out a license to produce the LS3/5a and this new SA1 revives the name, though not the shape of the original.
In fact, it's similar to a 3/5a dimensionally, albeit swapping over width and depth. Three alternative finishes include the rather bold lacquered zebrano of our samples, black piano lacquer, and a satin-finished wenge, while concealed magnets optionally hold the grille in place. The partnering stands (not supplied but worth investigating) have matching wood inlays in their central pillars. Critical bracing and three different thicknesses of relatively light and thin panels supply stiffness and resonance control while avoiding significant energy storage.
This sealed-box two-way has a new 150-millimetre Spendor bass/mid drive unit with a 90mm ep38 polymer cone, a wide surround, a high-excursion motor with powerful magnet and (perhaps most significantly) it operates up to a high 4.8kHz. An unusual 22mm tweeter uses a small 19mm diaphragm and a 'proper' surround to extend its potential operating bandwidth.
A single pair of high-quality WBT terminals feeds a refined crossover network using top-quality components and internal wiring. At £1,275 this must be one of the most expensive sub-miniatures around, especially if you add a further £500 for the matching stands.
Superficially, and as one of the smallest hi-fi speakers around, the SA1 looks a decidedly expensive prospect that might well struggle to justify its pricetag. However, it can be a mistake to prejudge a speaker by its pricetag or size, just as one should not judge a book by its cover.
Sound quality
That became clear when the listening test results were analysed and it became clear that the little Spendor, assisted by close-to-wall positioning, had come out comfortably ahead of the rest of the group. A loudspeaker this small is bound to have certain limitations, in bass grunt, dynamic expression and above all in ultimate loudness capability. That's a given, but the strength of the SA1 is that it does everything within its capabilities remarkably well.
With a little help from the wall behind, it delivers a remarkably flat, smooth and even tonal balance right across the broad bass and midband. Imaging is first class, with fine focus and reasonable depth rendition and coloration is exceptionally low and notably free from boxiness. The extreme top end is sweet and attractively restrained, giving ample detail while avoiding drawing unwanted attention to itself.
The SA1 might appear to be very costly for such a small loudspeaker, but its superior standard of presentation and sound quality provides ample justification. It's a fine solution for those seeking high quality with minimal physical intrusion and who are prepared to accept some constraints on maximum loudness.
LIKE: Beautiful, even tonality with nicely judged top end
DISLIKE: Limited dynamic expression and loudness capability
WE SAY: A costly, but very high-quality sub-miniature with notably superior sound quality

DETAILS
ORIGIN: UK
WEIGHT: 5.4kg
DIMENSIONS: (WxHxD) 165x305x190mm
FEATURES:
• High-gloss lacquer finish
• Single pair high-quality terminals
• Magentically attached grille
• Special wide-surround tweeter
• Flush-mounted drive units
DISTRIBUTOR: Spendor Audio
TELEPHONE: 01323 843474
WEBSITE: spendoraudio.com
Inside this month's issue:

Group Test of wireless in-ear headphones, Vertere's DG-1 turntable and Phono-1 Mk II phono stage, T+A's Series 8 mini system, Freddie Mercury's lockdown tips and much more...
Standout tracks from our
Music Reviews
section, plus our current favourites to play in the
HFC
office.