Acoustic Energy AE120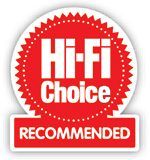 As the flagship model in Acoustic Energy's 100 Series, the AE120 is its top affordable floorstander priced at just £800. Compared with its series sibling the AE109 2.5-way floorstander priced at £499 (HFC 425), you get a bigger cabinet and a true three-way design – and if you're only used to two-ways, you'll find it's quite a big step up as it keeps the dreaded points at which the drive units crossover out of the really sensitive midband region.
The other benefit of three-ways is that you get more drive units to handle the same amount of music, so to speak. That means each driver is less stressed, and less likely to be running towards its limits, where it can break up and/or compress things. It's akin to having a car with a big, powerful engine rather than a highly tuned little screamer – ultimately it sounds more grown up and refined, because it is. The trouble is that the crossover is more complex and requires a high degree of skill to really get the balance right.
The AE120 shows every sign of this, starting with the cabinet. Any floorstander that's built down to a price needs a good-quality cabinet that is decently braced and damped – or it runs the risk of sounding bad. This speaker is 900mm high, but the 18mm-thick MDF walls are sturdier than expected and this partially explains the 19kg weight, along with the internal mass loading. Indeed, the midrange driver has its own sub-enclosure inside the cabinet for better sound. It's finished in a choice of walnut vinyl wrap or satin black, the latter costing an additional £50. Our black review sample looks really smart with its contrasting bright driver trim rings.
Acoustic Energy's own 25mm soft-dome tweeter, with its special Wide Dispersion Technology (WDT) waveguide, is fitted. Then there are three 110mm pulp paper fibre cones; the top one crosses over from the tweeter at 2.4kHz and goes down to 450Hz, thus handling most of the midrange and upper bass. The bottom two bass drivers are assisted by a rear-mounted slot-shaped bass reflex port. The company says the crossover is impedance-compensated to avoid the resonance issues, which would otherwise slow bass delivery and colour midrange performance. The speaker is supplied with a discreet satin black plinth to aid stability, which in turn helps to keep those bass drivers in check. Magnetically attached grilles complete the package.
Considering its price, the AE120 does a lot for the money; it has a claimed power handling of 200W, so can take real abuse, and quoted frequency response of 40Hz to 35kHz. I can't vouch for the high-frequency extension, but the bass performance bears out the company's claim. Indeed, it needs to be placed a good way from the boundary wall, lest the bass get the better of your room. I find that around 30cm is a good distance, slightly toed-in. Acoustic Energy quotes the sensitivity of the speaker at 90dB, which again seems reasonable and it works well with my 2x 20W valve amplifier.
Sound quality
If you're familiar with the Acoustic Energy brand, then the sound of the AE120 won't come as a complete surprise. It reminds me of the smaller and more affordable AE109. There is a noticeable difference however, proving that the extra money has been well spent. The headline news is that it delivers a large and quite powerful sound for its size and price, with a wide soundstage, good depth perspective and impressive bass extension. But what really impresses is the open and expressive midband that makes music an engaging and satisfying experience.
On first acquaintance, you are struck by this loudspeaker's smooth tonality; unlike some rivals it doesn't have any obvious bass or treble peaks and has a natural couthness that means you never get the feeling of being shouted at. Corduroy's London England is a great piece of acid jazz, and a fine analogue recording too. The AE120 handles it with aplomb, delivering a surprisingly gutsy, full-range sound with no excessive overhang to the bass guitar, and a satisfyingly silky treble. The vocal line can veer towards harshness with some speakers, especially at high listening levels, but the Acoustic Energy simply doesn't go there. The music has an integrated, even and all-of-a-piece sound, which stays that way no matter how loud I go.
Zooming in on its bass performance, it's impressive at the price. Obviously, spending twice as much will get you a speaker with thicker, better-damped cabinets but the AE120 still works well for the money. The deep, thudding sub-bass on Manix's Too Strong For So Long – a soaring modern drum and bass track – is powerful yet well presented with no obvious bass port noise and the cabinet doesn't come out to play, either. At the other end of the spectrum, the tweeter is impressive, giving a nicely resolved sound to the drum machine hi-hats. There's no sense of coarseness whatsoever, although in the final analysis there is a slight lack of air and space.
Being on its best behaviour doesn't mean this is a boring listen, though. Indeed, for me the essence of this speaker – and Acoustic Energy's sound in general – is that it's civilised yet really good fun to listen to. The AE120 proves most engaging with the spiky eighties indie rock of The Smiths' Girl Afraid, imbuing the drum work of Mike Joyce with real speed and force. More than this, it isn't just a case of bashing it out – instead things sound rhythmically coherent and engaging. The song's groove is simple, and around it Johnny Marr's Rickenbacker guitar plays with heady abandon. This loudspeaker deftly catches the emotion of this track, and pieces all the constituent rhythmic parts together very well indeed, sounding fast on its feet with good dynamic shading – especially on subtle accents.
With four drive units and a reasonable amount of internal cabinet volume at its disposal, it is also able to shine with reggae music. Sugar Minott's Hard Time Pressure is a seventies dancehall classic that's big fun played loud with a seriously sized speaker – but the dinky AE120 rises to the challenge. It's able to belt out the song's hypnotic groove – underpinned by its great bass guitar playing – without a care in the world. This speaker sounds tight, taut and composed with serious amounts of power going into it in my largish listening room – a surprising feat for the design at the price, and something that 10 or so years ago I simply wouldn't have thought possible.
Although soundstaging is capacious left to right, the images inside perhaps aren't quite as precise as they could be – but at the remarkable price it's hard to criticise it too harshly. It's satisfyingly detailed too, and although spending £500 more could get you higher resolution sound, it may not be quite as much fun. Listen really hard and – in absolute terms – there's a slight opaqueness to the sound. Overall, though, it's mightily impressive for the price, and really rather churlish to complain.
Conclusion
All speakers are compromises, and it's a case of where you draw the line in the sand. As far as the AE120 is concerned, Acoustic Energy has been most astute – striking an intelligent balance between power and bass extension, spacious soundstaging, decent detail retrieval and above all speed and dynamics. The result is a refined yet musical floorstander that's much better than you have any right to expect for the money, making it well worth an audition. DP
DETAILS
Product: Acoustic Energy AE120
Price: From £800
Origin: UK/Malaysia
Type: Three-way floorstanding loudspeaker
Weight: 19kg
Dimensions: (WxHxD) 200 x 900 x 300mm
FEATURES
● 1x 25mm tweeter
● 1x 110mm midrange driver
● 2x 110mm bass drivers
● Quoted sensitivity: 90dB/1W/1m (8ohm)
Read the full review in
May 2019 issue 449

SPONSORED VIDEO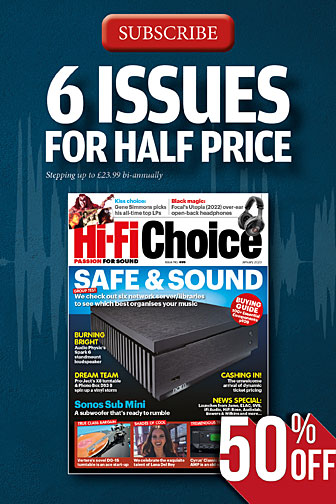 Inside this month's issue:

Six wireless speakers duke it out in our Group Test, Mitchell Acoustics' uStream Go portable Bluetooth speaker. HiFi Rose's RS250A AV streamer, Sumiko's Blue Point No. 3 MC cart and a World Exclusive first test of Q Acoustics' 5000 range