Analogue Works Turntable One - £1,200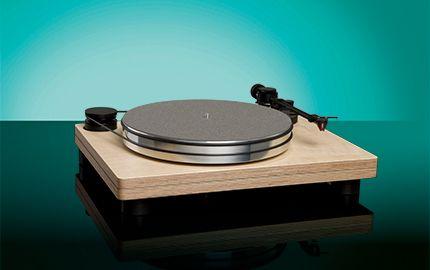 Vinyl junkies get lucky as Andrew Simpson checks out this new wheel of steel that's built on impressive credentials
Launched by Divine Audio's head honcho Tim Chorlton and Mark Groom, and with power supplies designed by Garrard guru Martin Bastin, Analogue Works is a new turntable manufacturer that brings plenty of experience to the table, which has been ploughed into the company's carefully crafted range of record players and accessories.
The One is positioned slap bang in the middle of the company's record player range, sensibly sandwiched between the Zero (£650) and Two (£1,600) models. All three decks get the same bronze/steel bearing and the Zero also packs a Rega RB202 arm within its price, but gets a bamboo or MDF plinth and wall-wart PSU in place of the One's birch-ply plinth and standalone PSU. The cheaper Zero also comes equipped with an acetal platter instead of the more substantial damped alloy platter sported by the One and Two decks. The Two turntable builds on the One package by including Analogue Works' reference power supply, selection of upgraded isolation feet, a bunch of platter mats made from various materials and a dust cover.
Thanks to the range's deceptively simple design, all of the Two's extras can be applied to the One model as and when funds permit and they take seconds to fit, so upgrading need not require trading your deck in, or having to return it to the factory for extensive tinkering.
Closer inspection of our Turntable One reveals just how much attention to detail has gone into its design. Starting from the ground up, its three cylindrical feet are threaded into the plinth's base, allowing for easy levelling. Then there's the standalone motor, which passes through a dedicated cut-out in the deck's plinth with only 2mm clearance, forcing you to site it at precisely the right distance from the platter, to ensure the correct belt tension from the deck's two-stepped pulley (for 33 and 45rpm) to the platter's periphery, aiding speed stability and minimising both wow and flutter.
Solid build
Comprised of two 18mm pieces of birch ply bonded together, the deck's plinth is superbly finished with the company's logo finely etched into its top surface (a black laminate top plinth is also available for an extra £50). The quality feel is carried over to the deck's hefty alloy platter, which is internally damped using neoprene rubber, bonded to its base. Further platter damping comes courtesy of a silicone ring around the platter's outer edge.
Coupling platter to plinth is the bearing, which employs a polished steel shaft with precision ground nipple, spinning inside a phosphor bronze sleeve. Analogue Works offers the deck with an armboard included in the price (SME/Nottingham Analogue types cost extra), and while no arm is included in the price, AW can supply the deck with a range of arms fitted at extra charge. To finish the deck off, Analogue Works throws in one of its Gimp platter mats, which are made from a choice of materials including silicone, neoprene, nitrile, rubber, cork and foam.
Our model comes sporting a £300 Jelco SA-250ST tonearm, which despite being lesser known on these shores than the usual Rega-derived variants, is a reviewer's delight in terms of build quality and ease of use. Thanks to its removable arm lead (via a din plug at the arm's base) and the supplied armboard's simple allen-headed clamping mechanism, the arm can be raised/lowered/removed in minutes, making cartridge swaps and VTA fine-tuning a fuss-free procedure.
Setting the deck up is just as easy. Simply site the motor, place the plinth over the top, add a few drops of the supplied oil to the bearing and gently easy the platter into place. All that's left to do is fit the belt around the motor pulley, level the deck via its feet, set the arm height and plug the motor's captive lead into the standalone black alloy PSU, which has a single on/off switch.
Because Analogue Works has specified a low torque motor (notably of a similar design to Nottingham Analogue's decks), you need to give the One's platter a firm push in order to help it get up to speed, and once running it spins silently.
Sound quality
Using the £85 Ortofon 2M Red that comes pre-installed on our test model reveals the One to be a very capable music maker. In many ways this deck's sonic signature reflects its physical design, which seems to be somewhere between the high-mass vibration-killing decks usually of Germanic origin and the lower-mass non-resonant designs stemming from the likes of Rega and Pro-Ject.
Bass is well formed, deep and reassuringly controlled, while the deck projects plenty of life in the midrange without sounding too bright, and there's no sense of ringing from its well-damped platter.
With Bon Ivor's Lump Sum track from their For Emma, Forever Ago album turning circles atop the deck's foam Gimp mat, I'm presented with a dense soundstage consisting of many layers. The track's choir-like opening vocals resonate with the echo of a cavernous cathedral, as they extend from what sounds like the other side of the wall behind my speakers. This gives the music plenty of depth, and sets the scene for lead singer Justin Vernon's vocals to come to the fore with full-bodied presence, revealing just how expansive the deck's soundstage is front to back.
Despite the motor's low-torque design, the One's timing sounds spot on and treads a fine line between not hurrying the rhythm along, or having to play catch up by chasing the music down the record's grooves. Instead, the turntable's grip on the music's pace allows the Bon Ivor track to progress at its own natural tempo, without any sense of delayed overhang or notes being rushed and curtailed. Guitar strums start and stop with the precision of a Swiss watch, while the bass line's vibrancy keeps my ears pricked up and my toes a tapping.
The One's talent for bass reproduction is further highlighted with the deck digging deep into the title track from a 180g pressing of John Martyn's Solid Air album. The One quickly sets out its stall, revealing the intricacy of Dave Pegg's double bass work that underpins the song by gracing its melancholic notes with lots of texture, which the deck ensures can be felt as well as heard.
So the One can do bass detail, but can it go low while keeping its composure? Massive Attack's Unfinished Sympathy is the perfect track to help answer this question. On systems with average bass detail and/or extension I often find this track can sound tonally dull and deflated in the lower registers, which is then masked though a flabby sounding unnatural rumble. Not so with this machine, which lets the arm and cartridge pull out all the low-end wallop that the grooves have to offer while keeping a cool head.
While I sense that the Analogue Works deck and Jelco arm are getting the best out of the budget-priced 2M cartridge, my suspicions that this cartridge is holding the package back somewhat and that this deck and arm combo are of sufficient quality to more than justify a much more refined pick up are quickly confirmed.
With a £230 Nagaoka MP-150 installed on the Jelco arm I head back to revisit the Massive Attack and John Martyn material. Hearing both tracks via this package reveals a much more expansive soundstage, with deeper midrange and better separation. Voices have more air around them and overall the sound seems less compressed and much more open. The Nagaoka seems to really gel with the deck and arm combo, playing to their strengths as a full-bodied sounding package. In terms of price the Nagaoka is still a relatively cheap cartridge, which illustrates that you'll have some way to go up the pick up price ladder before you should worry about reaching the deck's performance ceiling.
Across both pick ups tested, treble tends to err on the side of mellow, and with curiosity getting the better of me I can't resist substituting the supplied foam Gimp mat for my Funk Achromat. Back to back comparisons of Stevie Nicks' Edge Of Seventeen reveals the Funk variant to pull out a shade more vocal detail, while giving the music a little more vitality, highlighting that it's worth experimenting with Analogue Works' range of Gimp mats to fine tune the deck's sonic character to your own personal preferences and system.
Conclusion
You really don't need to spend all that much time with this turntable to realise that Analogue Works has carefully considered every aspect of its design, engineering it for maximum performance while ensuring that it remains eminently user friendly. It's a perfect sonic match for the Jelco arm, which combines for an expansive and full-bodied sound that's begging for the best cartridge you can afford for long-term enjoyment.
I have a feeling we'll be seeing and hearing a lot more about this machine as word spreads. If you're in the market for a turntable upgrade, the Analogue Works deserves a place right near the top of your shortlist.
LIKE: Superb build; ease of adjustment; expansive and engaging sound
DISLIKE: Push start platter may take some getting used to
WE SAY: Lovely looking and well engineered turntable that gets the basics right
DETAILS
PRODUCT Analogue Works Turntable One
ORIGIN UK
TYPE Belt drive turntable
WEIGHT 12kg
DIMENSIONS (WxHxD) 460 x 120 x 360mm
FEATURES
• 6.7kg damped alloy platter
• Belt driven by separate AC motor
• Separate PSU box
• Adjustable feet
DISTRIBUTOR Divine Audio
TELEPHONE 01536 762211
WEBSITE analogueworks.co.uk

SPONSORED VIDEO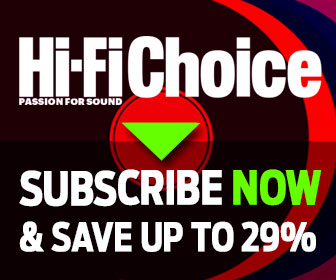 Inside this month's issue:

Cambridge Audio Alva TT V2 turntable, Meclo N50-S38 EX music library, Neat Petite Classic standmount, Sennheiser Momentum 4 Wireless headphone, six moving-coil phono preamps in our Group Test and much, much more...
Standout tracks from our
Music Reviews
section, plus our current favourites to play in the
HFC
office.