Andrea Bocelli unveils new Cinema album
Andrea Bocelli has announced details of his new album Cinema, which is due for release worldwide on 23 October. Cinema celebrates Bocelli's pick and interpretation of the greatest movie songs of all time and reunites a team of musical legends including David Foster, Humberto Gatica and Tony Renis who worked together on Bocelli's best-selling album Amore.
Bocelli's first new studio recording in two years, Cinema includes theme songs featured in movies including Gladiator, The Godfather and Breakfast At Tiffany's, as well as popular songs from stage musicals, immortalised by their film versions, like West Side Story and Evita.
True to his status as an international artist, Bocelli has recorded songs in five different languages (Italian, French, Spanish, English and Sicilian) and has partnered with Ariana Grande on E Piu Ti Penso from Once Upon A Time In America/Malena and Nicole Scherzinger on Evita's Don't Cry For Me Argentina (available on the deluxe version of the album).
Bocelli told HFC: "With the album Cinema, I'm fulfilling a wish that I've harboured for decades. I've never made a secret of my dream of bringing to life a recording project associated with soundtracks, as I truly believe that it's an exceptional artistic treasure trove. It's an area that has always fascinated me: the scores written for films are very free and potentially very creative. A vast grassland where the composer can roam as he pleases, whatever his inspiration, where he can experiment without having to submit to the norms of the classical song (based on the sequence requiring two strophes, one short instrumental passage, one strophe, one short instrumental passage), or to a theme that is necessarily the conventional one, relating to love. If films are a 'dream factory', the music that supports them embraces these dreams and heightens all of the magic and emotional vitality. My invitation, my token is for these immortal "classics" to merge with the experiences, with the most precious memories, with the emotions of every listener, to become the inimitable soundtrack to their life."
Check out Bocelli's new music video for the track Nelle Tue Mani (Now We Are Free) from the film Gladiator, staring John Travolta below. And scroll down for the full track listing.
1) Maria from West Side Story
Lyrics by Leonard Bernstein - Stephen Sondheim
Music by Leonard Bernstein
2) La Chanson De Lara from Doctor Zhivago
Lyrics by Paul Francis Webster
Music by Maurice Jarre
French Lyrics by Ithier Hubert
3) Moon River from Breakfast At Tiffany's
Lyrics by Johnny Mercer
Music by Henry N.Mancini
4) E Piu' Ti Penso duet with Ariana Grande from Once Upon a Time in America /Malèna
Lyrics by Mogol - Tony Renis
Music by Ennio Morricone
5) Be My Love from The Toast of New Orleans
Lyrics by Sammy Cahn
Music by Nikolaus Brodszky
6) The Music Of The Night from The Phantom of the Opera
Lyrics by Charles Hart -Richard Stilgoe
Music by Andrew Llyod Webber
7) Brucai La Terra from The Godfather
Lyrics by Giuseppe Rinaldi
Music by Giovanni Rota
8) Por Una Cabeza from Scent of a Woman
Lyrics by Alfredo Le Pera
Music by Carlos Gardel
9) No Llores Por Mi Argentina duet with Nicole Scherzinger from Evita
Lyrics and Music by Andrew Lloyd Webber - Tim Rice
Spanish Lyrics by J.Carreras -I.Artime Granda - J.Azpilicuieta Perez
10) L'amore é Una Cosa Meravigliosa from Love Is A Many Splendored Thing
Lyrics and Music by Paul Webster- Sammy Fain
Italian Lyrics by Alberto Curci
11) Mi Mancherai from Il Postino
Lyrics by Marco Marinangeli
Music by Luis Bacalov - Riccardo Del Turco - Paolo Margheri
12) Cheek To Cheek duet with Veronica Berti from Top Hat
Lyrics and Music by Irving Berlin
13) Sorridi Amore Vai from La Vita è Bella
Lyrics by Noa - Gil Dor
Music by Nicola Piovani
Italian Lyrics by Roberto Benigni
14) Historia De Amor from Love Story
Lyrics and Music by Francis Lai
Spanish Lyrics by Andy Williams
15) Ol' Man River from Show Boat
Lyrics by O. Hammerstein
Music by J. Kern
16) Nelle Tue Mani (Now We Are Free) from Gladiator
Music by Lisa Germaine Gerrard - Klaus Badelt - Hans Florian Zimmer

SPONSORED VIDEO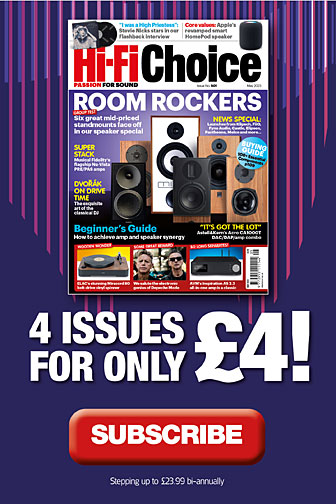 Inside this month's issue:

Wison Audio's exquisite Sasha V floorstanding loudspeaker, Origin Live Sovereign S/Agile turntable/tonearm, Final Audio ZE8000 true-wireless earbuds, Astell&Kern AK PA10 portable headphone amp, Aretai Contra 100S standmount speaker and an integrated amplifier Group Test