Audio-Technica ATH-M50xBT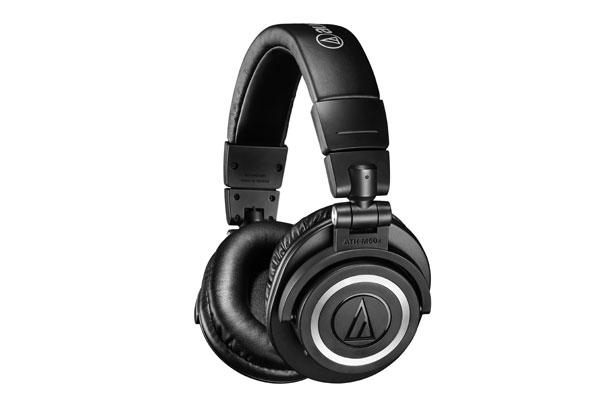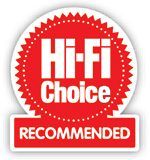 As wireless headphones become an increasingly important product category, it isn't surprising to see Audio-Technica bolster its Bluetooth range by developing an existing model to incorporate wireless technology. The M50x has been around for several years in its affordable pro range and has become a popular choice for many domestic users.
The transducer inside of the M50xBT is the same as the wireless version and uses of a pair of 45mm dynamic drivers mounted in closed-back earcups employing rare earth magnets and copper-coated aluminium wire in the windings.
The wireless implementation is built around Bluetooth v5.0 and aptX and AAC support is included, with a seriously impressive battery life claim of 40 hours – depending on volume – from a single charge that could see you use the Audio-Technica daily and only need to top up the charge once a week.
Also impressive is that the wireless functionality has been added without any change to the external design or dimensions. It is very well made at the price and the folding design and sturdy carrying pouch is practical for use on the move.
Not every aspect of the design is perfect, though. I don't like the fitment of a USB micro-A socket for charging as most phones are now fitted with USB-C. The inbuilt microphone also doesn't provide particularly stellar call quality.
Sound quality
Connecting the M50xBT to a latest generation iPad Pro is simple and once done, it gets the basics right. Wireless connection is consistently stable and free of break up and doesn't require you to be terribly close to the transmitting device. It sounds good too. The effortless scale of The Cinematic Orchestra's A Caged Bird/Imitations Of Life is captured very effectively and there is a commendable feeling of music happening in front of you as well as to either side. Within this space, the tonal balance is as accurate as you might hope for from something with pro audio sensibilities. Roots Manuva's vocal turn is rich and weighty and there is an elegant balance of energy and refinement that's usefully accomplished from a headphone at this price point. The sublime Orchestre Univers by Labelle has enough dynamic energy to convince you of the number of participants without tipping over into sounding bright or forced.
The real party piece, however, is the bass response. With the crunching We've Got To Try by The Chemical Brothers, it manages to hit with real impact that never suffers from the sluggishness or lack of control that can sometimes be the unwanted side effect of really potent low end. If you switch to an aptX-capable source – in this case an Essential PH-1 Android phone – it improves further. There is more texture and detail to low-frequency sounds and that already impressive three dimensionality seems even greater.
For a sub-£200 Bluetooth headphone, the M50xBT is commendably free of foibles. Compared with some more costly models – usually also benefitting from active noise-cancelling – it can harden up a little at high levels and tiny fine details seem absent, but I am being overly picky at the price.
Audio-Technica has taken a highly regarded wired headphone design and turned it into a very capable wireless one with great success. Without altering its sonic character and presentation the M50xBT offers huge potential for a hassle-free life on the road, thanks to the exceptional battery life it can achieve with Bluetooth v5.0 connected devices. This is the first wireless conversion from a wired headphone design I have heard, and with such impressive sound quality and flexibility on offer I look forward to hearing more crossover designs in the future. ES
DETAILS
Product: Audio-Technica ATH-M50xBT
Price: £190
Type: Bluetooth headphone
Read the full review in June issue 450

SPONSORED VIDEO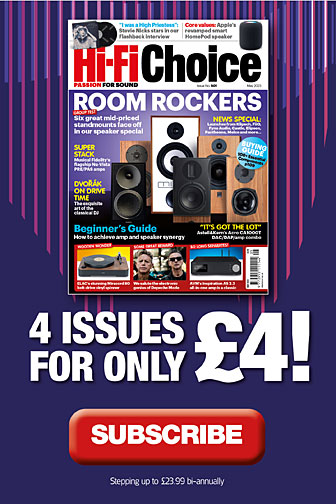 Inside this month's issue:

Klipsch R-50PM powered loudspeaker, DS Audio Grand Master Extreme cart, Astell&Kern A&futura SE300 portable music player, Elipson Legacy 3230 floorstanding speaker and our round up of the best music streaming services