Audiolab introduces 7000 series integrated, CD transport and network audio player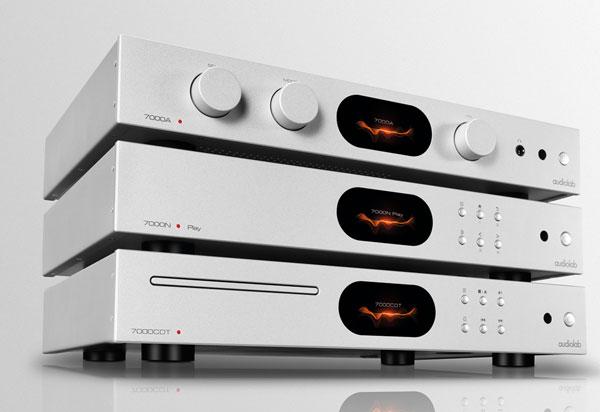 There's lots of activity over at Audiolab with the launch of three new products – the 7000A integrated stereo amplifier, 7000CDT CD transport and 7000N Play network audio player.
The 7000A is an upgrade of the 6000A (HFC 446) and features sharper edges to the rotary controls and changes to the vent perforations on the top. It is also a little heftier, at 8.4kg compared with the 6000A's 7.8kg. But the most obvious aesthetic change is to the central display – which has been enlarged to 64x48mm, while the 6000A's monochrome text has been replaced by a colourful GUI, much like the one found on the company's flagship 9000A (albeit the IPS LCD screen is smaller).
This shows volume level, input selection, format data and more. It also gives access to the 7000A's menu system, which includes digital filter selection, upsampling, input sensitivity adjustment, balance control, automatic standby switching, and volume curtailment when the amp is powered up. It can also be set to display a VU meter in 'analogue' or 'digital' form, showing signal levels for left and right channels.
Like the 6000A, there are four S/PDIF inputs – two coaxial and two optical – but the 7000A adds a USB Type B input for PCs, Macs, smartphones, tablets and digital storage devices. It also provides an HDMI ARC in for AV system integration. Bluetooth is included, with support for multiple codecs including aptX HD.
For analogue sources there are three line-level RCA inputs, plus one for a turntable. Audiolab says it has tweaked the 7000A's moving-magnet phono stage to improve performance compared with the 6000A, with precise RIAA equalisation and input filtering.
For the 7000A, Audiolab has switched up to a new-generation 32-bit Sabre chip – the ES9038Q2M. This is accompanied by proprietary circuitry to make the most of ESS Technology's HyperStream II architecture and Time Domain Jitter Eliminator for ultra-low noise and high dynamic range. Audiolab developed a new Class A circuit for its flagship 9000A integrated amp that is tailored to make the most of the ES9038 chip family and this circuit is also used in the 7000A. Hi-res audio support includes handling of PCM files up to 32-bit/768kHz and DSD512 via USB. The 7000A is officially Roon Tested and users can opt to upsample digital audio signals to 352.8kHz or 383kHz.
The 6000A's Class AB amp circuitry has been improved so that the 7000A delivers 70W per channel in 8ohm loads. The toroidal transformer has also been updated to a new 250VA unit, combining with 60,000uF reservoir capacitance and headphone users are served by a dedicated headphone amplifier.
The 7000A offers three distinct operational modes: the primary one is 'Integrated' – this combines the pre and power amp stages, for the connection of digital and analogue sources to the amp's inputs and a pair of speakers to its binding posts. 'Pre-Power' mode disconnects the pre and power amp stages. This allows the 7000A to be used solely as a power amp. It also enables additional signal processing to be added, by connecting the 7000A's 'preamp out' socket to an external processor, then returning the processor's output to the amp's 'power amp in' socket. Finally, 'Pre' mode disables the power amp stage, turning the 7000A into a standalone DAC/preamp. The 7000A comes in a choice of silver or black finishes and is priced at £1,100.
The 7000CDT CD transport is an upgrade of the company's 6000CDT (HFC 447). It doesn't have an integral DAC, but is designed to be connected to an external one of the user's choice.
The upgrades include the centrally positioned, stadium-shaped display, which is a little larger than that of the 6000CDT, replacing the latter's monochrome text display with the same colour GUI found throughout the new 7000 Series. The 6000A's slot-loading mechanism has been replaced too, by a tray housed in its own electromagnetically shielded enclosure and incorporating what the company calls a high-precision optical system with low friction.
The master clock is controlled by a temperature-compensated crystal oscillator, which Audiolab says enables the digital output from its coaxial and optical sockets to exhibit vanishingly low levels of jitter. In addition, the coaxial output is fed from a differential line driver in a bid to ensure a flawless digital signal reaches the accompanying DAC.
As well as spinning CDs, the 7000CDT features a USB Type A input for playback from USB storage drives. FAT12, FAT16 and FAT32 formatted devices are supported, and WAV, WMA, AAC and MP3 files can be played. The 7000CDT is available in a choice of silver or black, priced at £550.
The 7000N Play network audio player builds on the company's 6000N Play (HFC 453) with a range of updates and enhancements incorporating the latest Play-Fi module and a DAC upgrade. Users can stream from any source connected to their home network – smartphones, tablets, PCs and Macs, as well as NAS drives and music servers – via wi-fi. It also connects wirelessly with other Play-Fi-equipped devices, enabling a fully synchronised multi-room setup. There are three ways to stream once the 7000N Play is connected to a broadband router via wi-fi or Ethernet cable. The first is via the Play-Fi app, which gives access to a variety of online streaming services including Tidal, Spotify, Amazon Music, Qobuz and Deezer as well as streaming content stored on local DLNA-compliant devices. The second is Spotify Connect, which enables streaming direct to the 7000N Play using the Spotify rather than Play-Fi app. And the third is AirPlay 2.
The DAC has been upgraded to the same ES9038Q2M chip used in the 7000A integrated amp. This is accompanied by proprietary circuitry to make the most of ESS Technology's HyperStream II architecture and Time Domain Jitter Eliminator for ultra-low noise and high dynamic range. Hi-res audio streaming is supported up to 24-bit/192kHz over wi-fi and Ethernet. The inclusion of a DAC stage ensures the 7000N Play can be used with any audio system via the stereo RCA analogue output to a regular integrated amp or preamp, or a pair of powered speakers. Alternatively, users can take a digital feed (optical or coaxial) to an external DAC or amp with digital inputs.
The new streamer sports the same 2.8in IPS LCD display and GUI as the other 7000 Series components. Like its siblings, the 7000N Play network audio player is available in a choice of silver or black finishes, priced at £550.
Available to buy now, you can find out more about Audiolab's new 7000 series here.

SPONSORED VIDEO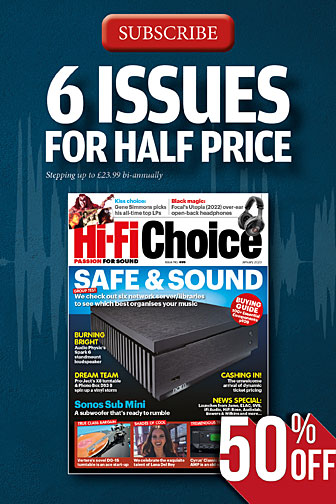 Inside this month's issue:

Six wireless speakers duke it out in our Group Test, Mitchell Acoustics' uStream Go portable Bluetooth speaker. HiFi Rose's RS250A AV streamer, Sumiko's Blue Point No. 3 MC cart and a World Exclusive first test of Q Acoustics' 5000 range