Bowers & Wilkins 603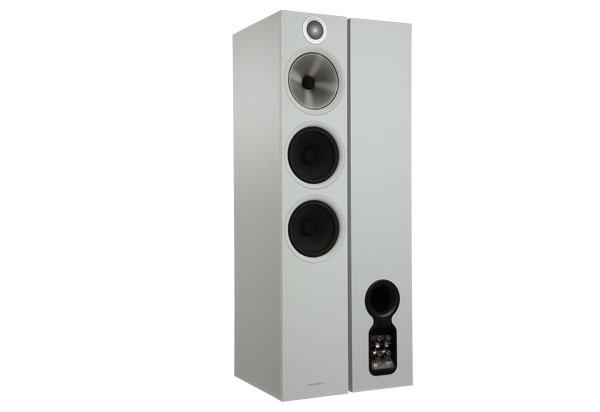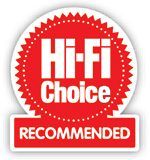 In the admittedly somewhat insular world of loudspeaker drive unit diaphragm material innovation, Bowers & Wilkins' so-called Continuum FST cone has become a bit of a celebrity. Eight years in the making as a replacement for the company's influential and very yellow woven Kevlar cone, it was unveiled in 2015 as the key new tech in the latest generation of the 800 Series Diamond flagship range, which instantly gifted it a certain prestige and the prospect of being able to float a helpful halo over more affordable model lines that would adopt it over time.
Truth is, it hasn't taken that long to trickle down, via the 700 Series, to the entry-level 600 Series, now in its sixth generation. And the terrific 606 standmount (HFC 443) has certainly whetted our appetite for more. It doesn't get any bigger than the 603 floorstander that tops out the range, and while the £1,249 asking price is far from inconsequential, the 603 is an awful lot of well-engineered, smartly dressed, bang-up-to-date floorstander for the money.
Let's begin at the top with the 25mm decoupled Double Dome aluminium tweeter. At first glance it looks like a direct lift from the majority of models in the 700 Series family. Up to a point, it is. The Double Dome aspect is the same, but the aluminium dome lacks the 700 Series' rigidity-enhancing carbon coating and a housing that incorporates heat-sinking behind the dome. That said, it uses an upgraded neodymium magnet and wears the new grille mesh from the 700 Series. The dome has been repositioned slightly forward in its diaphragm to improve time alignment, while internal components – such as inductors and bypass capacitors – are also welcome hand me downs from the 700 Series.
With the 603 being a true three-way design, its 150mm Continuum FST cone works solely in the midband, for which its talents are claimed to be particularly well suited – no small responsibility given that the human ear is at its most sensitive and critical in this frequency range. B&W is still somewhat secretive about the silvery-grey Continuum's exact composition, other than to say it's a lossy fibre/polymer weave that required state-of-the-art computer modelling and 70 or so iterations to get right. But its chief virtue is that it's designed to break up in a specific, controlled way and, even more importantly, to return to its normal state as fast as possible. This means there's less distortion, or 'ringing', in the time domain. In other words, it's a very 'quiet' driver and, B&W believes, a clear advance over Kevlar, sounding cleaner and faster with less obvious tonal character.
Aided by B&W's sizeable, dimpled 'Flowport' rear-firing reflex port are a pair of 165mm bass drivers working in parallel. They have paper/Kevlar cones – a mix of materials chosen to achieve a desirable coalition of rigidity and lightness and – arguably of more importance to bass fans – are said to reach all the way down to 29Hz (-6dB). B&W claims the tweeter is good for 33kHz (-6dB); bandwidth more usually associated with floorstanders costing twice the price of the 603.
Despite its plain finish – a kind of durable, wipe-clean, eggshell matt white wrap as supplied (black is also available) – the 603 is an imposing and good-looking tower standing some 985mm tall and stabilised by a weighty bolt-on plinth that extends its footprint in all directions and shrugs off accidental nudges with impunity. With each cabinet weighing 24kg, that's probably just as well. As is increasingly the norm, the grilles (grey) are magnetically attached, but unlike some floorstanders at the price the au naturel look isn't overly functional with flush-fitting driver trims concealing the fixing bolts and neither the Continuum midrange driver nor the double dome tweeter need to duck the limelight.
Sound quality
After auditioning the 603 with a few amps, both pre/power and integrated, Hegel's H90 (HFC 427) seems to offer the best balance of grace and grip for driving my larger listening room to anti-social levels – a feat for which the 603 is amply endowed – though it appreciates the extra raw grunt and drive of ATC's CA2/P1 combo (HFC 397). Cambridge Audio's CXC CD transport (HFC 401) and Chord Electronics' Hugo 2 DAC (HFC 428) are joined by an Elipson Omega 100 Carbon Black turntable with a Rega Fono mk 2 phono stage.
First up, and because most of the neighbours are at work, Chaka Khan's Like Sugar from new album Hello Happiness is treated to the ATC power amp's big-boy volume, allowing the 603 to create a remarkable fusion of detail and disco that doesn't undersell either. All that's missing are the dancing coloured lasers. It's not a particularly complex track, but it is a little bright, right in your face and most definitely rhythm driven. The 603 doesn't mess with any of this, propelling the production into the room full force, grabbing the groove like an ice hook and pounding out the synth bass line with visceral intent. You could argue that this is hardly a revelation given the speaker's size, weight and driver count, but there's an inner strength at work here that makes things so clean, controlled and well resolved that Khan's efforts to keep her soaring pipes ahead and above the mostly electronic maelstrom are majestic, masterly and nuanced rather than just another competing sonic strand in the mix. The bottom line with this track is the floorstander has compelling clarity, grip, dynamics and enormous musical insight.
For Prefab Sprout's remastered reissue of I Trawl The Megahertz, the Hegel amp gets a go and I'm not disappointed. Released in 2003, it's a hauntingly beautiful piece of work with the astonishing 22-minute title track that opens the album combining dreamy, lilting Ravel-esque orchestrations with smoky, sax-led jazzy interludes and a heartbreaking female narration dealing with divorce and isolation. The Hegel's well documented excellence in the areas of detail resolution and natural tonality couldn't be clearer via the 603's brilliantly transparent midband and each element keeps me glued to the sofa, all but mesmerised.
A clean, well-upholstered production like Shawn Mendes' Lost In Japan is delivered with clarity, verve and supple, agile bass that's rhythmically lucid and surefooted. The 603 keys into the material enthusiastically yet with a deft touch and considerable discrimination. There's no mush or sense of hyped euphony and the soundstage is impressively deep and stable with pin-sharp imaging. Without resorting to artificial midrange emphasis and treble lift to enhance presence and sparkle, the presentation is beguilingly natural and coherent with a solid, rhythmic impetus, spacious soundstaging and stunning image solidity and depth.
Conclusion
It doesn't really matter what I play on CD or vinyl, here's a speaker with the power, bandwidth and bass heft to do full-scale justice to Metallica, Muse and Motörhead, the uncoloured, low-distortion transparency and 3D imaging to conjure the ambience and atmosphere of the most intimate gig and a tonal palette that's believable rather than manipulative. Given the attentions of a muscular amp, there's enough headroom to whip up a torrent of decibels and yet, in the teeth of the sonic storm seem as if it's not trying. And all underpinned by that appealingly 'architectural' bass performance, which lends the speaker's presentation so much presence and life. Once again, a good three-way design such as this seems to have an easy, unstrained quality that lets the music flow on its own terms. And more than that, with the kind of dynamic expression and discrimination that truly opens music up and is seldom experienced at this price point. Bowers & Wilkins' 603 is a complete loudspeaker – exceptional value and warmly recommended. DV
DETAILS
Product: Bowers & Wilkins 603
Price: £1,249
Origin: UK/China
Type: Three-way floorstanding loudspeaker
Weight: 24kg
Dimensions: (WxHxD) 190 x 985 x 340mm
FEATURES
● 1x 25mm decoupled double dome aluminium tweeter
● 1x 150mm Continuum cone FST midrange driver
● 2 x 165mm paper/Kevlar cone bass drivers
● Quoted sensitivity: 89dB/1W/1m (8ohm)
Read the full review in
April 2019 issue 448

SPONSORED VIDEO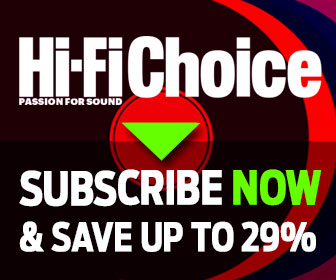 Inside this month's issue:

Rega Saturn MK3 Compact Disc player, Ophidian Voodoo floorstanding loudspeaker, Rotel RA-1592MKII integrated amplifier, Grado SR325x headphones and the best musician memoirs to read right now...
Standout tracks from our
Music Reviews
section, plus our current favourites to play in the
HFC
office.