Grado PS500 - £700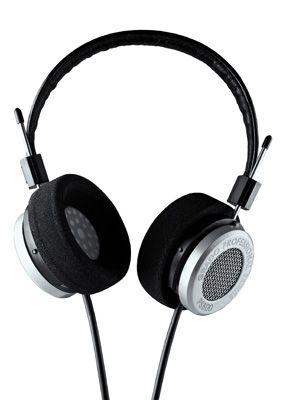 Heading west
Straight from Brooklyn, New York, comes the brand new Grado PS500 headphone. Richard Black lives the American dream…
By most standards, £700 is a lot of money to spend on a pair of headphones, yet the PS500 isn't actually Grado's top model – the PS1000 will make a £1,600-shaped hole in your wallet, whereas the GS1000 is a mere bagatelle at just £1,000. And it's not like Grado has a monopoly on the high-end headphone market, as there are numerous rivals from the likes of Sennheiser, Stax and so on…
Still, compared to the world's finest loudspeakers, some of which cost in excess of £50,000, this is still small change. Given that the very best headphones can, in some respects at least, equal the sonics of cost-no- object speakers, £700 spent on this Grado begins to look like better value.
Where then does all that money go? Well, just like phono cartridges, high-end headphones invariably wear the cost under- neath the clothes. Your cash goes into superior materials and more sophisticated design, along with painstaking precision assembly and all the concomitant costs. And so it is with the PS500, which superficially resembles far more affordable Grados, but certainly doesn't sound the same to my ears.
Like the GS1000, this model uses mahogany for the earpiece housings, clad with aluminium to make a highly non-resonant composite. Inside, rare-earth magnets combine with gold wire and vented diaphragms. Cabling is Grado's own, using multiple conductors – and incidentally I have consistently found Grado's headphone cables to transmit the lowest levels of mechanical noise from friction on clothing, and so on. Few things detract from the pleasure of a fine headphone like a loud, low-frequency racket from such sources. My only gripe regarding build quality though, is the rather hard headband. Like most Grado headphones, this one sits on the ears rather than resting on the head around them. This isn't everyone's idea of comfort, but while some listeners never get used to it, we have found that most actually do. It's also surprisingly easy to position the headphone correctly, indeed it's pretty hard to get this wrong, meaning the sound is consistent and well balanced every time you wear it.
Sound quality
Superb, in a word. The PS500 has excellent clarity across the midband and a simply glorious bass, while treble is very sweet. Good headphones can open up whole new vistas of sound and the Grado does just this.
You can hear that much deeper into the mix and easily spot musical details that go unnoticed with other transducers. It makes for a wonderful listening experience. I was struck by the fine treble quality. There's no question of any curtailment or lack of reach, yet it is completely devoid of harshness and the kind of sibilant excess that is the curse of so many budget designs. As a result, one might momentarily think it lacking, but its true quality soon comes to the fore. Meanwhile, the midband is almost entirely uncoloured. I felt that voices occasionally betray a hint of lower-midrange boost, but that's not necessarily an unpleasant thing.
Bass performance is generous, albeit perhaps not always entirely honest. Depending to some extent on the amplifier you use it seems to have a very slight lift which, in practice, fills out the music without colouring it excessively. It will add some showroom appeal.
Overall, the Grado PS500 comes pretty close to the pricier GS1000; maybe it doesn't have the latter's crystalline clarity, but it is impressively close. It also has most of the '1000's extension at the frequency extremes – that bass is majestic.
The fact that the PS500 seems relatively unfussed about amplifiers (it likes a decent one, but doesn't demand the absolute best) only adds to the considerable appeal of this very impressive product.
LIKE: Beautifully detailed sound that's rich in frequency extremes
DISLIKE: Supra-aural construction may not be comfortable on all heads
WE SAY: A classy transducer that's well balanced in every sense

DETAILS
PRODUCT: Grado PS500
Origin: USA
Type: Dynamic headphone
Weight: 240g
Features:
• Supra-aural
• Open-back
• 32-ohm impedance
• Vented diaphragm
• Fixed cable, 175cm
• 6.3mm jack plug
Telephone: ArmourHome Ltd
Telephone: 01279 501111
Website: gradolabs.com
Inside this month's issue:

Group Test of cable looms, Yamaha's stunning all-analogue A-S3200 integrated amplifier, Pro-Ject's T1 Phono SB budget turntable, Rega's affordable io amplifier, Cyrus' ONE Cast streaming amp and much more...
Standout tracks from our
Music Reviews
section, plus our current favourites to play in the
HFC
office.