Hart Audio - £7,495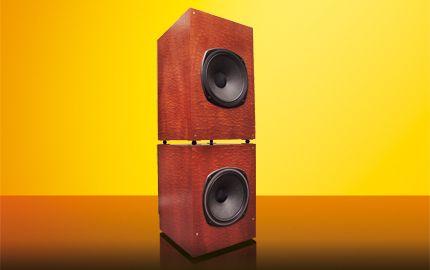 A radical loudspeaker concept that challenges audio rules. Chris Ward visits the Isle of Wight for an exclusive listen
Hart Audio may not be a household name but David Hart's Isle of Wight-based business has a refreshing approach to audio design and high-quality UK manufacturing, as well as a growing number of passionate customers appreciating service and bespoke production. Hart Audio sells its speakers direct in the UK so you won't find its speakers at your local hi-fi dealer.
The new incarnation of the imposing EVO1 commands attention even when it's silent. Two large, understated enclosures per channel, each boasting a purposeful 12in driver hints that you're about to hear something different.
At the heart of the EVO1 is David's passionate belief that many traditional speaker designs are fundamentally compromised by underwhelming and highly coloured bass. This latest design sets out to fix this perceived compromise.
The EVO1 is based on a similar design brought out in 2010 without the lower 12in driver. The new version is claimed to build on the original's strengths while adding even greater bass extension and refinement. As before, it employs Tannoy-sourced primary drivers housed in extremely rigid, high-density fibreboard enclosures, hand assembled and seamlessly finished in a choice of real wood veneers.
At first glance this substantial twin box per channel design looks like a 'spot the difference' competition with a near identical pair of 12in Tannoy drivers located in a similar pair of unfussy enclosures. Closer inspection of the front faces reveals that only the top driver contains Tannoy's dual-concentric tweeter with the new lower driver employing a form of bass port where the tweeter would be. Looking at the back of each box reveals more remarkable differences. Immediately apparent in the top unit is a beefy, built-in amplifier complete with cooling fins and control knobs covering phase, frequency contour, high and lower-level gain alongside balanced and unbalanced inputs and mains input. Around the back of the base cabinet is the biggest surprise – eight custom-commissioned 4.5in long-throw drivers neatly concealed, firing in phase with the primary 12in drivers, but rearwards.
David states that the top 12in driver "deserves to be left to focus on point-source treble and vital mid-band detail". The addition of the lower box to the 'stack' and additional drivers is, therefore, to focus exclusively on extended bass duties. There is minimal overlap in frequency response between top and bottom boxes, but the use of two near identical 12in drivers ensures that sound quality is highly coherent.
The two boxes are separated by four near rigid nitryl rubber balls. These serve to decouple the two boxes by an intended amount. Four further steel balls are seated under the bottom box creating strong points of contact with the floor while enabling a degree of fine tuning in positioning.
The bottom box is arguably where the most radical audio thinking is happening. Internally, there is no damping material and baffles are claimed to be arranged to focus the bass energy generated by all lower drivers to a notional 'point source' flowing through the throat of the primary 12in driver.
This lower bass port is clearly vital to this new design, as David believes that "trapped bass can only colour the output by exerting unwanted pressure on the cabinet walls and smearing vital detail".
Sound quality
First impressions are of extraordinary bass somewhat leading the music, but a subtle tweak of the contour and gain controls on the rear amps soon arrives at a sound that works, to my ears. Purists may sniff at this tweakability, but there are many speakers guilty of over driving rooms, so this feels like a smart way to achieve a balanced sound in any listening environment.
Bass is highly extended, but with next to no flab or overhang. More impressively, it seems to have nothing to do with the boxes that generate it. With some traditional floorstanding designs, lower frequencies can be synthesised by flexing the cabinets themselves or tuning a port to resonate below the abilities of the drivers. In contrast, the EVO1 effortlessly goes through the bass gears down to near seismic depths. Playing James Blake's Limit to Your Love on CD feels like it could loosen your fillings and I can literally count the individual excursions of the bottom 12in driver on the lowest notes. Relishing in the bass abilities of these speakers, a spin of Kraftwerk's Elektro-Kardiogramm on vinyl fills my solar plexus with a real dread that I may be having a seizure myself; such is the impact on my vital organs.
This particular setup is fed by valves and I can identify a gentle warmth and slight softening to leading edges that comes with the amplification.
It would be easy to imagine that a passion for bass extension may have left this design a bit of a one-trick pony. Not so. This fast, deep tuneful bass is full of rich detail that clearly defines drum skins, organ pipes and the human voice. Playing a lossless rip of Buddy Holly's True Love Ways highlights a lightness of touch reproducing the difficult timbre of Holly's voice, making the speakers very strong at communicating the emotion within vocals.
If you're a fan of gentle chamber music or understated folk you will almost certainly not be drawn to the charms of the EVO1, but that will probably be to your loss.
Playing a quality rip of Foster the People's stripped-out acoustic version of Pumped-Up Kicks sends a shiver straight down my spine, such is the solidity and realistic air around the three-dimensional soundstage. Pinpoint vocals, meanwhile, and menacing muted guitar strumming are utterly locked in space.
This rock-solid soundstage is potentially the secret weapon of these speakers. You may be ready to be impressed by the quality of bass, but it's the quality of the uncluttered mid-band and lower treble detail delivered so effortlessly that really could catch you off-guard. Freeing the top drivers of any serious bass duties and extracting so much energy from the lower cabinet appears to have the effect of taking the cabinets out of the equation and reducing any smearing of micro-dynamics, so critical in reproducing the full emotional content in music.
Conclusion
If you suspect that there is a lower octave missing from your music then you should audition these speakers. But it would be easy to turn to the EVO1 for bass quantity and miss the bass quality that's on offer. These are not brutal bruisers despite their brusque shape. Some potent speakers can create bass nodes that flap your trousers when overdriving a problematic room, but the EVO1 offers fine-tuning options and delivers a bass that just sounds more musical.
At £7,495 this speaker system isn't exactly cheap and many other rivals will impress at this price point and below. However, the EVO1 can be considered an awful lot of speaker for the money. Given Hart Audio's new commitment to direct sales you may even view the price as a bit of a bargain compared to it's previous price through resellers.
The combined effect of high sensitivity, low cabinet colouration, a tuned set of sympathetic drivers and near bottomless active amplifier grunt adds up to a more subtle whole than one might expect. It's like a growling V8-powered muscle car idling effortlessly along at 30mph, just daring you to put your foot down. Safe driving!
LIKE: Seismic, clean bass and rock-solid soundstage; build and finish.
DISLIKE: Footprint and weight.
WE SAY: Truly original concept; it may be the only speaker you'll ever need!
DETAILS
PRODUCT Hart Audio EVO1
ORIGIN UKTYPE 3/4-way, two box, active loudspeaker system
WEIGHT Head unit: 62kg, Bass module: 38kg
DIMENSIONS (WxHxD) 425 x 1,250 x 425mm
FEATURES
• 2x 12in primary drivers, 8x 4.5in bass drivers
• Quoted sensitivity: 99dB top, 101dB bottom
• Quoted impedance: 8ohms
• 500W active amplification
DISTRIBUTOR Hart Audio
TELEPHONE 01983 612924
WEBSITE hartaudio.com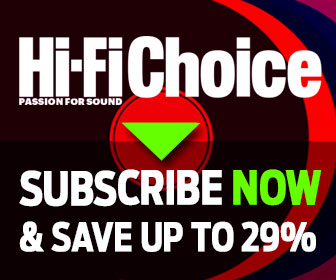 Inside this month's issue:

Rotel's CD11 and A11 Tribute CD player/integrated amp combo, Auralic's Aries G2.1 streaming wireless transport, Sonus faber's Lumina III floorstanding loudspeakers, phono stage Group Test and much more...
Standout tracks from our
Music Reviews
section, plus our current favourites to play in the
HFC
office.