Kanto Audio TUK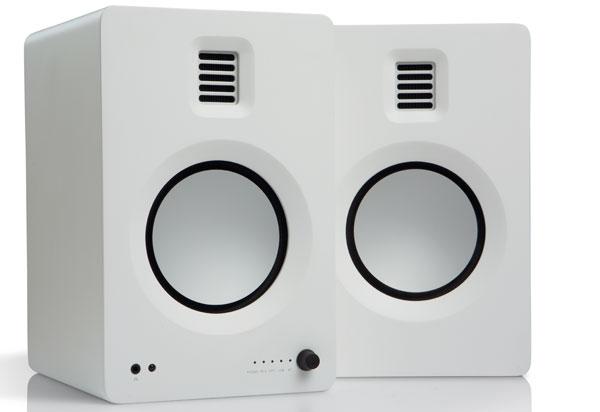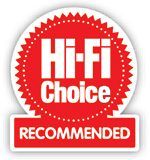 Powered loudspeaker systems have generally been found at the more affordable end of the hi-fi market. Instead of a crossover in front of an amplifier sending specific frequencies to individual drivers, a stereo amp inside the cabinet acts on a conventional crossover. This is much simpler to build and has the added advantage that it can be placed in a single cabinet while the other speaker is passive and connected via a run of speaker cable. Canadian-based Kanto has shown clear proficiency in this sector, and the YU6 powered loudspeaker system we looked at in HFC 450 performed particularly well.
The TUK is functionally very similar, but takes this latest model to a higher price point. The primary reason for this is due to the drivers it uses. Each cabinet is built around a 133mm continuous profile aluminium mid/bass driver and a 28 x 35mm Air Motion Transformer (AMT) tweeter. This offers many of the virtues of a ribbon design with less of the fragility. Ignoring for a moment the powered aspect of the TUK, this is one of the most affordable speakers I have seen to include an AMT.
The drivers are powered by a Class D stereo amplifier mounted in one of the cabinets and claims a total power output at 130W and a 50Hz to 20kHz frequency range, which can be further augmented via the subwoofer output. If you press the 'sub' button on the remote handset, the TUK will adjust its roll-off to 80Hz and output everything below that to the sub. It's a clever little feature that should make 2.1 configurations easier to set up.
The inputs are on the rear of the master speaker and comprise a USB-B port, optical in, RCA stereo input and moving-magnet phono stage. These are joined by v4.2 Bluetooth with aptX. There is also a USB-A connection to power a phone or tablet and a 3.5mm headphone out. Those with hi-res music libraries will need to take into account the maximum sample rate for digital sources is 24-bit/96kHz.
Black and white finishes are available and grilles are provided. Kanto supplies a remote handset that controls most of the functionality and is a rather nice piece of industrial design. Using the speaker is fairly straightforward, but it isn't possible to see which input has been selected from a distance and although the auto standby function is useful, it can be a little slow to start up. Kanto supplies a run of cable to connect the passive speaker as well as a USB and power cable too.
Sound quality
With the speaker placed on Soundstyle stands I begin by connecting an SOtM sMS-200 Neo network player (HFC 449) via the USB input. Kanto doesn't give any information about the decoding hardware onboard, yet a 16/44.1 rip of Death Cab For Cutie's I Will Possess Your Heart is lively without losing any of its refinement. The speaker cabinet is impressively unconstrained at the top end and so long as care is taken with placement, it images very effectively. Ben Gibbard's distinctive voice is captured well and is placed toward the centre of the soundstage in a wholly convincing fashion.
Moving to aptX Bluetooth doesn't significantly alter the presentation. Having found the stability of the Bluetooth connectivity on the YU6 to be variable, the TUK is solid with both Android and iOS devices. Via Android in particular, the same Death Cab album via Qobuz is recognisably close to the performance via the USB connection. Switching to Spotify with its compressed streams impedes some of the smoothness and vibrancy of the AMT drivers, but it still remains very listenable.
The only thing to note is that the TUK sounds best with the volume level turned up. This needn't be excessive – a listening level of about 75dB at 1m should be sufficient – but below this, the space around the top end diminishes while the bass extension tails off noticeably. Many products I've tested over the years have demonstrated this to an extent, but I don't recall it being quite as pronounced as it is here.
Adding a Lindemann Limetree Network audio player (HFC 454) to the RCA stereo input reveals that the amplifier and drivers have more performance to give. With DSD upsampling selected on the Lindemann, the top end of the Kanto takes another step forwards. The gorgeous performance by Boy George on Faithless' Why Go? is handled with real aplomb. The combination of tonal realism and the decay to notes turns mere reproduction into a proper performance and the harder you drive the loudspeaker, the more open and assured it seems to become.
The built-in MM phono stage is a useful addition. Using a Michell GyroDec running an Audio-Technica VM-95SH cartridge (HFC 446), the TUK captures the defining elements of the turntable – the expansive soundstage and effortless rhythmic engagement. Spending a similar amount of money as the cost of the TUK on a turntable-orientated system may well yield a slightly better performance, but this ignores the other functionality and overall convenience that the Kanto offers as a system package. As a means of adding a vinyl spinner without additional expense, the phono stage fitted is more than good enough for the job.
Conclusion
The TUK is an interesting product and for the most part, a well-executed one. I'm not entirely sold on the looks and it indisputably does its best work with a little bit of volume behind it, but these are far from insurmountable issues. Crucially, if you are interested in AMT drivers, this is a very cost-effective way of experiencing them and Kanto has done enough work to ensure that its positive attributes are effectively harnessed to provide an open and effortless performance. Comparing it with a stack of affordable separates could see you make arguments either way in terms of performance, but when it comes to convenience and efficiency this is a very compelling option. As the powered speaker concept has the potential to go beyond its budget beginnings, I suspect we are going to see more designs joining the sector in the coming months. ES
DETAILS
Product: Kanto Audio TUK
Price: £800
Origin: Canada/China
Type: Powered loudspeaker
Weight: 5kg (powered), 4.5kg (passive)
Dimensions: (WxHxD) 178 x 276 x 215mm
FEATURES
● 1x 28mm x 35mm Air Motion Transformer
● 1x 133mm mid/bass driver
● Inputs: Quoted power output: 130W RMS
Read the full review in
November 2019 issue 455

SPONSORED VIDEO
Inside this month's issue:

Our bumper collection of the best kit to pass through the HFC test lab over the last 12 months is here to help you pick from essential turntables, speakers, amps, DACs, streamers, DAPs, headphones...
Standout tracks from our
Music Reviews
section, plus our current favourites to play in the
HFC
office.