McIntosh introduces MC451 Dual Mono Power Amplifier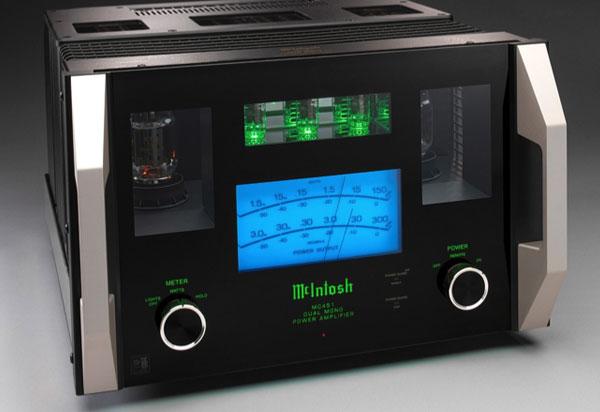 New York company McIntosh has unveiled its MC451 Dual Mono Power Amplifier, a compact mono amp that benefits from the manufacturer's proprietary Hybrid Drive technology, where valve and solid-state amplification is combined in one unit.
McIntosh says its: "Hybrid Drive enables users to drive a loudspeaker's critical tweeter and midrange drivers with lush valves, yet provides the more demanding bass drivers with the power, control and dynamics of solid state". The new MC451 follows on from the MC901 Dual Mono Power Amplifier with a more compact design built in one chassis and offering a claimed 150W from its valve section and 300W from solid state.
The MC451 benefits from user-selectable solid-state and valve output stages that can be selected using a balance control knob. This enables users to match genres to preferred amp technology: for example, jazz using more valves or rock using solid state.
Hybrid Drive technology allows users to fine tune adjustments to the internal crossover in order to determine where the bass, mid and high frequencies integrate between valve and solid-state power. In addition, there are separate inputs for the valve and solid-state sections provided for use with external crossovers.
The MC451 Dual Mono Power Amplifier also features a variety of different McIntosh-patented technologies including: Power Guard and Power Guard SGS; Sentry Monitor; Autoformer; Unity Coupled Circuit; Solid Cinch speaker binding posts; Monogrammed Heatsinks, plus a DualView Power Output Meter.
Orders for the MC451 Dual Mono Power Amplifier can be placed with authorised McIntosh dealers with shipping expected to begin in January 2023 (United States and Canada), and the rest of the world, shortly thereafter. Its price: £16,500.
Available to buy now for £16,500, you can find out more about the McIntosh MC451 Dual Mono Power Amplifier here.

SPONSORED VIDEO
Inside this month's issue:

Our 500th issue reports on the Bristol Hi-Fi Show, April Record Store drop, Rega's Elex MK4 integrated amp, Tangent's PreAmp II and Power Ampster II, a high-end headphone group test and much, much more