Monitor Audio Monitor 300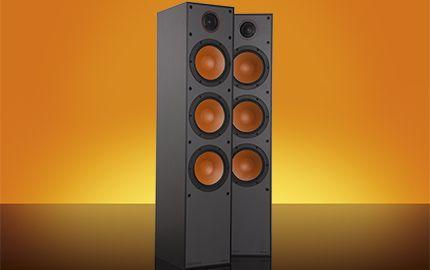 HFC scales the giddy heights of Monitor Audio's new low-cost floorstander and is impressed with what he hears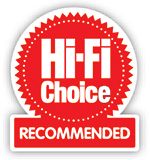 Has hi-fi got better in the past few decades? Take loudspeakers for example; low-cost designs from the seventies were somewhere between dreadful and dire, but improvements in design and manufacturing now make it possible to do so much better.
This point is beautifully illustrated by the new Monitor 300. To be frank, the price has you wondering if the company has inadvertently left off a zero. From a distance it looks like a swanky high-end floorstander – indeed, you could say the same from moderately close up. Yet there's also a slight playfulness to the design; it's as if the company's product planners have sat back and relaxed, almost as if it's "wear what you want" day at the office. Personally, I find this really interesting. Here's a really big speaker, made pretty cheaply, but with all the company's know-how ploughed into the mix, to get the best sound from the modest materials. For good measure, it's styled in a more fun way without ending up as the loudspeaker equivalent of a clown car. There's a choice of walnut vinyl wrap, black and white finishes with a contrasting grey grille, and the midrange and bass drive units are finished in a distinctive translucent orange. Despite this, the company retains its Metal Matrix Polymer cone technology, so there's method behind the madness, so to speak.

The Monitor 300 gets no less than three of these 165mm drive units, two handling the bass and one working as a midrange unit. Allied to this is a 25mm black Ceramic-Coated aluminium magnesium dome tweeter as previously seen in the Bronze series. Incidentally, the latter is the range up from the new Monitor series. The speaker is a two-and-a-half-way design, with the tweeter coming into play at 3.3kHz, and the bass units waking up at 700Hz.
It's obvious that the Monitor 300 is built to a price; a bang on the side of its very tall cabinet with the knuckle does not yield as dull a thud as I would like. That said, no other speaker at or near the price is much different in this respect. The outrigger feet give a good degree of stability to the speaker, and in my view are a better solution to the task of stopping it falling over than a spiked plinth.
Two of Monitor Audio's HiVe II (High Velocity, Low Noise Reflex Port) are fitted; these are said to smooth airflow through the port, and this certainly works well in the company's more expensive designs.
Quoted frequency response is impressive at 35Hz to 30kHz, and the manufacturer claims sensitivity of 90dB/1W/1m – meaning it should go fairly loud for a given amount of power, and it's a relatively benign load at a quoted nominal 8ohm. Monitor Audio says it will work with any amplifier from 40 to 150W – which is most. I find it very easy to position, working nicely about 50cm from the boundary wall, toed-in slightly. I use the twin foam bungs supplied for each speaker's bass ports, and single wiring – even though the rear terminal blocks are bi-wireable.
Sound quality

From the first few bars of UB40's King, it's clear that this floorstander has a sunny disposition. Indeed, given that it isn't the most lavishly finished speaker, I am surprised by how well balanced and sophisticated things sound. It's a fun thing to listen to, with a good deal of swing to the music, and an even, well-balanced tonality that doesn't scream out at you. On the other hand, it's not obsessed by the idea of staying super accurate and ultra refined, either. In other words, although well brought up, it certainly knows how to let its hair down and party.
The UB40 track is packed with percussion, from cymbals to maracas, but the most propulsive thing is the bass guitar work. This bounds along, going up and down the fretboard in a super-fluid way, which makes the song so infectiously rhythmic. The fact that the track was recorded in someone's hall on a primitive open-reel machine helps here; there's a spontaneity to the music that brims over. This seems to go completely over the heads of many speakers, but not this one. It is delightfully agile, and seems to be having a ball. You find yourself really getting into the song's groove, loving the vibrant atmosphere of the original recording. The track isn't especially well recorded, but is full of feeling – and this speaker catches it far better than expected at the price. There are designs at many times the cost that simply pass this lovely vibe by.
The track proves instructive on another level, too – showing that this is a really wide bandwidth design. I can't remember products at this price of, say, 15 or 20 years ago having the ability to handle pretty much all the notes on a bass guitar with relative ease, while also giving a surprising sparkle to the treble. This floorstander does just this, and its ability to run from right down low to way up high is rare at the price. More important still is the integration of the drivers; there are no obvious peaks and troughs, and the company has deliberately not engineered a great deal of upper bass boom to give artificial weight. That said, you'll not find it the tightest thing low down; you can hear the cabinet by the gentle rounding of bass guitar notes. Cue up some pounding electronica in the shape of Uncle Bob's Burly House – an early nineties trance track – and you soon hear the cabinets joining in the fun. There's a slight bloom to the low bass, but this still doesn't detract from enjoying the music one bit. At very high levels, ultimately it starts to sit on dynamics, but it's only a £550 floorstander, so what do you expect?

Tears for Fears' Sowing The Seeds Of Love shows just how couth the tweeters really are. I've always liked Monitor Audio's metal domes wherever they crop up, and this is no different. Hi-hat cymbals glint nicely – something that some fabric domes on low-cost speakers cannot manage – yet don't come over as coarse. The track's great ride cymbal work is fairly smooth and gives the song a nice tinselly lower treble, too. The snare drum sounds wonderfully lithe and really pushes the song along, allied to the bass drum and satisfying bass guitar work – which underpins everything beautifully. Again, you could ask for more detail, finesse and better dimensionality – but you'd have to pay a good bit more.
The weakest aspect of the Monitor 300 is the midrange, but still it seems a little churlish to complain given its price. In truth, it's just a little too nebulous to really ram a recording home in all its glory. There's a slight sense of cloudiness to it, which gives away its budget origins. However, it still has a pleasing midband – indeed you might even say it's quite charming. Rather in the way that impressionist art can be quite romantic, so the Monitor Audio isn't penalised for its sins of omission. Its general rhythmic snap, bouncy bass and sparkling treble top distract the listener from the fact that they're not listening to a forensic floorstander at five times the price. It's as if the Monitor 300 is too busy having fun to have to account for its slightly soft-focus sound. 


Conclusion
This is a fun entry-level floorstander with some minor imperfections, but if you are happy with the trade off you will get along just fine. What I love about the Monitor 300 is that it knows how to enjoy itself and play to its strengths. It's fast, enjoyable, great at tracking dynamics, good with leading edges, and has a warmish sound that's never tiring. Factor in serious power handling ability, and a surprisingly extended bass, and it's an awful lot of speaker for the money. DP
DETAILS
Product: Monitor Audio Monitor 300
Price: £550
Origin: UK/China
Type: 2.5-way floorstanding loudspeaker
Weight: 13.7kg
Dimensions: (WxHxD) 201 x 970 x 299mm
FEATURES
● 1x 25mm black C-CAM dome tweeter
● 1x 165mm MMP II mid/bass driver
● 2x 165mm MMP II bass drivers
● Quoted sensitivity: 90dB/1W/1m (8ohm)
Distributor: Monitor Audio Ltd.
Telephone: 01268 740580
Website: monitoraudio.co.uk

Read the full review in August issue 439

SPONSORED VIDEO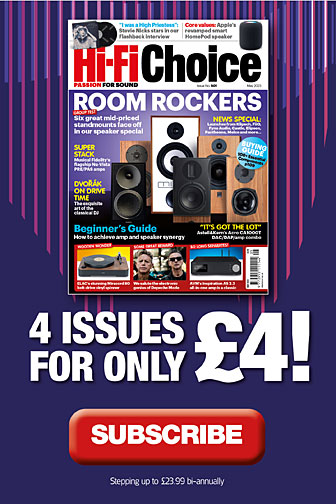 Inside this month's issue:

Klipsch R-50PM powered loudspeaker, DS Audio Grand Master Extreme cart, Astell&Kern A&futura SE300 portable music player, Elipson Legacy 3230 floorstanding speaker and our round up of the best music streaming services