Onkyo TX-NR609 - £500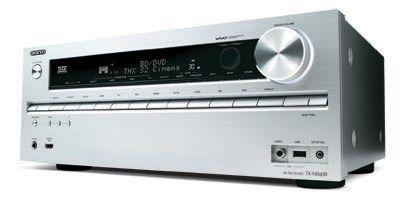 Multi-purpose
Could Onkyo's TX-NR609 receiver be the best-featured audio tool on the planet? Ed Selley thinks he's found a great way to spend £500
It's been a good few years since we featured an AV receiver in Hi-Fi Choice. But following Onkyo's recent return to hi-fi (HFC 345) we were made aware of a truly ground-breaking new product with an astonishing spec-list, one that we felt should be put through its paces.
The TX-NR609 is a seven-channel AV receiver with 160 watts (albeit into six ohms) per channel and six-HDMI inputs able to receive 3D video and every audio format you can think of. Additionally more conventional digital and analogue inputs are fitted, as well as an internal tuner.
Connected to an Ethernet connection or via a UWF-1 wireless adaptor, the receiver is also capable of accessing internet radio stations, music over network and music-on- demand services, such as Spotify and LastFM. Last, but by no means least, it can automatically set levels and allow for room interaction.
Whizz-bang
All this functionality is impressive, but at an asking price of £500 it is fairly astonishing. What we have here – on paper at least – is a device able to handle the inputs expected of a budget amplifier with network streaming and music-on-demand access, while also offering the whizz- bang experience of home cinema.
The TX-NR609 is not in the same league as its bigger brothers, but it feels solid and well-assembled, with all seven channels having proper three-way binding posts.
Setting the amp up is necessarily more complex than a conventional two-channel amp, but once the auto-setup has done its thing and the receiver is live on the network, operating it is relatively simple. Subscriptions are required for Spotify, Napster and LastFM, but the internet radio functionality goes live straight away, as will network streaming. Control-wise, the Spotify functionality is straightforward, but rather less effective than a laptop in search and use terms.
Room correcting bonus
Sonically, the most interesting aspect is how much the room correction still plays a role in stereo listening. The TX-NR609 is able to avoid resonance and room nodes and can present a tonally flat presentation. If you use a subwoofer for two- channel listening, there is little question that the receiver offers superior integration to virtually any two-channel amplifier. It can feel slightly artificial, but switching to the 'direct mode' will give a presentation more like a hi-fi product.
Spotify material
Not the most subtle of performers, the result is still tonally even, but a little artificial as a result, with very strong accentuation on particular mixes. This can lead to a slight lack of delicacy with more gentle material, but it does manage to sound very similar with Spotify material and even heavily compressed internet radio stations stay listenable.
By the standards of the best sub- £1,000 stereo amps , the TX-NR609 is slightly larger than life – everything is placed in a large soundstage and given a slightly exuberant edge.
Value added
The exuberance of the Onkyo is undeniably good fun listening to upbeat and fast music. There is slight awareness that it isn't, perhaps, the last word in tonal neutrality, but this is rather overwhelmed by the energy and sense of fun that it brings to the performance.
The internal tuner is of a more than listenable quality and we feel that the combination of analogue FM and internet radio is the best for both future-proofing and acceptable sound quality.
We were pleasantly surprised by the TX-NR609. Not only does it do a truly remarkable number of things, it does most of them very well. In an absolute sense, if your system will only ever have two speakers attached to it, a stereo amp will still make more sense, but if you want an amp that combines the role of film and music hub at a great price, then the Onkyo deserves an audition.
LIKE: Huge feature set, with an exciting and gutsy sound
DISLIKE: Not very subtle; some limitations to streaming services
WE SAY: A remarkable product for £500 and very capable in a number of areas

DETAILS
Product: Onkyo TX-NR609
Origin: Japan/Malysia
Type: Network receiver
Weight: 11.3kg
Dimensions: 435x173.5x328mm
Features:
• 7-channel AV receiver
• Spotify, Napster and LastFM support
• Internet radio and DNLA streaming
• FM/AM tuner
• Six HDMI 1.4 inputs
Distribution: Onkyo UK
Telephone: 01628 473350
Website: eu.onkyo.com
Inside this month's issue:

Group Test of cable looms, Yamaha's stunning all-analogue A-S3200 integrated amplifier, Pro-Ject's T1 Phono SB budget turntable, Rega's affordable io amplifier, Cyrus' ONE Cast streaming amp and much more...
Standout tracks from our
Music Reviews
section, plus our current favourites to play in the
HFC
office.