PMC DB1i - £985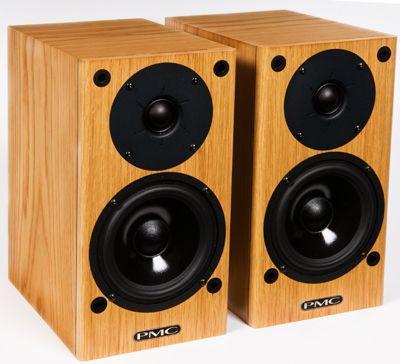 PMC DB1i - £985
Probably the smallest transmission line speaker in the world. Someone should inform the Guinness Book of Records
In PMC parlance, DB is shorthand for Dinky Box. While somewhat deeper than sealed-box miniatures, like the classic BBC LS3/5a, the front view is barely larger than that needed to accommodate two drive units, so this DB1i is certainly a tiny loudspeaker. Especially when you consider that the four-section transmission line squeezed inside this little enclosure to load the back of the small main driver has an amazing effective length of 1.5 metres!
This current DB1i is based on an original design that dates back some seven years, during which it has undergone two major revisions, as well as a steadily increasing price. The current version's cabinet supplier has improved the quality, fit and finish of the enclosure. PMC's own 140-millimetre cast frame bass/mid driver has a stiffer, better damped 95mm paper cone and an improved voice coil. The crossover networks are pair-matched using high-quality components. And a new 27mm soft fabric-dome tweeter has been co-developed with Norwegian OEM driver specialist SEAS.
Finished in a choice of walnut, black ash, oak and cherry real wood veneers, the three internal partitions required to form the line might make manufacture difficult, as does the complex cocktail of damping materials used through the transmission line, but it also ensures an exceptionally stiff enclosure.
Twin terminals facilitate bi-wiring or bi-amping and the rear panel also accommodates the large line exit slot, plus an attachment plate for a substantial wall bracket.
At a current price of £985, it's far from cheap, but numerous high-class miniatures cost significantly more. And there's no denying the excellent build-quality and good-quality wood veneer, even though it does stop short of the currently fashionable high-gloss lacquer or satin finish found elsewhere.Sound quality
Room measurement had indicated that the DB1i probably had sufficient bass for free-space siting, so this was adopted for the Blind-listening Group Test programme – with no little success, it must be said.
Subsequent hands-on experiments revealed that moving the speakers a little closer to the wall behind (leaving a gap of about 40cms) improved the tonal balance, 'warming up' the overall character and providing some compensation for the slightly strong top end.
The DB1i has all the sonic virtues of a high- quality miniature, but these are accompanied by the inevitable limitations of the breed. Imaging and dynamic range were widely praised, providing impressively coherent instrumental detail and fine separation between individual voices, though at the same time dynamic expression is a trifle muted and lacking in vigour when compared with the larger examples in this test group.
Given its tiny dimensions, the ability of this speaker to supply decent bass weight was always surprising, though as the volume was turned up a mild degree of congestion become apparent.
Small speakers do have constraints, especially when the dynamic and loudness envelopes are pushed. The trick is to minimise these limitations, while capitalising on the fine imaging on offer. Here the DB1i is notably successful and, while it might not be the sweetest example, careful positioning ensures a fine overall balance with surprising bass delivery.
LIKE: Excellent imaging, low coloration and a fine overall tonal balance
DISLIKE: Could have better dynamic expression
WE SAY: Has a miniature's advantages of low coloration and fine imaging

DETAILS
ORIGIN: UK
WEIGHT: 4.5kg
DIMENSIONS: (WxHxD) 155x290x234mm
FEATURES:
• Transmission line bass loading
• 27mm SEAS-sourced soft-dome tweeter
• 140mm main driver has cast frame, doped paper cone
• Mounting plate for wall bracket
• Flush-mounted drive units
DISTRIBUTOR: PMC
TELEPHONE: 08704 441044
WEBSITE: pmc-speakers.com
Inside this month's issue:

Group Test of wireless in-ear headphones, Vertere's DG-1 turntable and Phono-1 Mk II phono stage, T+A's Series 8 mini system, Freddie Mercury's lockdown tips and much more...
Standout tracks from our
Music Reviews
section, plus our current favourites to play in the
HFC
office.