PMC, Twenty.23 - £2,095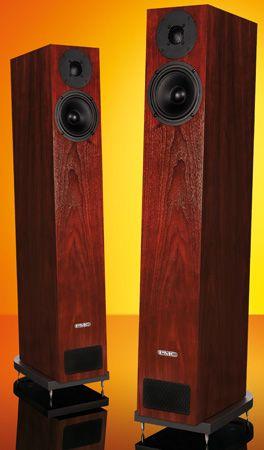 Twenty's vision
PMC's new twenty series applies some of the lessons learned while developing the upmarket fact models, says Paul Messenger
PMC achieved its 20th anniversary last autumn, celebrating the fact by launching a brand new four-strong 'twenty' series of models that are intended to fill the gap between its regular 'i' series of domestic hi-fi speakers and much more costly 'fact' models.
In truth, the twentys are priced much closer to the 'is' than the 'facts', this compact floorstander starting at £2,095 for the real wood veneered version. (There's a choice of three here, including oak, walnut and amarone, though the highgloss Diamond Black finish costs an extra £210.)
That compares with a current price of £1,525 for the GB1i, its nearest equivalent in the standard range. Judging by the bold specifi cations, the two models seem to have a great deal in common. The transmission line loading the bass is the same length (2.4m) and both drive units have the same nominal sizes.
Sharp and tilted
However, the twenty.23 looks much sharper and up to date than the GB1i and, perhaps, the real clue to its superiority lies in a significant increase of roughly 25 per cent in weight. It's a little larger, too and features numerous detail refinements intended to improve performance.
The most distinctive feature of all the models in the new range is that the enclosures tilt slightly backwards. It's only a five degree angle of tilt – any more would probably upset the stability too much – but it does substantially enhance the appearance, as well as contributing to the time-alignment of the two drivers' voice-coils.
Driver technology
One consequence is found in the plinth, which is set back a little to compensate and ensure that the spikes are properly located directly below the fore'n'aft centre of gravity. Besides enhancing the physical stability, the plinth has two additional features. The overlap at the back is rounded and shaped, with a groove that provides a convenient hand-hold for lifting and moving the speaker. And the three-bolt fixing for the plinth is accomplished through carefully designed cork'n'rubber washers, which provide a measure of decoupling. The fixing instructions seem a bit haphazard – take up bolts to finger-tight, then add a quarter turn – but we're assured they're effective, as is the technique.
The enclosure itself is substantially constructed from 18mm high-density fibreboard (HDF) and further stiffness is provided by the internal structure provided by the folded transmission line, which is 2.4m in length and, therefore, requires two long vertical partitions. The line is terminated in a large port on the front near the floor and further bracing is applied inside the critical top surface.
The drivers might look similar to others used by PMC, but they're actually unique to the twenty series. The twenty.23's bass/mid M13 is a cast frame 140mm unit. It has a 95mm diameter flared paper cone with a textured surface and matt finish doping.
The Sonolex tweeter was developed alongside Norwegian OEM driver specialist SEAS and has a 27mm doped fabric dome. A rear chamber helps keep the diaphragm's fundamental resonance quite low, allowing the crossover to operate at a lower than usual 1.8kHz. The dome sits behind a special fixed grille which helps widen the dispersion.
Twin-input terminal pairs are conveniently located near the floor. Parallel connected with brass rods when delivered, these also provide the bi-wire or bi-amp options. Inside, the crossover network follows PMC's established tradition in using steep 24dB/ octave slopes, ensuring fi ne phase coherence and minimal driver overlap, but also requiring extra care in component matching during manufacture.
Simple ingredients
Room measurements showed that the twenty.23 is very well suited to positioning well clear of walls, whereupon it delivered decently even bass extension down to below 40Hz in our listening room and was free from unwanted mid-bass excess.
Most of the listening was done using a Naim CDS3/555PS CD player, a modified hybrid Rega/ Linn Sondek LP12 with Rega RB1000 tonearm and Soundsmith Strain Gauge cartridge (HFC 324), and a Magnum Dynalab MD 106T tuner. Amplifiers included a Naim NAC552/NAP500 combo; cables were from Chord Company, Vertex AQ, Phonosophie, Vertere and Naim, while equipment supports included Mana, Vertex AQ, Naim and Townshend types.
The twenty.23 might be a simple design with quite simple ingredients, but its sound quality is very classy indeed, with a delicacy, transparency and freedom from both boxiness and cabinet coloration that is unusual at any price. Some degree of constraint in both bass weight and dynamic expression is inevitable with such a small bass/mid driver, but for listeners prepared to accept such limitations, this loudspeaker ticks most, if not all, of the boxes.
Although the bass reinforcement and enclosure stiffening are both significant, arguably the most important effect is the way a well-damped line can absorb the midrange frequencies from the back of the driver, avoiding the boxy reflections often created within conventional enclosures.
And it's this freedom from audible midrange boxiness and congestion that really sets this speaker apart from most of its competitors and is responsible for its fine transparency.
That lack of boxiness is also responsible for the superior stereo imaging, which seems entirely divorced from the speakers themselves, while the wide dynamic range and low 'hash' floor assist the ability to create realistic depth perspectives with appropriate material. Mono sources, such as speech, demonstrate impressively tight central focus. Trawling through familiar programme material showed that this is a speaker that's invariably inviting and very easy on the ears, and the ability to deliver an unusually wide dynamic range by effectively resolving very low-level detail is more than fair compensation for a rather more modest ability to deliver realistic dynamic punch and grip.
The top end is quite strong, relatively speaking, but only rarely to the point where it becomes in any way intrusive. It's also clean and sweet enough to bring an attractive texture to the sound of instruments such as violins and realistically render the background audience noise during live performance recordings.
One interesting question must be how the twenty.23 fits in between the GB1i and the fact.8 (or fact.3). Without the opportunity to bring all three models together, it's impossible to answer that question accurately, but relying on an admittedly fallible audio memory does suggest it sits rather neatly between the two.
The GB1i is a decent enough speaker, no question, but it simply lacks the all-round sheer class of the twenty.23, especially in terms of smoothness and bass-end clarity.
The fact models are significantly more costly and have an extra bass/mid driver, so making a fair comparison is harder. However, the senior models do seem to combine an impressively smooth delivery with rather more dynamic expression than that available with the twenty.23 and significantly more bass weight, too, in the case of the fact.8. Whether that's worth the rather hefty price premium on purely sonic grounds is, perhaps, debatable, but the facts do also have certain advantages in presentation.
Cool and Dry
It's probably true that the twenty.23 is best suited to rooms that are somewhat smaller than the relatively large (4.3x2.6x5.5m) listening room used for our tests. It's certainly true that the overall character is on the dry and cool side of neutrality and could, perhaps, do with a bit more weight and warmth.
The bass does go deeper than one has any right to expect in view of the small size of the bass/mid drive unit. It's undoubtedly clean, crisp and agile here, providing plenty of information on what the bass lines are doing. But it could do with a bit more authority and grip, especially with rock and synthesised material. The bass hangs on in there pretty well and is well able to communicate the musical messages, but it doesn't exactly power and drive the music along in the way that gets the blood coursing in the veins, and in the manner that a significantly larger loudspeaker can manage.
However, there's no denying the fi ne top-to-bottom coherence that this speaker delivers. One bonus that comes from using such a small bass/mid driver lies in the advantages it offers at the top end of its operating band, in making the crossover transition to the tweeter.
The twenty.23 accomplishes this changeover particularly well – rather better, in fact, than the GB1i – showing just sufficient restraint to avoid the presence zone from becoming too aggressive when the volume is turned up, yet without leaving voices (especially speech) sounding shut in.
All-round value
This relatively small and quite discreet loudspeaker looks good, with a high-class standard of finish that's very much in the modern idiom.
Despite its modest size, it does a remarkable job of delivering an essentially full bandwidth sound, with fine neutrality and excellent stereo imaging. The tonal balance is generally smooth and even and the sound quality has impressive overall coherence and midband transparency. A bit more bass authority might well be appreciated, but there's no denying the fine all-round value for money of a very well-judged design.
LIKE: Delicate and transparent midband, with a wide dynamic range
DISLIKE: Could do with more bass and greater dynamic expression
WE SAY: Attractively styled, with a smooth coherent balance and a dry, but clean bass


DETAILS
PRODUCT:
PMC twenty.23
ORIGIN:
UK
TYPE:
Two-way compact
floorstander
WEIGHT:
13.2kg
DIMENSIONS:
(WxHxD)
152x918x330mm
FEATURES:
• 27mm Sonolex soft-dome tweeter
• 140mm doped paper cone bass/mid driver
• 2.4m ATL (advanced transmission line)
• Large line exit on front
• Twin terminal pairs
• Decoupled spike equipped plinth
DISTRIBUTOR:
PMC Ltd
TELEPHONE:
08704 441045
WEBSITE:
pmc-speakers.com

SPONSORED VIDEO
Inside this month's issue:

Our bumper collection of the best kit to pass through the HFC test lab over the last 12 months is here to help you pick from essential turntables, speakers, amps, DACs, streamers, DAPs, headphones...
Standout tracks from our
Music Reviews
section, plus our current favourites to play in the
HFC
office.