Primephonic Platinum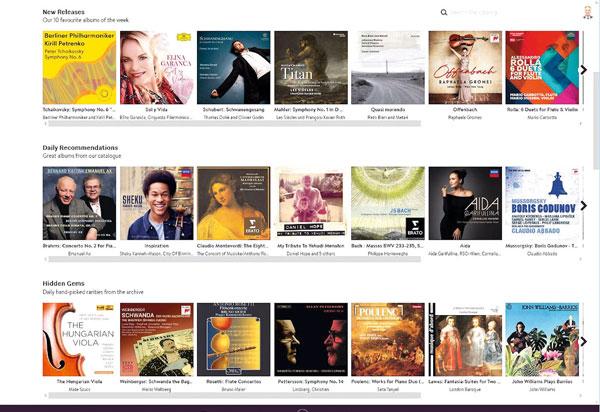 As the first streaming service aimed exclusively at classical music lovers, Primephonic offers two subscription tiers – a 320kbps MP3 streaming Premium service priced at £7.99 per month or £79.99 annually and a 24-bit lossless streaming Platinum service at £14.99 per month or £149.99 a year. Launched late last year, it claims over 1.5 million classical tracks, along with a smart search facility designed specifically for classical music parameters. Traditional streaming services tend to not be designed to cope with the additional metadata needed to organise the variables that are appropriate for classical music, but a team of experts has been inputting this classical music data to enable an easy search experience for subscribers to the service.
I am keen to stream the service through my hi-fi system using a DAC and opt for the Platinum tier offering up to 24-bit lossless streams. Primephonic is mostly designed for streaming via Android or iOS devices, although there is also web player. Generic streamers are not currently supported, but the company says that streamer support is planned.
For now, the best solution is to plug the USB output from my PC directly into my Cambridge Audio Azur 851N network music player and use the web interface to stream FLAC and WAV files up to 24-bit/192kHz.
Starting with what I think will be a challenge for the service, I search for a seventies recording of Vivaldi's The Four Seasons played by Alan Loveday and the Academy of St. Martin in the Fields and the search engine locates it without any difficulty at all. Within a second, links are on the screen for Allegro from Spring and Presto from Summer, as well as details of the performers. Both tracks are from two recently re-issued samplers and the search engine finds them correctly, but sadly the complete work doesn't seem to be available.
Next, a 1985 set of six Partitas by JS Bach played by Trevor Pinnock. Again, it almost instantly retrieves the album and starts playing Partita No.1 for Keyboard in B-flat major. It's equally adept at locating my other requests and I find the search engine capabilities to be slick and impressive, although it does come up with alternatives for more obscure recordings, which is hardly surprising.
Sound quality
Listening to JS Bach's Orchestral Suite No.3 in D major played by the Berliner Philharmoniker conducted by Herbert Von Karajan, the recording skips in one place. There are similar quality control issues on some other isolated recordings and one piece appears to be playing at half speed, but I suspect these are teething issues that will be resolved over time. The lossless sound quality is good, but strings can sound a little edgy and the soundstage is a bit flat compared with what I am used to hearing, or what I was anticipating from a hi-res stream.
With a recording of Tchaikovsky's Piano Concerto No.1 in B minor performed by Karel Ančerl and the Czech Philharmonic Orchestra, the Primephonic performance is quite bright and grabs my attention, but lacks elegance. A choral piece of Handel's Messiah performed by the Academy of St. Martin in the Fields, has the tendency to deliver a bright presentation so that the sound of the choir gets a little blurred and mushy in the choral crescendos.
I discover two versions of Philip Glass' Knee Play 3 (one by Sine Nomine and the other by the Philip Glass Ensemble) from his opera Einstein On The Beach – composed in 1975. Both are excellent recordings and the streamed performances prove to be just as intoxicating and captivating and compare favourably with the CD recordings I know well.
Conclusion
The Primephonic recordings appear to have been tweaked to sound a little too bright for my taste, but this may be intentional to give the service's output wider appeal. For audiophiles, Primephonic is no match for Radio 3's 320kbps AAC (UK only) streaming service, which sounds altogether more refined. Despite a few playback speed glitches (which I imagine will soon be ironed out), the sophisticated search facility really is very impressive indeed when it comes to navigating the world of classical music and with broader streaming integration on the horizon, this classical service shows considerable promise at the price. NR
DETAILS
Product: Primephonic Platinum
Price: £150/year
Origin: Netherlands/USA
Type: Desktop/mobile app streaming service

FEATURES
● Library claims 1.5 million tracks
● Format and highest data rate: FLAC and WAV files up to 24-bit/192kHz
● Search engine tailored for classical music
● 14-day free trail with opt out
Read the full review in
July 2019 issue 451

SPONSORED VIDEO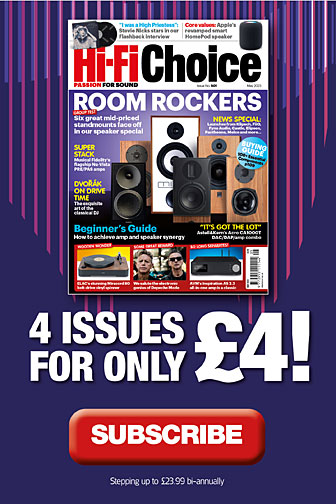 Inside this month's issue:

Wison Audio's exquisite Sasha V floorstanding loudspeaker, Origin Live Sovereign S/Agile turntable/tonearm, Final Audio ZE8000 true-wireless earbuds, Astell&Kern AK PA10 portable headphone amp, Aretai Contra 100S standmount speaker and an integrated amplifier Group Test