Q Acoustics Concept 300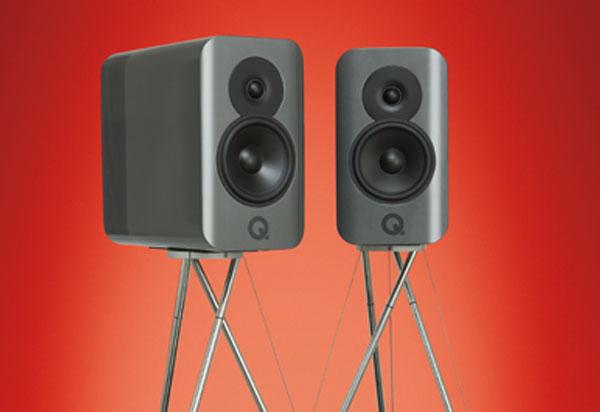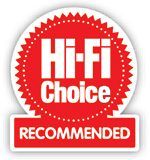 Q Acoustics has grown from zero to hero over the past decade by selling enjoyable sounding attractively priced loudspeakers to cash-strapped audiophiles all around the world. It's not a new idea, of course, because Mission was master of this back in the eighties and nineties, and before it Wharfedale cleaned up in the seventies. This time-honoured formula shows how there will always be a demand for speaker designs that sound better than they should given their knock-down price. The problem comes when you try to move upmarket.
The company's flagship Concept 500 floorstander (HFC 426) costing £3,999 was the first to enter into high-end territory and the Editor's Choice-awarded design sounds even better than expected given its cost. As you start to enter these price points buyers tend to become badge snobs, as the different rules of engagement demand real style, high technology, great finish, serious sound and brand cachet. That's the challenge the Concept 300 now faces.
Effectively a Concept 500 floorstander that's shrunk in the wash, this new standmount is fairly narrow, not particularly tall but deeper than you would expect. Along with its snazzy Tensegrity stand, the result is a package that ticks the first box comfortably. As far as its technology goes, it has some interesting design aspects but nothing that's going to catch your eye. It's a two-way reflex-ported design with an internal cabinet volume of 11.4 litres, sporting a 28mm dome tweeter that crosses over to a 165mm mid/bass driver at 2.5kHz. Q Acoustics quotes a frequency response of 55Hz to 30kHz at -6dB, which is nothing to write home about. Claimed sensitivity – 84dB/1W/1m – is pretty mediocre for a modern design, although impedance is said to drop down to an absolute minimum of 4.7ohm, meaning it's not too hard a load.
However, as soon as you pick it up you realise that it's more different than you first thought. The finish is certainly very good indeed, with a choice of gloss black/rosewood, gloss white/oak and silver/ebony – and it is heavier and more solid feeling than you would expect. Knock the cabinet with your knuckles and it makes a very dull and very short 'thunk' – and then nothing. This is down to the Dual Gelcore construction and internal point-to-point bracing (P2P). This isn't just your 'garden variety' particleboard box – far from it. Instead there are three individual layers, with the middle one being a special non-setting gel. This is a tacky adhesive, says the manufacturer, which dissipates high-frequency vibration. Working alongside this is a special bracing technique said to stiffen the cabinet to make it flex far less than it otherwise would. Finite element analysis has been used to determine the position of the bracing, and the result is a highly inert cabinet that doesn't get actively involved in the music making process.
Additional measures are then used to finesse the sound of the Concept 300. For example, its bespoke designed tweeter is decoupled from the front baffle by a special rubber gasket – a technique successfully adopted by its bigger brother. The tweeter's front plate has a very subtle horn-shape to it to aid dispersion, and a powerful neodymium magnet is used for better sensitivity and power handling. The mid/bass unit is held to the front baffle from behind by strong spring-tensioned retaining bolts. This keeps the torque constant, it is claimed, and means there's no superfluous decorative trim to hide the bolt heads. An impregnated and coated paper cone is used with a special rubber surround, and a larger magnet than its bigger brother is fitted, to minimise the compromises created by the smaller cabinet.
There's also an interesting and unusual built-in isolation base fitted to the bottom of the cabinet, that works in conjunction with the supplied Tensegrity stand to decouple the speaker from the room, and vice versa.
The Concept 300 is surprisingly easy to position in my largish listening room. Being a standmounter, it doesn't have a big and potentially boomy cabinet to keep in check, and the result is that it works happily about 40cm from the boundary wall on its stand, toed-in slightly. I keep the foam port bung in place, but whether you need to follow suit will very much depend on your room's acoustics and personal preference. You get a tauter, faster bass with the bung in situ, while removing it delivers a slightly less compressed and more spacious sound. It needs a fair whack of power, however, with a good 50W per channel or so required to really tickle its fancy and for this test is connected to a variety of amplifiers including Cambridge Audio's Edge W power amplifier (HFC 447) via Black Rhodium Twirl speaker cable (HFC 372).
Sound quality
First impressions are of a surprisingly even yet warm-sounding modern loudspeaker with unexpectedly large amounts of midband detail, a bouncy bottom end and enjoyable musicality. The standout feature is its combination of tonal smoothness and overall clarity. Some rivals acquire a sense of detail thanks to artificial forwardness, but the Q Acoustics serves up an even sound with few apparent peaks or troughs – save a slight 'sweet spot' in the upper bass, which gives added impetus to beat-driven music. Supertramp's Oh Darling can sound a little bright, but here it is the very essence of sophistication while being really rather engaging.
I am particularly impressed with the speaker's vocal purity. This classic rock track has a lot going on, but even a good design can occlude basic aspects of its production. Not so the Concept 300, which lets me hear the vocal harmonies more easily than most designs anywhere near its price. Indeed there's a lot of insight into the recording, with surprisingly little overhang from fast-struck transients like snare drums. This means that the listener gets to hear right into the mix, and is able to follow individual strands with ease. I particularly like how simple the backing keyboard glide is to follow, even through the song's complex crescendos.
Bass is good for a standmount, but you never forget that it is precisely this. It adds a little warmth to the proceedings, meaning there's more 'oomph' to kick drums and the upper notes of a bass guitar than there strictly should be. The Clash's Guns Of Brixton shows this, with this classic new-wave track getting a taut bottom end that syncopates well with the scratchy guitar work higher up, but it still sounds quite fulsome. Transients start crisply, especially further up into the midband, as evidenced by its deft handling of the snare drum work. Still, there is an obvious lack of bass extension although this is made up for by the speaker's bouncy upper bass, which is surprisingly free of bloat.
The result is a smallish loudspeaker that sounds far bigger than it really has any right to. Feed it with the chest-rattling lower frequencies of Gregory Isaacs' Night Nurse – a classic slice of early eighties lovers' rock – and you're left in no doubt that it's no PA stack. The Concept 300 is certainly dynamic at low and medium volume levels, but squirt some serious juice in and there's a sense that it sits on peaks; the sound gets a little more rounded and constrained at really high listening levels. In its defence, the same is true for all other similarly sized rivals, it's just that the Concept 300's well controlled cabinet sometimes fools you into thinking it will go louder than it actually can. At high volumes in my largish room, however, it still shows surprising grace under pressure.
The speaker's deftness with so-called micro dynamics – those tiny musical accents – allied to its overall transient speed and lack of overhang, make for a very enjoyable listen. The Crusaders' Street Life is a late seventies jazz funk standard and this speaker gives it a great airing. Although not lightning fast, it can certainly get a move on in the timing department and the result is fun – the song chugs along at a good rate of knots, so to speak. The crisp, delicate portrayal of hi-hat strikes and rim shots makes things sound all the faster, the lack of midband colouration really helping here, with no sense of the cabinet slurring things. This means that the rhythmic aspect to the Fender Rhodes keyboard playing is a real joy to hear.
The Concept 300 proves excellent at soundstaging and spacious left to right. Stage depth is good too, with elements of the mix hanging surprisingly far back in my listening room. Instruments are placed accurately within the recorded acoustic, giving classical music – such as Karajan conducting the Berlin Philharmonic Orchestra, playing Beethoven's Pastoral Symphony – a surprisingly believable and tactile feel. Indeed the Concept 300 makes a surprisingly good fist of this beautiful piece of music, with an enjoyably capacious, out-of-the-box feel. Its particularly open midband is most welcome here, as is its agreeable tonal colour – and it sounds large and commanding on peaks.
Conclusion
The Concept 300 is a great addition to the standmount market. Highly capable across the board, it's clear a lot of thought has been put into the design. The result is a charming sound that puts the accent on civility and smoothness – but never at the expense of musical enjoyment – making it excellent value for money. DP
DETAILS
Product: Q Acoustics Concept 300
Price: £2,999
Origin: UK/China
Type: Two-way standmount loudspeaker
Weight: 14.5kg
Dimensions: (WxHxD) 220 x 355 x 400mm
FEATURES
● 1x 28mm soft dome tweeter
● 1x 165mm mid/bass driver
● Quoted sensitivity: 84dB/1W/1m (8ohm)
Read the full review in
April 2019 issue 448

SPONSORED VIDEO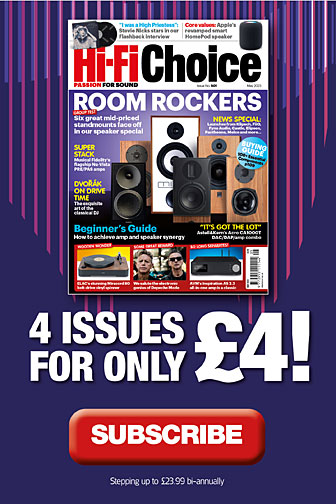 Inside this month's issue:

PMC prodigy1 standmount, Goldring E4 cartridge, Cyrus TTP Turntable, Naim Nait 50 integrated amplifier, Sennheiser Ambeo Soundbar Mini, mid-price DAC Group test and much, much more