Shure SE535 Earphone - £470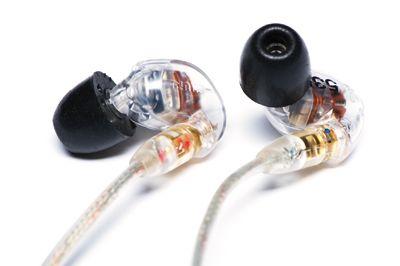 A Shure thing
Shure's flagship SE535 is the closest you can get to a good hi-fi system on the go. Dan George marvels at the triple drivers making it happen
Ipod sales, now into the hundreds of millions, have driven enormous growth in the headphone and specifically, earphone market, to the benefit of music lovers everywhere. With growth comes investment and with that comes developments in technology, leading to flagship models such as the SE535.
These sound-isolating earphones are all about the triple drivers they contain. Tri-drivers are something we're now seeing in high-end in-ears and Shure has squeezed a balanced armature-type tweeter inside, along with two bass drivers for a claimed range of 18Hz – 19kHz. The aim, Shure says, is to offer 'rich' bass and 'spacious sound' – a soundstage if you will, only inside your skull.
Little wonders
The SE535 is a marvel of mini engineering. Inside the (sweat-resistant) casing lies several tiny components: three drivers; a crossover; an acoustic seal for the drivers and a 'shock-isolator'. On the outside, Shure provides a detachable, kelvar-reinforced, wire-form fit cable, the usual raft of different-sized ear-tips (eight in total), a carry case, airline adaptor, in-line volume control and a 6.3mm adaptor. You can choose between a bronze finish and (our favourite, see pic below), clear, and the whole package tips the scales at 30 grams.
The triple-driver SE535 sits at the top of the flagship SE range as Shure's ultimate in-ear. Noise attenuation is claimed at up to 37db and impedance is said to be 36 ohms.
From a purely practical point of view, we've snagged enough cables and consequently damaged enough earphones to welcome the detachable nature of the wire, which also allows for future upgrades. And speaking of practicality, there's enough ear tips to provide a comfy solution for any ear. These days, you can always get custom moulds retro-fitted by a third party, too.
Well screwed
Build quality is right up there. Shure has a 'prosumer' background, so bomb-proof build has been a genuine requirement from day one and it shows. Nice touches include the kevlar reinforcing on the cable and the indestructable appearance. Above all, they simply feel bulletproof. Only time will tell.
At £470 (£400 if you look around online), this is not a cheap earphone. But it's not intended to be, either. It's Shure's flagship, taken from its best range (SE). Rivals at this level include custom-mould heroes such as ACS and Chinese newcomers Unique Melody (review coming soon), who also boast triple-driver models in its range.
In-skull entertainment
In a variety of test conditions: underground train; overground train; wombling free and complete silence, the SE35s were surprisingly good at suppressing external noise. The wide range of ear tips facilitates this, of course, and comfort is reasonable, too, unless you're accustomed to custom-fit moulds, that is.
With noise blocked, the SE535s truly shine. They are monitor-like in their ability to 'see' into recordings and will reveal productions good and bad. The triple drivers do deliver a wide and spacious soundstage and give listeners the chance to follow the different tracks in a mix with ease.
There's plenty of bass here, too. Clean, well defined and well extended bass for that matter. But the most impressive aspect is the way it all gels together. This is a very natural-sounding earphone approaching ideal performance for its product type.
A defining product
In-ear performance will never beat on-ear, but for music on the move the SE535s are the best we've heard so far and they will be eclipsing our reference ACS T2s. £400-ish is a lot of money, sure, but if performance matters to you, it is spot-on. And remember, a custom mould will take performance higher still.
LIKE: Class-leading sound quality, cracking build and nice detatchable cable
DISLIKE: Quite bulky compared to some; slight cable microphony
WE SAY: Our new reference in-ear delivers natural sound with ease

DETAILS
Product: Shure SE535
Origin: USA/China
Type:Noise isolating earphone
Weight: 30g
Dimensions: N/A
Features:
•Triple micro driver: tweeter and two bass units
• Detachable, 162cm kevlar-reinforced cable
• Impedance: 36 ohms
• Noise attenuation: up to 37db (claimed)
• Range: 18Hz to 19kHz (claimed)
Distributor: Shure
Telephone: 01992 703058
Website: shure.co.uk

SPONSORED VIDEO
Inside this month's issue:

Our 500th issue reports on the Bristol Hi-Fi Show, April Record Store drop, Rega's Elex MK4 integrated amp, Tangent's PreAmp II and Power Ampster II, a high-end headphone group test and much, much more