Totem Rainmaker - £1,100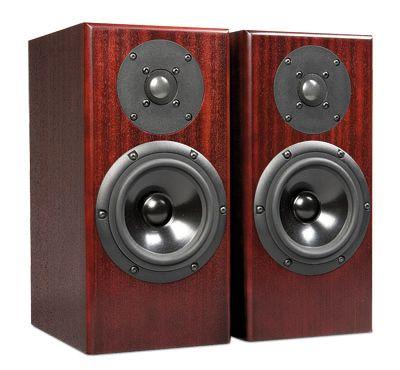 Totem Rainmaker
Canadian manufacturer Totem has built a strong reputation with its attractive compact speakers
Totem has the rather quaint tradition of naming its models after the country's First Nations shibboleths, a procedure which is, frankly, rather more imaginative than most rivals manage.
The Rainmaker is a compact standmount, loading its bass/mid driver by a reflex-ported enclosure of just nine litres capacity. The shape is a little unusual, rather taller and less deep than most speakers of this size and the construction is strong, linking all the panels with properly mitred joints. Yet it's also quite light in weight, since mass tends to store energy. Totem also adopts its own unusual technique in using a borosilicate paint to line the enclosure and provide some damping.
Our samples came dressed in a mahogany veneer, which is attractive enough, if a trifle anonymous. Black and cherry are the veneer options, and satin white is also available. The top and side front edges are slightly rounded, while those around the back panel are slightly chamfered, giving the whole thing a touch of class by emphasising the care with which it has been put together.
The 140mm bass/mid driver has an unspecified moulded cone some 100mm in diameter. This has a flared profile, an integral central dust cover and a stiffening raised edge. Although no separate grille is supplied for the complete front panel here, a small protective metal mesh covers the tweeter's 25mm alloy dome. The back panel houses twin terminal pairs that provide some connection flexibility, plus a small reflex- loading port.
SOUND QUALITY
The Rainmaker unanimously came a strong second place in the Blind-Listening Group Test, although it does seem a little odd that its character was decidedly different from the company's Arro (see p66), which was reviewed separately, but around the same time.
The Rainmaker might lack the smooth, even tonal balance of the Arro, but it's no less entertaining for all that. The bass end attracted praise for its depth and tunefulness and an ability to create a generous soundstage, while the speaker showed a fine ability to track dynamic changes and deliver convincing contrasts.
In truth, it can also sound a trifle untidy and sometimes a bit 'splashy' with emphasised sibilants. But it's also quite coherent and the tendency towards untidiness somehow doesn't seem to get in the way of the music, largely one suspects because the strong top end remains quite clean and sweet.
However, one listener did point out that this strong top could become a little fatiguing over time and that may well depend on the sources, amplification and ancillaries being used. Because the loudspeaker is at the end of the hi-fi chain, it can prove a little too revealing of any inadequacies introduced elsewhere. The Rainmaker works very well on a high-quality system, but under some circumstances it might prove a little too transparent to limitations introduced further up the chain.
Fine timing, good coherence and a decent helping of dynamic realism all provide plenty of compensation for the Rainmaker's slightly wayward balance. Yes, the broad midband is a bit distant and the top end a little too strong, but the whole is much more than the sum of the parts here and the bottom line is that this is a fun loudspeaker that's always entertaining and informative.
LIKE: Fine communicator with a lively, transparent and coherent character
DISLIKE: Slightly odd tonal balance: strong treble, warm bass and restrained midband
WE SAY: This is a very entertaining and involving speaker, with fine timing
DETAILS
Origin:Canada
Type: Standmount loudspeaker
Weight: 5.8kg
Dimensions: (WxHxD) 173x355x230mm
features:
• Strong, lightweight enclosure
• Small reflex port on rear
• Real wood veneer
• Borosilicate enclosure damping
• Tweeter dome has large rear cavity
Distributor: Joenit BVBA
Telephone: 00 32 15 285 585
WEBSITE: totemacoustic.com


SPONSORED VIDEO
Inside this month's issue:

Our bumper collection of the best kit to pass through the HFC test lab over the last 12 months is here to help you pick from essential turntables, speakers, amps, DACs, streamers, DAPs, headphones...
Standout tracks from our
Music Reviews
section, plus our current favourites to play in the
HFC
office.