Wharfedale Reva-2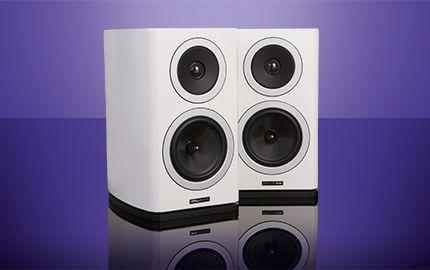 What happens when you take a budget gem and reimagine it as a glossy premium standmount?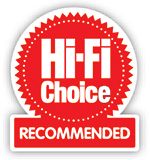 Trickle down. An expensive, cutting-edge product lends key aspects of its design and tech to a much more modest, affordably constructed and priced item, raising its performance/price ratio and gifting the brochure copywriter some useful ammo to
spin-up a nice little cachet halo. It's certainly an efficient and logical way of doing business and routine practice for many loudspeaker manufacturers.
But with its new premium Reva range, Wharfedale seems to have turned the whole idea on its head. The aspirational datum point isn't the company's reassuringly pricey heritage-based designs, nor the avowedly A-game 'audiophile' Jade lineup. Wrong direction. Try the Diamond 200 series, Wharfedale's long-evolved entry-level best seller. You might feel tempted to insert a big 'huh?' here. Let me explain.
Instead of 'trickle down', say hello to the 'what if?' school of speaker design. As in, what if we took all the great ideas that went into making the Diamond 200 range such a price-point star and executed them with a relaxed budget and up-market brief? And that's what Reva is – arguably the world's first gravity-defying 'trickle up' speaker. It's not quite that neatly contrary, of course. Part of what makes the Diamond 200 range so capable is the woven mid-bass driver tech handed down from the Jade series models. But there is a number of features previously unique to the Diamond that inform Reva's design: the sandwich cabinet construction and 'Slot-Loaded Distributed' bass reflex port to name but two.
The newcomers sit in the upper echelon of Wharfedale's these days quite extensive speaker portfolio, below the Airedale, Denton and Jade, but above everything else. There's also an intriguing inhouse rival. At £600, the Reva-2 –
the larger of the two standmounts in a range that additionally includes two floorstanders and a centre for home cinema systems – is exactly the same price as Quad's S-2 (HFC 408), which also resides under the corporate IAG umbrella and has a common design boss in Peter Comeau. But where the Quad has an advanced ribbon tweeter, all the Revas use the same 25mm textile soft dome tweeter, accompanied by one or more woven glass fibre mid-bass drivers – in the case of the Reva-2, a single 125mm unit. A fourth order Linkwitz-Riley precision crossover handles the handover between the drivers. Both types are designed and built at Wharfedale's factory in Huntingdon with the obvious advantages that brings to integrating the mechanical and acoustic elements of the speaker.
It's claimed that a significant element of the Diamond 200 series' sonic success is down to the sandwich construction of its cabinet panels. Wharfedale's engineers spent a lot of time getting this right, finally settling on layered particleboard and MDF of differing densities as the best defence against panel resonance 'hot spots' and the resulting 'hear-through' colouration caused by the cabinet singing along. Reva literally builds on this technique by adding more layers to the sandwich, which is then bonded together in a heated press to form the tapering curves of the side panels, so fashioned to banish internal standing waves. So fashionable, too.
Some like it slot
A direct lift from the Diamond 200 series is the so-called 'Slot-Loaded Distributed Port'. Instead of a hole in the back or the front of the cabinet, the Reva, like the Diamond, has a narrow, full-width slot delineated by the base of the actual cabinet and its plinth. According to Wharfedale's engineers, this type of reflex loading allows a smoother transition between the pressure variation in the cabinet and the low-frequency output into the room. The claimed upshot is greater efficiency and less distortion than would be the case with more typical ported bass reflex arrangements leading to a deep, articulate and well-integrated bass response, qualities that are retained even if the speakers are placed close to a wall.
As you'd hope, the Reva-2 rocks more of an uptown look than any standmount in the Diamond 200 range. It also feels solid, weighty and meticulously crafted. The cabinets are hand finished with multiple layers of piano lacquer, each layer polished before the next is applied. Aluminium driver surrounds – anodised and abrasively blasted for a matt finish – also promote the premium message. By any standards, the Reva-2 is a well-made and turned out transducer and, predictably, appearances are kept up round the back with chunky, knowingly OTT bi-wire terminals.
Sound quality
I think we're all familiar with what could be termed the 'modern standmount signature sound'. Designed for immediate showroom appeal, it's the kind of presentation where openness, clarity and detail are pushed to the fore and, with some nifty port tuning on board, bass can seem quite fulsome and punchy, too. All told, not a bad compromise for most types of music, albeit a little 'contrived'.
Well, you'll be either delighted or disappointed to hear that the Reva-2 isn't like that at all. It doesn't really matter what you kick off with – I've chosen a little up-tempo Gregory Porter from his new Take Me To The Alley CD – there isn't the slightest trace of superficial hype, and you'll notice that if you put socks on when you got out of bed, you're still wearing them. I doubt you'll be dazzled. This isn't meant as a negative criticism, just a first impression. But, here's the thing. As auditioning progresses, what had initially seemed a little lacklustre becomes good. Then better still.
Rather than attempt to snare your interest with a bit of sonic showboating, the Reva-2 plays the long game with a much more measured and careful interpretation of what it is being fed. With each passing track, its slower-burning style summons greater musical traction and emotional pull than speakers that set out to be more overtly 'transparent' but can end up sounding rather bright and pernickety. Rather, it feels comfortable in its own skin. Mr Porter's alluring vocal fusion of warmth and grit comes across as rich and full-blooded, with the Reva conveying just the right amount of edge with a convincing sense of dynamic ease on the few occasions he squares his shoulders and opens up. And although not quite as spacious-sounding as the KEF R100 I have to hand (HFC 408 also £600), there's a solid, three-dimensional believability to the imaging the smaller KEF simply can't match.
These are not, by any stretch, lean-sounding speakers stripped out for speed and rhythmic impact. Timing is good without drawing attention to itself. Foot-tappingly good for sure, but there's no need to leap behind the sofa to avoid a volley of well-aimed rim-shots. The Reva-2 doesn't exaggerate for effect, doesn't trip over itself trying to sound impressive. But instruments and performers do sound almost tangibly believable. There's a fine sense of cohesion top-to-bottom, too. If it doesn't quite manage to reproduce the subtlest of micro-dynamic nuances like my reference standmount (Elac's ribbon-equipped BS263 – HFC 401 – admittedly twice as expensive), it doesn't miss by much. Just as important, detail is conveyed with a degree of naturalness and harmonic richness that really brings out timbre and texture.
The Reva-2 also has plenty of presence and authority, in part thanks to its excellent bass performance. Some ported standmount boxes give you plenty of bang for your buck while largely glossing over shape, timing and texture, making all-important lower frequencies sound amorphous and undifferentiated. Not so here. Smooth extension, well-defined pitch and realistic dynamics are all in evidence and, once more, swat any lingering notion that the Reva-2 is merely a pair of souped-up budget boxes. It aims much higher than that and, accordingly, is voiced more in the manner of a high-ender. The days of boom and tizz are thankfully over, but the absence of manipulative emphasis here is in itself striking. Without sounding in any way forward or forced, the midband has focus, dimensionality and transient accuracy, while treble is extended and silky and does very nicely without the help of spray on sparkle.
Also very grown up is a talent for proportion and scale – a feeling of spatial coherence that can bring a sense of venue alive as much as the performers themselves. My favourite benchmark test in this regard is Al Jarreau's superbly realised Tenderness CD, a 'live studio' recording with an invited audience. Admittedly, it makes most speakers sound good but the Reva-2 delivers a 'being there' ambience, which is truly immersive. So – grace, balance and resolution. Not a bad skill set. And, yet again, there's a lesson here most of us have probably learned over time. Real rewards are seldom those that gratify immediately. The Reva-2 is woefully short of razzle-dazzle. But if you appreciate genuine insight and effortless musicality, it most definitely makes the cut.
Conclusion
The IAG Group's vast experience, expertise and resources have clearly paid huge dividends with the Reva-2. Having the nerve to take the already audaciously talented but nonetheless unequivocally 'budget' Diamond 200 and turn it into a sophisticated, high-class standmount is quite something. It certainly makes a refreshing change from the usual trickle-down conventions. Praise also has to go to the sheer physical quality of the speaker. I wouldn't pretend that £600 isn't a tidy sum, but the Reva-2 looks and feels like a significantly pricier item, weighing over 7kg apiece and the piano lacquer finish is especially impressive. Alongside IAG's identically priced, Comeau-designed Quad S-2, the Quad isn't quite so big or nicely finished and, from memory, I think it tends to sound a little more transparent and open. But I don't think it would match the Reva's scale, authority or ease of delivery. Warmly recommended. DV
DETAILS
PRODUCT: Wharfedale Reva-2
ORIGIN: UK/China
TYPE: 2-way standmount loudspeaker
WEIGHT: 7.8kg
DIMENSIONS: (WxHxD) 204 x 357 x 275mm
FEATURES
● 25mm soft dome tweeter
● 125mm glass-fibre weave mid/bass driver
● Quoted sensitivity: 86dB/1W/1m
DISTRIBUTOR: IAG Group
TELEPHONE: 01480 447700
WEBSITE: wharfedale.co.uk

Read the full review here

SPONSORED VIDEO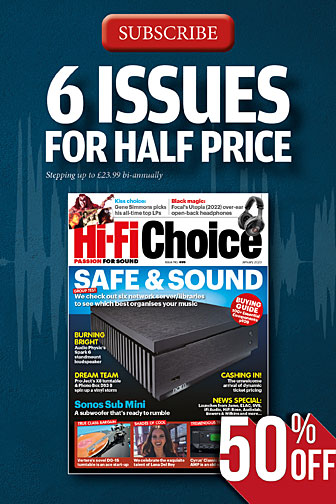 Inside this month's issue:

Six wireless speakers duke it out in our Group Test, Mitchell Acoustics' uStream Go portable Bluetooth speaker. HiFi Rose's RS250A AV streamer, Sumiko's Blue Point No. 3 MC cart and a World Exclusive first test of Q Acoustics' 5000 range