Yamaha introduces TW-E5B true-wireless earbuds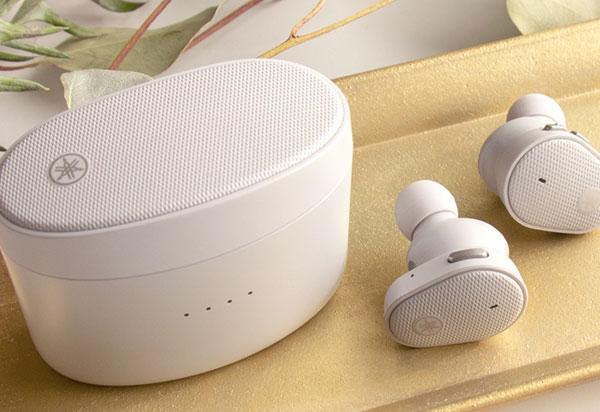 Yamaha's new TW-E5B true wireless earbuds feature the company's Listening Care technology intended to provide intelligent equalisation at any volume, helping to support safe listening.
Designed so that the 7mm driver unit and exit are placed on the same axis as the sound conduit, the TW-E5B is designed to eliminate obstacles from the sound conduit to the sound exit as much as possible.
Yamaha explains that by driving the diaphragm quickly and accurately in response to the input signal, a clear high-frequency range can be reproduced. Additionally, a small hole is on the rear side of the earbuds to control the back pressure generated from the driver in a bid to maximise the use of air inside the earbuds – leading to the claimed reproduction of a rich low range with a three-dimensional feel.
The housing design has an edge to fit the ear while the oval shape of the buds allows the user to rotate them to fit in any position when worn. Four sizes of eartips are provided.
Yamaha says it is keenly aware that reports suggest one billion young people are at risk of developing avoidable, permanent hearing loss due to unsafe listening practices. The long-term impacts may be especially compounded by daily wear of earbuds and headphones at high volume levels. "It has become one of our social responsibilities to ensure our customers can enjoy music for many years to come," explained Yoshi Tsugawa (Senior General Manager, Home Audio Division, Yamaha Corp). "Listening Care is one of our unique features, which allows for a True Sound listening experience for a lifetime, without losing any musical expression at any volume."
The company statement continues: "Due to the nature of our hearing, when listening to music at low volumes, we often feel there is a lack of high and low frequencies. In order to hear these hard-to-hear sounds, we often turn up the volume excessively. In order to prevent the need for excessive volume, Yamaha Listening Care adjusts the difficult-to-hear high and low frequencies so that the original tonal balance of the music is maintained."
The new buds come with an ambient sound mode for use when you need to be aware of your surroundings, a Gaming Mode to reduce the delay between sound and video and are IPX5 water and sweat resistant. Battery life is quoted at up to 30 hours and the charging case has battery life indicators (8.5/21.5 hours)..
Available to buy now for £130, you can find out more about Yamaha's TW-E5B earbuds here.

SPONSORED VIDEO
Inside this month's issue:

Our 500th issue reports on the Bristol Hi-Fi Show, April Record Store drop, Rega's Elex MK4 integrated amp, Tangent's PreAmp II and Power Ampster II, a high-end headphone group test and much, much more