Bowers & Wilkins 606
Hailing from its new entry-level 600 Series, B&W's larger standmount has a high-tech spring in its step...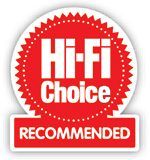 As Oscar Wilde once observed, "…but some of us are looking up at the stars." Actually, for budget-conscious audiophiles, it's kind of mandatory. Personally, I fantasise about being able to drop £16.5k on Bowers & Wilkins' flagship 802 D3 floorstander – undoubtedly the thing my larger listening room has been missing out on for years. Alas, it's the stuff of brochures at bedtime, but, hey, I can dream. Of course, savvy hi-fi manufacturers rumbled this aspirational disconnect ages ago and incorporated it in their business models. We're talking about the now familiar practice of taking high-concept stuff (components, design innovations, materials) revealed to the world in expensive exotica and simplifying it so that more of us can afford it.
Naturally, this method of evolving designs comes easier to large companies with vibrant, well-funded R&D facilities and B&W's Continuum cone, debuted in its premium 800 Series range, has trickled down, via the midfield 700 Series lineup, to the new sixth-generation edition of its entry-level 600 Series. Although the recipe for Continuum is top secret, the company points out that the new material is woven in the same way as Kevlar with the aim of stamping out the undesirable effects of a conventional cone's transition from pistonic motion to break-up modes.
At £549, the 606 is the larger standmount of the new lineup, and is likely to be the best seller, as the 685 S2 was before it. Along with its more voluminous cabinet – taller, wider and deeper than the rather dainty 607 – comes a larger (165mm) Continuum cone mid/bass driver and the same 25mm tweeter. From the very beginning of the 600 Series in 1995, the design philosophy has been to spend money on the parts that best serve performance at home rather than glow alluringly in a dealer showroom's beauty parade. Little has changed. Sturdy and functional is probably the best way to describe build and finish of the 606, but there's nothing wrong with that.
Our matt white review pair (matt black is the only other option) has a wipe-clean, vinyl wrap that looks sleek enough but with the magnetically fixed grilles removed, it's the vaguely metallic sheen of the high-tech drivers your eyes are drawn to. The overall effect is smart enough and, from a distance, might fool casual observers into thinking they're looking at the much pricier 706 S2, especially if they venture round the back where the terminal tray and dimpled airflow reflex port are identical. Behind their Continuum cones, though, the mid/bass drivers aren't quite the same. For the 600 Series, the motor system and chassis has been slimmed down and doesn't have a neodymium magnet. And while the decoupled, double dome aspect of the tweeter is the same, the aluminium dome lacks the 700 Series' rigidity-enhancing carbon coating or a housing that incorporates heat-sinking behind the dome. That said, the new tweeter uses an upgraded neodymium magnet and wears a new grille mesh from the 700 Series. Also, the dome has been repositioned slightly forward in its diaphragm in order to improve time alignment while internal components, such as inductors and bypass capacitors, are also welcome hand me downs from the 700 Series.
Given all of this, it's no wonder B&W expects great things of the 600 Series range and, as the natural successor to the much-acclaimed 685 S2, the 606 especially. Indeed, the company lays it on the line: improved accuracy, transparency and insight; the ability to outperform more expensive rivals. New 600 Series, same ambitious job sheet.
We'd never take B&W's boast at face value, of course. To set the bar and give the budget newcomer something pricier to shoot at, a proven exemplar of the Continuum cone art has been dusted off and is waiting just outside my smaller listening room for a spot of friendly sparring. Sharing front-end duties are a Cambridge Audio CXC CD transport (HFC 401) with Chord Hugo 2 DAC (HFC 428) and Elipson Omega 100 Carbon Black turntable with Rega Fono mk3 phono stage into Hegel's H90 (HFC 427) integrated amplifier connected via Nordost cabling and mains conditioning.
Sound quality
After a brief listen with the 606 on B&W's dedicated metal stands – the £99 STAV24 S2 (unlike the 700 Series standmounts, they can't be bolted to them) – I decide to use my regular and very heavy Slate Audio ones as a level playing field, not least because they're slightly shorter and lower the tweeter axis closer to the ideal ear level, and some gains in clarity and control are immediately apparent.
First up, as promised, is the small but beautifully formed B&W 707 S2 (£799) that so impressed me back in HFC 438. Back then, it was tested in my larger listening room with Emotiva BasX PT-100 and BasX A-300 pre/power amplification and DAC (HFC 429). Here, in the smaller room with the less muscular but fabulously musical Hugo 2-fed Hegel H90 integrated amp, its remarkable talent for filling a big space with confidence, authority and surprisingly solid and well-extended bass is less crucial. But, again confounding its small stature, it manages to conjure up a convincingly proportioned soundstage populated with believably scaled musicians and instruments. It's a presentation that marries body and weight with supple speed and agility and the ability to sustain a lovely rich, natural tonality and properly nuanced dynamic contrasts as the volume is pushed towards party levels. Christine And The Queens' super-catchy Girlfriend bounces along with infectious energy – punchy, up on its toes with finely etched post-disco motifs and buffed-up boogie. Meanwhile the smoothness and sophistication perhaps robs the track of a little electricity and excitement.
Does the 606 sound like a close relation with less polished manners? In one sense, yes. In most others, no. For a start, it's less refined overall and its tweeter is a little more obvious. There's a lot of 'sss' going on in Girlfriend and the 606 pushes into mild sibilance more readily, the 707 S2 staying resolutely silky. On less aggressively produced material – say, Diana Krall singing Desperado – this isn't an issue at all, but there's no question the 606 is the more 's-forward' of the two.
Whether this is down to voicing or simply the quality of the tweeter I wouldn't like to say, but whatever the reason, the slightly more forceful treble quality of the 606, together with its larger mid/bass driver and much bigger cabinet, has a profound effect on its sonic character. Expansive as the 700 Series baby's output is, the 606 sounds positively huge for its size and, quite a surprise this, more open, airy and expressive through the midrange. The resolution, ambient detail and honest-to-God transparency on offer here frankly beggars belief at the price. Allied to bass performance that digs half an octave deeper than the 707 S2 with less apparent effort, if a little more box colouration, Christine And The Queens step it up, sounding a tad less polished but palpably more potent and fun. Diana Krall – and jazz songstresses Basia and Lizz Wright, come to that – all sound smoother and sexier through the 707 S2, as you might expect. The 606 is no less insightful (if a little less subtle), but entertains on a scale and with an enthusiasm the more expensive 707 S2 can't quite match. That poses an interesting in-house choice. Life has just become a lot tougher for the circa-£500 competition.
Conclusion
Trickle-down tech can yield mixed results, but my time with the 606 shows that Bowers & Wilkins gets it right and its approach knocks this entry-level standmount out of the park. Right now, I can't think of a better way to spend around £550 on a standmount speaker. DV
DETAILS
Product: Bowers & Wilkins 606
Price: £549
Origin: UK/China
Type: Two-way standmount loudspeaker
Weight: 6.9kg
Dimensions: (WxHxD) 190 x 345 x 300mm
FEATURES
● 1x 25mm aluminium double dome tweeter
● 1x 165mm Continuum cone mid/bass driver
● Quoted sensitivity: 88dB/1W/1m (8ohm)
Distributor: B&W Group Ltd.
Telephone: 0800 2321513
Website: bowers-wilkins.co.uk
Read the full review in December issue 443

SPONSORED VIDEO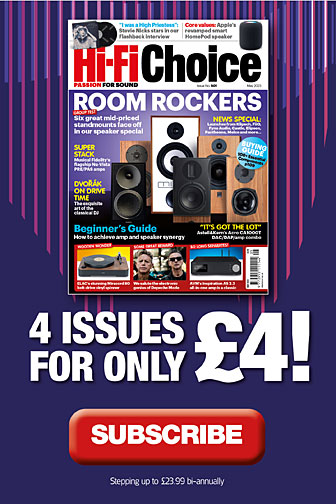 Inside this month's issue:

Klipsch R-50PM powered loudspeaker, DS Audio Grand Master Extreme cart, Astell&Kern A&futura SE300 portable music player, Elipson Legacy 3230 floorstanding speaker and our round up of the best music streaming services