Creek Wyndsor Phono - £1,500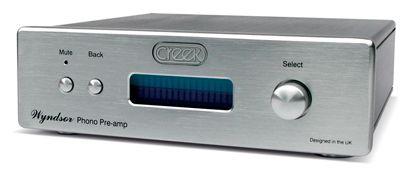 Royal performance
Creek has upped the ante with its first no compromise phono stage, Jason Kennedy puts the new Wyndsor through its paces
Creek introduced the Wyndsor name with its fi rst turntable in 2010 (HFC 302) and now it has a phono stage to match. This is a two-box design with exemplary casework and a front panel interface that allows you to confi gure preset parameters for several different cartridges and have it remember each by name.
This will be a boon to anyone who regularly changes cartridge and needs to set specifi c gain, impedance and capacitance for each. Another feature that we are beginning to see on a growing number of phono stages is balanced inputs, albeit not in conventional form.
Right back
Not for Creek the mundanity of XLR inputs that are usually on hand to receive a balanced signal. Instead, the company has opted for that rare beast the mini-DIN socket, a fact it accepts by including matching plugs with the stage. This is probably because they are small enough to fi t on the back panel of this compact unit (XLRs would be too big).
There are regular RCA phono inputs as well, so you are not obliged to get the soldering iron out to give it a go. Given the intrinsically balanced nature of a cartridge's output – separate grounds for each channel – you are likely to get better results if you do, however.
The Wyndsor phono preamp is based on the Destiny phono card that Creek developed for the integrated amp of the same name, a stage whose circuit design incorporated very high-performance op-amps and balanced amplifiers, with an 'extremely accurate' passive RIAA equalisation stage. The Wyndsor is a turbo-charged version with totally separate boards for each channel that go right back to the power supply regulation stage. It also has a separate power supply in order to keep noise completely at bay.
Pretty impressive
The set up interface on this stage is pretty impressive, we've seen similar but not at this price. You can scroll through the various set up parameters and set cartridge type and adjust gain in five levels. Input resistance has the same number of options and there are four degrees of capacitance to choose from.
The best bit is that you can save those settings and give them any name of you fancy. This is what you are paying for in the Wyndsor, the only other interface of this nature is on the Leema Agena, which is a full-size stage at £3,495.
Build quality of both supply and preamp is very high. They may not be big boxes, but they are very well put together and finished in black or silver anodised aluminium.
Dynamic punch
Pair the Wyndsor with a Townshend Rock 7 turntable, Funk FX-R arm and van den Hul Condor cartridge front end and sit back to enjoy a full-scale, rich soundstage that is detailed and refi ned. Timing is on the relaxed side, but there's no shortage of dynamic punch when the vinyl provides it. A great recording sounds pretty spectacular, in fact, but musical engagement could be stronger.
The contrast between records is very high, which indicates that this is a revealing stage that will respond to whatever it's fed. In other words, a pacy front end will provoke a more upbeat sound and something like a Roksan or Linn is probably as good a match. Its natural strengths are dynamics and tonal colour, the punch that it can deliver from snare and kick drum is very effective as is the woody resonance of an acoustic guitar.
Strong features
The Wyndsor is a distinctly refined phono stage that will thrill those who enjoy good imaging and great recordings. It doesn't have the pace of the best in class, but makes up for this with qualities that are arguably just as important. The ability to set parameters via the front panel, while impressive, is only really of use to those with more than one cartridge and it's a pity that there isn't a mono setting for vintage recordings.
All things considered, however, it's a strongly featured, well made and revealing piece of kit that deserves the attention of vinyl lovers, be they Creek users or otherwise.
LIKE: Has the ability to accommodate multiple cartridge parameters
DISLIKE: Set up features are less useful for those with one cartridge
WE SAY: A well-featured phono stage that's nicely built and strong on imaging and dynamics

DETAILS
PRODUCT:
Creek Wyndsor
ORIGIN:
UK
TYPE:
MM/MC
phono stage
WEIGHT:
Preamp 1.2kg,
Power supply 1.5kg
DIMENSIONS:
(WxHxD) Preamp
192x62x196mm
Power supply
112x63x210mm
FEATURES:
• Gain options: 40, 45, 53, 61, 70 dB
• Resistance options: 91, 100, 1k, 33k, 47k Ohms
• Capacitance options: 100pF, 440pF, 1.1nF, 1.4nF
• Balanced and single-ended input
DISTRIBUTOR:
Creek Audio
TELEPHONE:
01442 260146
WEBSITE:
creekaudio.com

SPONSORED VIDEO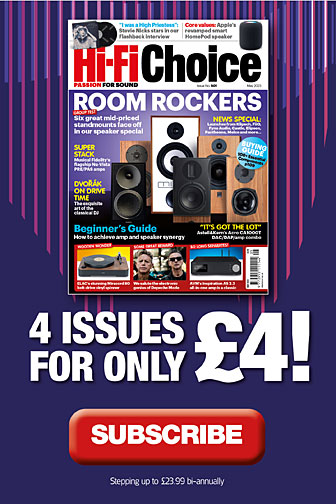 Inside this month's issue:

Wison Audio's exquisite Sasha V floorstanding loudspeaker, Origin Live Sovereign S/Agile turntable/tonearm, Final Audio ZE8000 true-wireless earbuds, Astell&Kern AK PA10 portable headphone amp, Aretai Contra 100S standmount speaker and an integrated amplifier Group Test