iFi Audio iPhono3 Black Label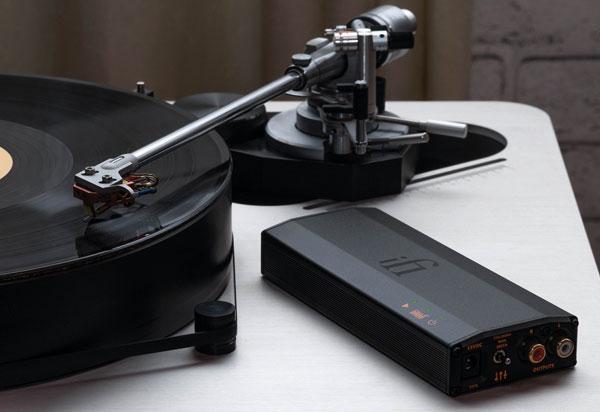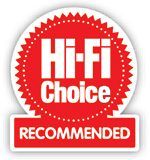 IFi Audio has been most prolific on the digital side in recent years, but the company has made phono stages for some time and the iPhono3 Black Label (unsurprisingly replacing the iPhono2) is no exception. The basic specification is very similar to its predecessors. It's a single-input design (although MM and MC carts have separate inputs, you cannot switch between them) with adjustment for impedance, capacitance and gain undertaken by dip switches on the underside. This is less convenient than some rivals, but once it's set the iFi can be stored out of sight which is potentially handy.
The headline feature here is the noise levels, or indeed the lack of them. A noise floor of -85dB is quoted, which means that if the turntable it's connected to is quiet, it should be all but inaudible at idle. It also means that a signal-to-noise ratio of 85dB for MM and MC is technically possible. Up to 72dB of gain is available and there are some useful intermediate settings for high-output MC types too. The iPhono3 also has six different EQ curves for pre RIAA material (and indeed post in some circumstances), which can be selected via a small switch on one end of the chassis.
The power supply is an off-board type that's one of iFi's own iPower X units. The underside dip switches are initially slightly intimidating, but iFi has had the good sense to put a configurator on its website explaining what's best for your specific cartridge.
Sound quality
Connected to an original production Avid Ingenium (HFC 379) complete with metal platter upgrade and SME M2-9 arm, the iPhono 3 makes good on the promise of its low noise level. At idle, it's as quiet as the Cyrus Phono Signature (HFC 408) and gives everything an instant dynamic boost.
Kicking off with the moving-magnet input being fed with a Nagaoka MP-200 (HFC 434), the iPhono3 conveys a feeling of unforced but appreciable accuracy – something that underpins everything that it does. Antony And The Johnsons' Hope There's Someone reveals Antony Hegarty's unique and heartfelt vocals and the supporting instrumentation with effortless realism. There is also a wholly convincing perception of space and depth to the way the iPhono3 presents the information that's a side effect of that very low noise floor. Moving to the more forceful recording of Au Rêve by Cassius, the iFi retains its ability to open out this dense and varied album and keep everything sounding believable.
Switching over to a Goldring Ethos (HFC 449) and setting the iFi up as per the suggestions of the online calculator, sees a comfortable jump in performance commensurate with the leap in cartridge quality. Once again, it's the effective absence of noise that helps it to sound so effortlessly dynamic because the peaks of music come up from a near silent base. With the superb recording of Talk Talk's The Colour Of Spring, the iFi delivers a performance that allows for the suspension of disbelief and that then pulls you into the music.
Conclusion
The limitations of the iPhono3 Black Label are slight and depend to a great extent on your partnering equipment. With the extremely matter-of-fact Avid and SME combination, some listeners may find they want more character from their phono stage – something the iFi, with its exceptionally accurate presentation might not necessarily deliver. The (more expensive) Cyrus also demonstrates a slightly greater bass extension, but it would be a stretch to call the iPhono3 Black Label lightweight. When you accept that accuracy is the order of the day here, what this phono stage offers is a level of unvarnished realism and effortless dynamics in a compact and well thought-out design that will appeal to many people. ES
DETAILS
Product: iFi Audio iPhono3 Black Label
Type: Phono stage
FEATURES
● MM/MC inputs with wide range of configurable options
● Supplied with iPowerX PSU
Read the full review in
Issue 467

SPONSORED VIDEO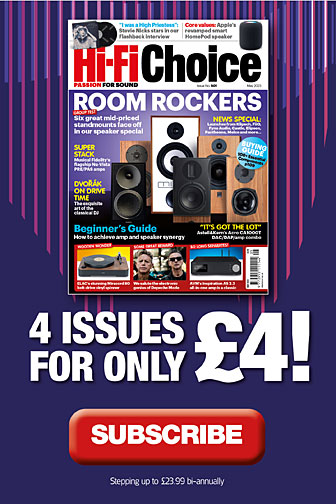 Inside this month's issue:

Wison Audio's exquisite Sasha V floorstanding loudspeaker, Origin Live Sovereign S/Agile turntable/tonearm, Final Audio ZE8000 true-wireless earbuds, Astell&Kern AK PA10 portable headphone amp, Aretai Contra 100S standmount speaker and an integrated amplifier Group Test