Damson HeadSpace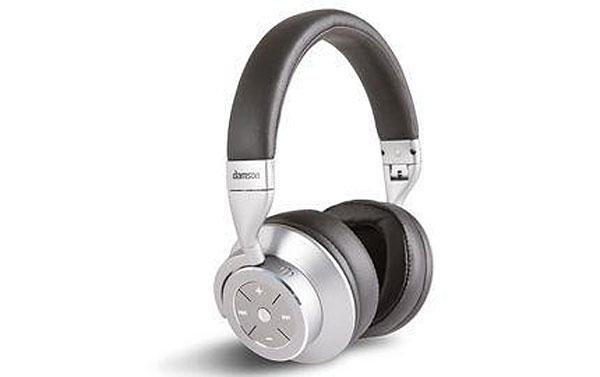 Looking to shut the world out while you listen to you music? Damson might just have the answer
Damson isn't a well-known name in hi-fi circles, as it largely concentrates on the entry-level end of the consumer audio market. Its new HeadSpace headphone fits into this category, offering Bluetooth wireless hook up and active noise cancellation at a competitive price.
The HeadSpace makes a good first impression as it arrives inside a tough carrying case that provides extra protection while travelling. The build quality is also pretty good, with sturdy metal hinges and backplate for the earpieces. It is quite bulky, but the earpieces fold inwards to save space when not in use, and the overall design and build quality are well suited to life on the road.
It is fairly heavy, though, weighing in at 322g, which might deter those concerned about comfort on a long journey. However, the padded earpieces feel quite comfortable, while the leather headband is just tight enough to sit firmly in place without making you feel like your head is trapped in a vice.
Battery life using Bluetooth and noise-cancellation is around 16 hours, which should see you halfway around the world on a plane. As well as the micro-USB charging cable, there's also a 3.5mm audio cable, which you can use when the battery starts running low.
My only real complaint is that it's hard to tell how much juice is left. There's a voice-prompt that tells you when power is running low, while the indicator light on the earpieces tells you when it's fully charged, but there are no indicators for levels between those two extremes.
Sound quality
While I'm charging the HeadSpace I plug in the audio cable to listen to my library of lossless ALAC files in standard wired mode. I'm pleasantly surprised by the deft handling of the intertwined vocal harmonies on Soldier's Poem by Muse, with Matt Bellamy's vocal firmly up front and the multi-layered harmonies precisely placed to the left and right.
The bass is attractively firm too, bouncing along gleefully on Blondie's Rapture, while the jangling guitar and skittering percussion follow along precisely. If there's a weakness it's that the midrange sounds slightly constricted at lower volumes – the lightly riffing lead guitar struggles to stand out and needs a little extra power to fully come into focus. But, to be fair, the HeadSpace isn't designed for laid-back listening at home, and even in noise-cancelling mode you'll need a bit of volume to block out background noise, so that's unlikely to be much of a deal breaker.
The low cost means that the HeadSpace only supports standard Bluetooth 4.0 for wireless streaming – lacking the aptX codec – but switching from a wired connection to Bluetooth reveals no obvious loss of sound quality, even as I flip between modes to try and catch it out.
Finally, of course, there's the noise-cancellation mode, which proves to be more of a mixed bag. Damson claims the HeadSpace can block 70 percent of background noise – less than upmarket rivals such as Bose or AKG – and that seems to be a fair assessment. The sound of the electric hedge-trimmer being used outside my office window doesn't disappear altogether, but does fade noticeably and becomes considerably less annoying while listening. The HeadSpace also does a good job eliminating the deep, rumbling airline cabin noises that I stream from the MyNoise website. It's less effective at blocking higher frequencies, such as voices and traffic noises, but isn't significantly different to many of its noise-cancelling rivals.
On a slightly negative side, noise cancelling makes a quite noticeable difference to sound quality, inflating the bass – and, to a lesser extent, the midrange too – so that background noise isn't so much neutralised as beaten into submission.
Damson isn't aiming to tempt business-class travellers away from their beloved upmarket noise-cancelling headphones, but the chunky design and bass-heavy sound of the HeadSpace provide an affordable alternative to fashion-conscious rivals. And with good battery life and effective noise cancellation, it offers extremely good value for those of us that are still forced to travel in economy. CJ
DETAILS
Product: Damson HeadSpace
Price: £130
Type: Noise-cancelling headphone
Website: damsonglobal.com
Read the full review in June issue 437
Inside February's issue

: exclusive review of Piega's Premium Wireless 701 active speaker, Chord Electronics' Huei phono stage, plus six powerhouse integrated amps go head-to-head and much, much more…
Standout tracks from our
Music Reviews
section, plus our current favourites to play in the
HFC
office.