Halloween Soundtracks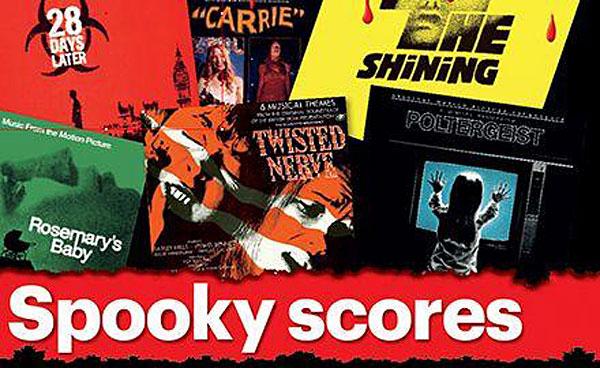 HFC emerges from the crypt with a chilling selection of (oc)cult movie composers and their spooky scores
Music buyers' craving for vinyl is insatiable across every genre, but horror movie soundtrack collectors have never been better served. Public-service labels such as One Way Static, Mondo, Waxwork Records, Blackest Rainbow, Silva Screen and Death Waltz continue to raid the movie crypts, emerging into the light with dusty reels of scores from the sixties, seventies and beyond – some forgotten; others legendary; many previously unreleased; increasing numbers seminal. To put the current cream of the crop into context, we need to go back to the beginning…
Little shop of horrors
A marriage made in hell, the unholy wedding of atmospheric music to spine-chilling moving images predates the advent of home hi-fi. Terrifying its Weimar audiences, the moment that the shadow of Max Schreck as Count Orlok the vampire falls across the screen in Murnau's masterpiece Nosferatu (1922) – appropriately subtitled A Symphony of Horror – to Hans Erdmann's live score, a new genre is born: the horror movie soundtrack.
With the release of Al Jolson's The Jazz Singer (1927), however, live-accompanied silent movies received a stake through the heart. In the age of the talkies, monster movies dominated the thirties, as Dracula, King Kong and plagues of werewolves and zombies roamed the silver screen. A major leap in film scores came with Franz Waxman's music for Bride Of Frankenstein (1935) – and evidently the record industry was observing with a keen eye.
The first commercially available soundtrack appeared in 1938: Snow White And The Seven Dwarfs. Simultaneously released as three 78rpm singles by RCA Victor, the music is, on the surface, the last word in sing-along cheeriness, but this Disney classic is also the first horror movie soundtrack – the murderous intent of shape-shifting witch Queen Grimhilde and her magic mirror dresses the occult up for children, after all.
Fast-forward two decades for Year Zero: Bernard Hermann's radical score to Hitchcock's Psycho (1960). This was a real departure from the likes of James Bernard's excellent lush-yet-eerie scores for Dracula and The Curse Of Frankenstein for Hammer in the fifties: strings were used to unforgettable effect during the grandfather of the slasher movie's most infamous scene, opening the floodgates of musical possibility.
From the mid-sixties onwards, the horror soundtrack LP documented all manner of mutant strains. For many, the golden age arrived in the seventies and eighties, as increasingly affordable synthesiser technology enabled would-be auteurs to create inventive scores that were unreliant on major label budgets. John Carpenter – and his insistent music for Halloween – is the poster boy for this new wave of composers, but there was also room for more challenging traditional forms, too: Jerry Goldsmith's avant-garde choral score to The Omen is without doubt one of the towering achievements of the genre.
The fear factor
In the space we have available, we can only scratch the surface of the greatest soundtracks, but Fact magazine's online list of the best 100 is as indispensable as it is revelatory. And even though the styles of four titans of terror profiled here – Goldsmith, Carpenter, Herrmann and Goblin – are diverse, they are united by an effortless ability to create scores so atmospheric they're almost tangible. This is music that goes hand in glove with the films for which they were composed – and also works brilliantly as LPs in their own right. So, sink your teeth into our selection and give your collection some fresh blood.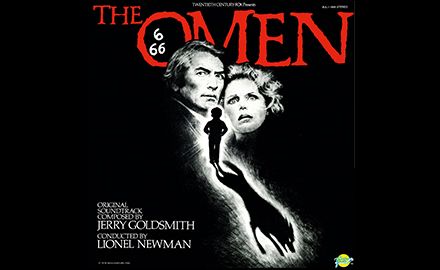 Jerry Goldsmith
The concert pianist, turned master of suspense
Jerrald King "Jerry" Goldsmith is the name behind some of the most memorable movie scores in modern cinema history, including celluloid landmarks such as Chinatown, L.A. Confidential and five films in the Star Trek franchise, but his contributions to the horror genre are his most distinguished – and by far the most unsettling.
Born in the twenties and playing piano by the age of six, he began to compose music for American radio in the fifties, quickly graduating to live TV shows. Significantly, this early part of his career included scoring episodes of Rod Serling's The Twilight Zone – a gig also enjoyed by Psycho composer Bernard Herrmann (see below).
The wild, inventive and unconventional soundtrack to Planet Of The Apes made the composer's name in the late sixties – and his experimental approach to creating music for films soon became his calling card. The score to 1976's The Omen, the story of the adoption of the Antichrist by an American ambassador and the unexplained and grisly deaths that follow, is an eclectic masterpiece. Wide-ranging in style, pastoral passages, intense Penderecki-tinged choral works with eerie Latin chants and avant-garde orchestration combine to heart-racing effect. It earned Goldsmith the only Academy Award of his illustrious career.
Let it bleed
Scores for much-derided disaster flick The Swarm, Ridley Scott's sci-fi-horror crossover Alien – a tense gem that uses unexpected combinations of unconventional instrumentation – and the deeply disturbing Poltergeist – staple contraband of any VHS rental parties for thrill-seeking teens in the early eighties – swiftly followed, sealing his reputation as the compositional prince of darkness in Hollywood.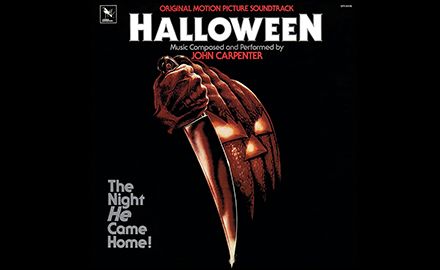 John Carpenter
Minimal yet powerful, this auteur's scores chill to the core
The legendary film-maker and composer's Twitter handle sets his stall succinctly and accurately: TheHorrorMaster.
His movie output between the mid-seventies and late eighties, from cult sci-fi black comedy Dark Star (1974) to Reagan-era paranoia-fest They Live (1988), is now regarded as classic – as are their scores, many composed – or co-composed with Alan Howarth – by Carpenter himself. On the rare occasions his films don't feature his distinctive touch, however, he shows impeccable taste: the soundtrack to gruesome sleeper success story The Thing (1982) is a case in point, provided by no less a talent than prolific Italian composer Ennio Morricone.
An early adopter of emerging technology since his debut feature Dark Star, the music teacher's son's interest in synthesisers arrives fully formed on genre-defining slasher flick Halloween (1978), the soundtrack on which much of his reputation rests. Owing more to Steve Reich than Mike Oldfield – whose Tubular Bells added the fear factor to The Exorcist (1973) – the main theme alone, with its chattering, tumbling and repetitive piano and synth, seals the auteur's place in horror soundtracks' premier league.
There will be blood
The Death Waltz label deserves praise for putting his seminal scores out there once more: thanks to its lavish CD and vinyl reissues, his scores to chillers The Fog, Halloween III and Prince Of Darkness are all available to be added to your collection.
Carpenter released his first studio album Lost Themes – a selection of atmospheric electronic pieces for non-existent films – through Sacred Bones in 2015. An excellent sequel followed this year and he has played live, touring for the first time, drawing on his extensive body of work.
Bernard Herrmann
The man that cranked up the tension in Hitch's movies
With his revolutionary score to Alfred Hitchcock's Psycho (1960), Bernard Herrmann dragged horror movie scores out of the cosiness of fifties' atmospheric-but-forgettable orchestral suites. Once heard, never forgotten, this angular score – composed entirely for strings – was the perfect foil for the director's infamous shower sequence featuring Janet Leigh.
Collaborators on numerous Hitchcock films, the two men shared an unconventional approach to their art. The Birds is a film without a score… but its soundtrack is created by Herrmann who made eerie birdsong from electronics.
Parting company with Hitchcock over his unused score for Torn Curtain, Herrmann brought his talent to fantasy fare such as Jason And The Argonauts and The Twilight Zone. Post-Hitch, his work showed little sign of slowing in the late-sixties and seventies, writing the music for 1968 Brit-chiller Twisted Nerve and scoring Brian De Palma nasties Sisters and Obsession. His final project before his death in 1975 was the acclaimed score for Scorsese's Taxi Driver, but it's Psycho with which his name will be forever associated.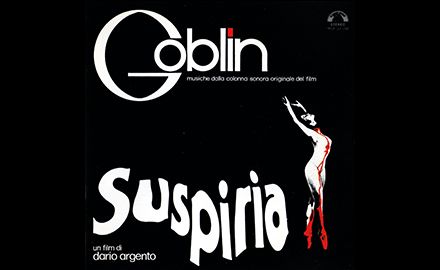 Goblin
Italian prog rock to send shivers down the spine
In the absence of Black Sabbath writing soundtracks, could there be a more aptly named group for the job than Goblin? Predominantly instrumental, the Italian rock group's synthesiser-heavy take on the horror score is an exhilarating blend of jazz, prog and metal, gracing some of Dario Argento's greatest works.
Goblin rose from the grave of Italian progressive rockers Cherry Five, who had signed to Cinevox, a label with a healthy interest in soundtrack publishing. This connection led to cult director Argento and a successful period of collaboration, beginning with Profondo Rosso (1975). The brilliant soundtrack to Argento's visceral classic Suspiria (1977) is arguably the group's finest hour. The group split temporarily after working on George A Romero's classic undead shocker Zombi AKA Dawn of the Dead, but there was a partial reformation for the slick, Tangerine Dream-esque score to Argento's Tenebrae (1982).
Still active and fronted by Claudio Simonetti, Goblin seamlessly live-scores screenings of Argento's classics around the world.

SHOPPING LIST
Our best of Brit-horror spans the decades, taking in sensational supernatural seventies' soundtracks and chilling contemporary gems

Blood On Satan's Claw
Combines the Devil's Interval, orchestra and the weird Ondes Martenot twenties' keyboard to quite eerie effect.

Dracula AD 1972
Mike Vickers (of Manfred Mann fame) turns in a suitably groovy score for the Transylvanian terror's rebirth in Swinging London.

Death Line
Primitive synths bleep, bloop and squelch over the jazzy title track of this grisly tale of cannibals on the London Underground.

Psychomania
John Cameron's (Kes) score to this back-from-the-grave flick has the cream of the jazz session-musician crop and a to-die-for acoustic ballad.

The Wicker Man
Paul Giovanni's soundtrack to arguably the greatest British horror movie takes traditional Anglo-Gaelic folk music as its cue.

28 Days Later
For this raw take on the zombie flick, John Murphy's original score shares album time with moody cuts from Eno and Granddaddy.

Berberian Sound Studio
Broadcast creeps into the Radiophonic Workshop to summon up this inventive soundtrack.

Under the Skin
Mica Levi's unsettling score is the perfect fit for this gem, bringing modern experimental composition to the big screen.

SPONSORED VIDEO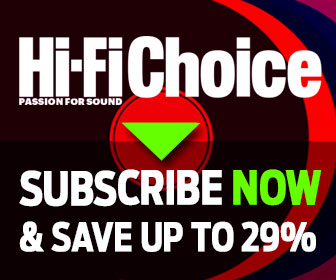 Inside this month's issue:

JBL 4305P active wireless loudspeakers, DALI's Katch G2 portable Bluetooth speaker, Bang & Olufsen Beoplay EX true-wireless earbuds and six affordable turntables battle it out in our Group Test...
Standout tracks from our
Music Reviews
section, plus our current favourites to play in the
HFC
office.