Hegel H80 - £1,350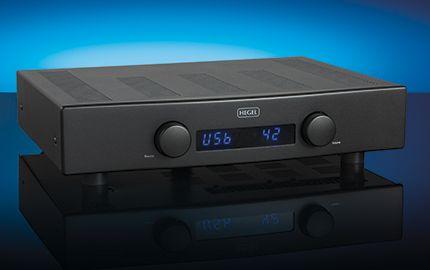 Chris Ward discovers the pleasures of understated Norwegian hi-fi as he takes Hegel's single-box amplifier/DAC for a spin
It might not be a household name, but Hegel has a considerable reputation in its home country of Norway and is increasingly winning favour with dealers and customers further afield. The company has a strong technology pedigree and its approach to its extensive audio product range is to do things rather differently from the norm. Unsatisfied with some of the supposed limitations of digital signal handling and transistor amplification, Hegel has gone back to the drawing board for the manufacturing of the H80.
This is an integrated amplifier and DAC in one box that is setting its stall out to offer convenience and quality. This is common in many budget integrated amps but is less usual as a customer's budget increases, with many audiophiles opting for separate amp and DAC at this price point. Given DAC technology is moving at such a pace, is there an inherent risk that this in-built DAC could soon look outmoded by newer separates with the latest bells and whistles?
Build quality feels of a very high standard and the sturdiness of the casework and connections around the back suggest quality engineering. Looking inside the amp further confirms a high build quality and Hegel is keen to underline how much attention it pays to the hand-matching of certain key components. I like the understated design, but suspect others might want more controls, display information and a headphone amp stage. Its plain face and use of three vibration-absorbing feet suggest that maximum attention has gone into what's under the bonnet and how it sounds. The remote provided is, however, a disappointment. All controls are there and it works faultlessly, even changing tracks on my MacBook Pro remotely, but it comes across as a bit of an afterthought and doesn't feel right alongside such a well-built amp. An alternative can be bought for £100.
Connectivity is extensive. Twin pairs of RCA inputs are joined by rarer balanced XLR connections to offer three analogue inputs. Digitally, the H80 boasts two coaxial, two optical and a single non-asynchronous USB input. Coaxial and optical digital inputs are claimed to operate up to 24-bit/192kHz with the USB input topping out at 24-bit/96kHz.
Choosing the less commonly used adaptive, 'non-asynchronous' USB is a perfect example of how Hegel has complete confidence in blazing its own trail. Similarly the DAC employed in the H80 is a Texas Instruments PCM1754 selected explicitly for its sonic characteristics. Hegel isn't afraid to buck the traditional audio design trends and these less obvious technological choices underline the belief it can give us better music playback by carefully optimising digital, pre-amp and power amplification into one box.
Sound quality
Playing a CD of Spacehog's In The Meantime via analogue RCA inputs, the immediate impression is of detail and control. Bass is firm without overhang and the noise floor feels vanishingly low, allowing quieter high frequencies to sing out against a dark backdrop. But this amp is not dark at all. Quite the opposite, it feels like it's cleaning my music sources and removing distortion and noise I didn't know I had got used to. It comes across as neutral, eager and upbeat and I'm hugely impressed how this transistor-based design combines new levels of detail and dynamic grip with the smooth, transparent delivery more usually associated with valves. Sources I know well come through cleanly with improved dynamism and almost no colouration.
Swapping to the balanced XLR inputs and all these virtues become even stronger with a little extra width to sound staging and a touch more 'boogie factor'. Bass is full but never overblown, partly I believe because of the very high 'damping factor' that Hegel claims for its amplifiers. This is an older hi-fi measure (popular in the sixties and seventies) that is not commonly used these days, but in this instance I can tell that part of the bass quality comes from the grip the amp has on the speakers from its impedance, rather than raw 'watt power' alone. Think of it as engine torque rather than horsepower getting you quickly away from the traffic lights.
Keeping the same track, I swap to the digital inputs. I can now detect a marked difference when the internal DAC is employed and also between the different digital inputs. On the coaxial inputs in particular, significant new detail is revealed, especially around higher frequency information. Sometimes DACs that err on the side of explicit detail can sound dry, or at worst 'glassy'. Not so here, the H80 DAC is just dredging more detail from my digital sources in a way that retains sweetness and fluidity. Being picky I'd say this extra detail has a mild effect of seeming to flatten the stereo image front to back and occasionally sounding a touch busy on more complex music, but the extra detail will win many over.
The optical input comes across as a touch more relaxed and some may prefer this digital choice, particularly on weaker digital recordings. To my ear, however, the USB input feels less accomplished and a bit more simplistic and less free flowing than the other digital inputs. Some standalone DACs will give marginally better soundstage depth and imaging and more fine control over playback, but overall the DAC is highly capable and extremely well integrated within the amplifier.
Playing a lossless rip of Paolo Nutini's Scream (Funk Your Life Up) confirms the austere looks aren't matched by a reserved presentation of music. This is an amplifier that locks into a groove and gets feet tapping. Bass is solid and convincing, and the more I listen to it, the more I appreciate its quality. Some may hanker for a more fulsome bass or more 'fruitiness' to the deepest notes, but I think some bigger bass can often be a side effect from a slight lack of control. The bass qualities are very well judged and deep notes start and stop on a pin head and lower register instruments feel realistic and present.
Switching to Maria Doyle Kennedy's beguiling, emotive and stripped-back rendition of How You Remind Me on CD ably demonstrates that the H80 delivers subtle vocals superbly. And where some lower cost transistor amps can sometimes be criticised for drying out female voices, the H80 has a very light touch and an almost valve-like silkiness and transparency to the delivery of the finest upper mid band detail from Maria's captivating performance.
The combination of a high damping factor gripping the speakers and low distortion releasing new micro-dynamic detail gives me a fresh perspective to all the tracks I pick, be they jazz, classical or rock. At first it's almost as if the cleanliness of the sound suggests that familiar tracks have been subtly re-mastered or I'm listening to an alternative recording session in a slightly different room acoustic. But this effect is soon followed by the realisation that these are the tracks I know so well, just apparently with a small amount of analogue or digital 'grime' removed.
Conclusion
Blowing some cobwebs out with Rage Against the Machine's Fistful Of Steel I go through every single input using a CD transport, external DAC and MacBook Pro all providing signals concurrently. At this point it's easy to realise that a music lover can tailor the sound of their system or individual tracks through the H80 connectivity they select. However, many standalone DACs now commonly come with different digital filters to tweak the output signal and this does not. Nor does it have a headphone output or means to upload new software, or display any sample-rate information when fed digital signals. So, is it a bit mean spirited in the feature count and just ripe to have its DAC outmoded by the next digital breakthrough? The H80 would certainly benefit from some USB updatability and a few more customer-facing features, but this misses its point. It is a slice of genuine high-end hi-fi at a cracking price and I suspect Hegel has been very generous in the internal features integrated into this single understated box.
This amplifier feels like it's successfully addressing noise and distortion in fundamentally new ways. It may be an entry-level product in Hegel's product range, but it is clearly benefitting from trickle-down technologies found on more superior machines further up the range. Used daily for two weeks of intensive reviewing, I never once hanker for more convenience or quality. Hegel has integrated a capable DAC, highly sensitive preamp and radical power output stages in one box in a way that adds up to far more than the sum of its parts. And it's done this at a very sensible price. It comes across as a low noise, low distortion, high transparency, high grip amplifier that can be considered a steal for the money. You could go down a separates route for the same price, but you'd need to spend a fair chunk of the budget on quality interconnects and power cables and even then I'm not sure you'd approach this level of joined-up music making.
LIKE: High transparency and grip; valve-like finesse
DISLIKE: Cheap remote control; lack of digital info or filters; limited features
WE SAY: A hugely talented integrated performer that gets to the heart of the music
DETAILS
PRODUCT Hegel H80
ORIGIN Norway
TYPE Integrated amplifier with USB DAC
WEIGHT 12kg
DIMENSIONS (WxHxD) 430 x 80 x 310mm
FEATURES
• Claimed power output: 2x 75W into 8ohms
• Digital inputs: 2 coaxial; 2 optical; 1 USB l Analogue inputs: 2 unbalanced RCA; 1 balanced XLR
• TI PCM1754 24-bit/192kHz DAC
DISTRIBUTOR Hegel Music Systems
TELEPHONE 0047 22605660
WEBSITE hegel.com
Inside the January 2020 issue:

Exclusive reviews on Rega's Aethos £3k integrated amplifier, Focal's Chora 826 floorstander, Quad's Vena II Play streaming amp plus six noise-cancelling headphones and much, much more…
Standout tracks from our
Music Reviews
section, plus our current favourites to play in the
HFC
office.