Musical Fidelity M8xi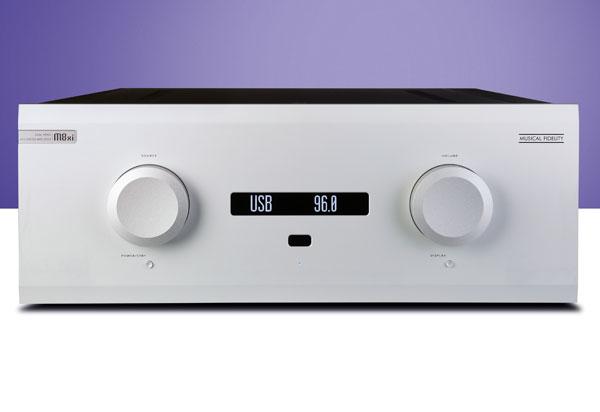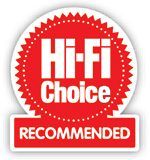 Back in 1990 when the Stone Roses were laying down the foundations for what would come to be known as Britpop, another upstart – this time from the hi-fi industry – was also producing its own magnum opus. However, this particular legend in the making was not from Manchester, but some 200 miles South in the less glamorous confines of North-West London – Wembley to be precise. Its first ever venture into the world of super integrated amplifiers, Musical Fidelity's A1000 received a similarly rapturous welcome, and like the Stone Roses' eponymous album, continues to swap hands today for not insignificant amounts of cash. But while Ian Brown and chums would struggle to follow up their debut long players' success, for the British hi-fi brand the A1000 was but the start of a lengthy string of hits that evolved to include the Nu Vista M3, Tri Vista 300, kW500, M6/500i and NuVista 800 to name but a few. And now comes the M8xi, which the company describes as the best of breed from a range that spans well over 30 years.
Of course, a lot has changed since then and while the Stone Roses are no more, Musical Fidelity itself is pretty much unrecognisable from those Anthony Michaelson-led days. Though the company's founder still retains a significant role in a design capacity, the head honcho is now Heinz Lichtenegger – the man behind Pro-Ject Audio Systems – after the Austrian company Audio Tuning Vertriebs GmbH purchased Musical Fidelity back in 2018.
Despite the "Made in Wembley" detail around the back being adjusted to "Austria", the good news is that not a lot else appears to have changed since the glory days of the A1000 and much of this is down to the part that Simon Quarry – the legendary engineer behind many of the company's iconic monster amps – has played in the M8xi's design. The very best audio engineers not only demonstrate great production skills, but also have a natural affinity for the effect that component choices and circuit layout can have on the finer subtleties of performance. Having proved his worth in the past, Quarry is a vital component for ensuring Musical Fidelity's house sound remains consistently recognisable.
Essentially a monstrous chassis housing a separate preamp with a pair of monoblock power amplifiers, shy and retiring it ain't. Weighing in at a back-breaking 46kg, you're going to need to clear the best part of half a metre square on your hi-fi rack to house the M8xi. And thanks to the brutish heatsinks on either flank, you'll not want to be picking it up and moving it too often. Unsurprisingly, all this heft adds up to a rather beefy quoted power output of 550W per channel into 8ohm loads – although the reality is it's actually capable of more. A high 67V output is achieved by bridging the two output stages – the two 'sides' of each mono bridge consisting of three pairs of high-current power transistors – in a familiar topology that Musical Fidelity has been fine tuning for over a decade.
Power aside, the M8xi packs a TI/Burr-Brown PCM5242 DAC at its heart, which handles 24-bit/192kHz digital files via the amp's pairs of coaxial and optical inputs and single asynchronous USB-B port around the back. DSD is not supported, something that those with hi-res DXD or DSD music collections might want to consider. Also absent is a headphone output and – more surprising – moving-magnet or coil phono inputs. Presumably this is because, between them, Pro-Ject and Musical Fidelity have a pretty comprehensive range of standalone components to fill these particular voids.
Additional connectivity includes four line-level RCA inputs (including one HT bypass) alongside two balanced XLRs and both coaxial and optical outputs. The preamp outputs are single-ended and balanced and there's also a fixed line out. The substantial 4mm speaker binding posts are suitable for bi-wiring.
Around the front things are way less busy, with two large rotary dials dominating the custom-made fineline extruded milspec aluminium fascia. The lefthand one is used to select your input, while the other is a precision volume control, claimed to offer perfect tracking right down to the sort of very low levels that are impossible to get with standard potentiometers – thanks to what Musical Fidelity describes as "laser-trimmed substrate resistors". The small screen between them displays status and volume level in decibels. A small, but useful plastic remote also comes supplied. As you would expect, built-quality is impeccable with the chassis boasting the sort of robustness that you'd find on your average battleship.
Sound quality
We hook the M8xi up to Bowers & Wilkins' 800 D3 floorstanding loudspeaker and, obviously, the only place to kick off proceedings is by listening to Massive Attack. Taken from the stunning Blue Lines, Unfinished Sympathy seems like a fitting starting point – and certainly doesn't disappoint. It probably won't come as too much of a spoiler to reveal that the low frequencies here sound simply phenomenal, taking those rigid sandwich bass cones as low and far as they can without popping the end stops. The result is tremendous weight extension and a pneumatic grip over bass notes that powers the deepest rhythms up through your feet to the point where you think you're going to lose your fillings. But what's perhaps more of a surprise is the way that the instantly recognisable percussion and "hey, hey, hey, hey" samples from John McLaughlin and the Mahavishnu Orchestra allow the M8xi to show its dexterity in other areas such as resolution of colour, timbre, dynamics and ambience. Meanwhile the glorious Shara Nelson vocals and those stunning orchestral strings that were recorded at great expense at Abbey Road Studios – reputedly forcing the band to sell their car to pay for the recording – ably demonstrate all the lush richness we've come to expect from this epic masterpiece. As it reaches its bombastic conclusion, it's the amplifier's speed that really catches us off guard. The way that all those transient details fly from the speaker with such effortless alacrity, might not be rare from an integrated at this price, but it's certainly unexpected from one that's this size.
Moving onto strings of a different kind, although still a no less sizable recording, Wagner's Symphonic Ring performed by the Duisburg Philharmonic, provides a beautiful illustration of the M8xi's ability to deftly handle weight, scale and zip with unerring accuracy and apparent ease. With harps and flutes vying for attention as 30 first and second violins provide a rousing background, it wouldn't be too much of a surprise if everything got a little lost in the resulting mush of noise. And yet, this fabulously detailed rendering makes it perfectly easy to pick out the individual, tonally vivid instruments with ease. Underpinning all this is the additional potential clutter of timpani and percussion battling it out to see who can make the most noise. Somehow, through all this cacophony, the Musical Fidelity barely breaks into a sweat, resolving the lyrical delicacy of the second act's Forest Murmurs with the same deft touch that it does the deep, fast-flowing water in Das Rheingold. Thinking back, we might have heard such an impressive soundscape from D'Agostino's Relentless monoblocks (a snip at just £250,000 a pair), but from a mere integrated amplifier such exertion is practically unheard of.
For a complete change of scene it's over to a 24-bit/48kHz version of Diana Krall for her own seductive take of Eagles' I Can't Tell You Why. And listening to the way the M8xi artfully handles the change of gear is like watching a heavyweight boxer unzipping a fatsuit to reveal Margot Fonteyn hidden underneath. Gone is the heavy verbosity of what's come before to be replaced by feather-lite delicacy on the brushwork and clockwork precision from the accompanying piano. Though Wallflower was rightly knocked by critics for eschewing some of the sonic fireworks that characterised much of Krall's previous output, the depth of detail and natural composure of the performers in a very relaxed acoustic makes for a captivating – if not quite invigorating – experience that's impressively faithful to the tone of the piece.
Adding Melco's N1ZS20/2 music server and a dCS Vivaldi One player/DAC to the mix, it's time to see how the USB input fares with digital files. Impressively free from any obvious signs of stress, strain or any suggestion of subliminal background hash, the sound from Carmen Lundy's Self Portrait is both inviting and enveloping. The brush-like percussion that accompanies her luxuriant vocals might not be quite as impressive as it is via the other inputs, which sound that little bit smoother and more liquid in tone and delivery, but remain enjoyable enough to sit through for a couple of hours of listening.
Conclusion
For those power-hungry obsessives of the opinion that no matter how much power is on tap it'll never be enough, or those that are simply looking for an integrated suitably flexible that they can invest in impossibly finickity and insensitive loudspeakers in the future, the M8xi obviously ticks all the right boxes. However, to consider it a brute that's solely capable of boom and bombast is to miss the point. In the same way football commentator's so often note: "He's got a surprisingly good touch for a big man" if any forward over six feet tall shows a semblance of ball control, this is an accomplished performer that's just as comfortable precisely replicating the smaller lighter details as it is the big stuff. Fast, flexible and impressively faithful to the recording, it's a superb amplifier and deserves to be right near the top of any wishlist. HFC
DETAILS
Product: Musical Fidelity M8xi
Type: Integrated amplifier
FEATURES
● Quoted power output: 550W (8ohm)
● Inputs: 4x RCA; 2x XLR; 2x optical; 2x coaxial; USB port
● Outputs: 1x RCA; 1x pre-out; 1x XLR; 1x coaxial; 1x optical
Read the full review in
Issue 465

SPONSORED VIDEO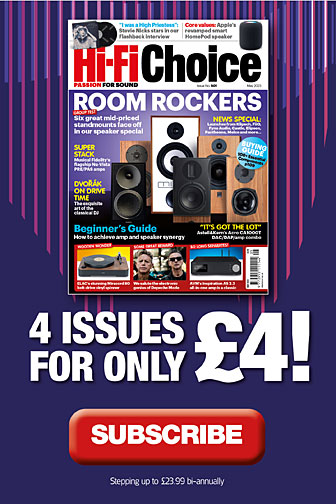 Inside this month's issue:

Wison Audio's exquisite Sasha V floorstanding loudspeaker, Origin Live Sovereign S/Agile turntable/tonearm, Final Audio ZE8000 true-wireless earbuds, Astell&Kern AK PA10 portable headphone amp, Aretai Contra 100S standmount speaker and an integrated amplifier Group Test