Klipsch RP-600M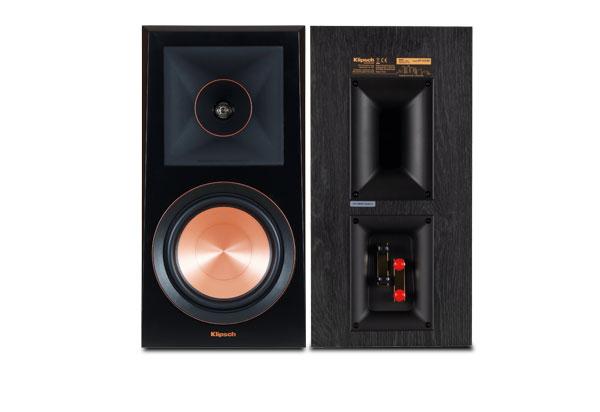 Because the world is so full of standmount speakers, it's easy for interesting new ones to get lost in the crowd. This is down to the fact that most are merely variations on the two-way, ported box theme. So it's nice when models like this come along that stand out from the budget speaker norm. Yes, it has a tweeter and a mid/bass driver plus a reflex port – but that's where the similarity stops, at least to almost everything at or near its price. In design terms it's something of a walk on the wild side, but what else would you expect from US horn loudspeaker legend Klipsch?
The RP-600M sports a horn-loaded metal dome tweeter and a rather interesting metal-sandwich mid/bass cone, which are quite different to the standard-issue components at this price. The cabinet is fairly standard, however, yet still it doesn't sound particularly inert when you rap it with your knuckle. Fronted by a satin-black, sculpted silicon composite front baffle, it is clearly built down to a price despite the presence of those decidedly quirky drive units.
Titanium dome tweeters have been out of fashion for a while now. Yet the Klipsch's 25mm unit is aided and abetted by Tractrix horn loading, and proves a game changer. It's a Klipsch trademark and here it confers greater sensitivity upon the tweeter and helps sound propagate out into the room better. At 1.5kHz it crosses over to the mid/bass unit, which looks very colourful with its 165mm spun copper Cerametallic cone. This is claimed to be stiffer and less prone to break up than conventional cones.
The overall effect is of a small loudspeaker that's notably different to your average budget box. Yet still it doesn't have the sophisticated style of some of its British-designed rivals. The vinyl wrap – which comes in a choice of ebony and walnut finishes – looks as eighties as the tweeter, and this could be an issue in this fashion-conscious sector of the market. Around the back there's a largish bass port and bi-wireable binding posts. The magnetically attached grille covers are par for the course and are worth keeping off for maximum sound quality. The stick-on mini feet supplied seem poor, being just one step up the evolutionary scale from Blu Tack. Still, it stands pretty securely on my Atacama 24in stand, and works best in my room placed 30cm out from the rear wall and toed-in slightly.
Sound quality
My initial impressions are mixed. In some ways this is a very capable offering and in others it's merely mediocre. All loudspeakers are compromises – especially at this price. The question for buyers of £625 loudspeakers is whether you can stomach the imperfections.
The RP-600M has a speedy and bouncy sound, with an animated nature and a general lust for life. This is a hugely attractive facet to its personality, because its enthusiastic and jolly nature means that you end up excusing its shortcomings. These are centred around a somewhat uncouth treble and gloopy-sounding upper bass. As for its lower bass, well there isn't much to speak of…
Klipsch claims a sensitivity figure of 96dB, meaning it goes very loud with not much power – thanks in no small part to the horn loading. My experience with sensitive speakers is they're fast and agile sounding, as there's so little electrical energy needed to move the drivers forward and backward. And so it is here, with Saxon's 747 (Strangers In The Night), which fizzes with energy. It's fast, propulsive and rhythmic with good handling of attack transients and a general air about it of 'get up and go'. I love the crisp 'ting' of hi-hat cymbals and the 'thunk' of the snare drums, as it shows a classic British heavy rock band at its best. This makes for a vibrant, visceral sound – giving the sense that the music is alive and kicking.
It surely is, but some of the blows are misaimed. The bass drum work isn't the tautest around and sounds slightly soft and lacking in attack. The converse of this is that there is a certain warmth to the upper bass that is most welcome; giving the performance more body than you might expect. The result is a sort of 'boom tizz' sound that's quite seventies in style and overlays everything that the Klipsch plays. It proves something of an effects processor in this regard. There's nothing wrong with this, of course; in a world of bland, derivative models with the faults designed out by computer, this comes as something of a breath of fresh air.
Just don't expect it to be neutral. On the barnstorming rock of Saxon it's a joy, but cue up some cool, mellow jazz where you want to hear what the instruments really sound like, and it's like the RP-600M is laying things on a little thick. Herbie Hancock's Speak Like A Child just doesn't sound as organic as it should; in tonal terms it is rather processed, as if the natural timbre of the piano and saxophone have been airbrushed out. That's because it has a slightly opaque midband making things a little hazy and it's hard to get a true take on what the original recording was like. Instead, the Klipsch keeps trying to distract me from its faults by getting my feet tapping.
It's pretty good in terms of soundstaging too; for a speaker of such diminutive dimensions, the RP-600M drives the room really well. The horn helps beam the sound out into the listening environment, making for an expansive and ethereal rendition of The Stranglers' Walk On By. This is a pretty grimy-sounding lo-fi recording from the late seventies, but the speaker really rather flatters it. It sets up a wide soundstage from left to right, and the aforementioned rich upper bass fills this out well. The crisp, fast tweeter lacks refinement but certainly pushes images out into the room well, giving a gripping and engaging sound that is certainly no shrinking violet. Stereo imaging is a bit vague, though, partly due to that slightly cloudy midband I suspect, and also there's a lack of stage depth; if anything the Klipsch's real area of interest is beaming the elements of the mix right out at you.
Conclusion
Fun but flawed is a good way to describe Klipsch's RP-600M – with the caveat, of course, being that every speaker is the latter, but not all are the former. Rather like an American muscle car, it has a delightfully simple, unselfconscious love of life – it's there to enjoy things, whatever. Many will like this little loudspeaker, but it isn't as universally appealing as some of its more mainstream price rivals, so it's important you try before you buy. DP
DETAILS
Product: Klipsch RP-600M
Price: £625
Origin: USA
Type: Two-way standmount loudspeaker
Weight: 7.3kg
Dimensions: (WxHxD) 202 x 399 x 301mm
FEATURES
● 1x horn-loaded 25mm titanium dome tweeter
● 1x 165mm spun copper Cerametallic mid/bass driver
● Quoted sensitivity: 96dB/1W/1m
Read the full review in
June 2019 issue 450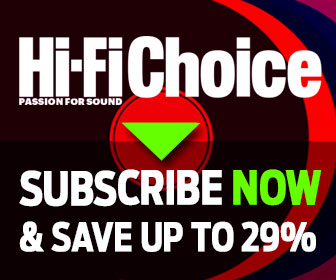 Inside this month's issue:

Hegel's V10 phono stage, iFi Audio Diablo DAC/headphone amplifier, VPI Prime 21+ turntable, System Audio's Legend 5.2 Silverback standmount, high-end headphones Group Test and much, much more...
Standout tracks from our
Music Reviews
section, plus our current favourites to play in the
HFC
office.