On sale now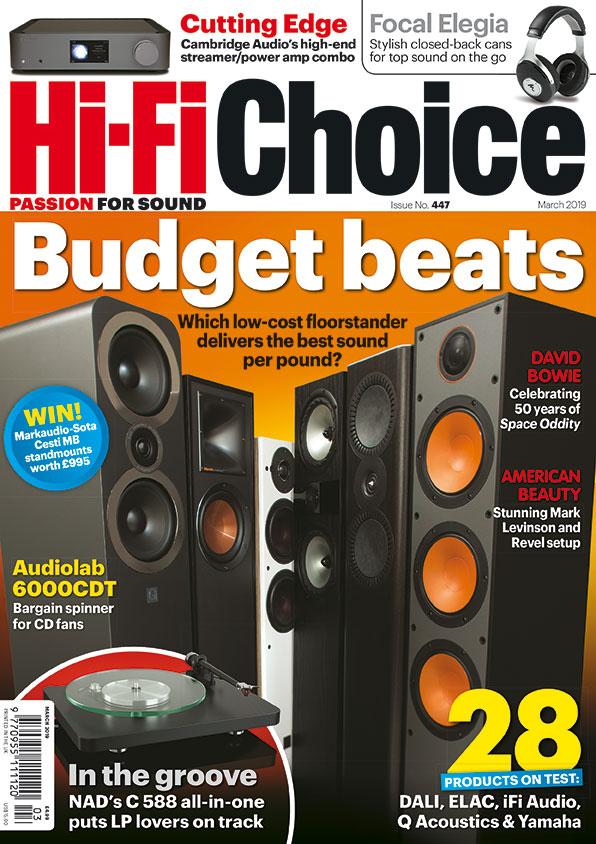 Welcome to the March issue
The loudspeaker sector appears to be one of the fastest growing areas in the audio market at the moment, with a seemingly ever increasing number of hi-fi designs arriving in a variety of shapes and sizes. A quick flick through this month's issue demonstrates the range of models available at price points to suit every pocket, from budget floorstanders to a high-end design from Wilson Audio, the place-anywhere TuneTot standmount (see Exotica), and ELAC's superb Vela BS 403 with its JET tweeter.
Our Audiofile pages regularly bring you news of the most interesting loudspeaker designs, and there's bound to be plenty more to come following new model launches such as Acoustic Energy's flagship 500 Series (exclusively announced on p6) showcased for the first time at this year's Bristol Hi-Fi Show – read our full Show Report next month.
This month's Group Test looks at six value floorstanders priced from £500 to £700. It's a hotly contested sector, with each of the six challengers offering its own unique approach that – thanks to the trickle-down technology effect of models further up a brand's lineup – defies their affordable price tags with multiple driver designs such as Monitor Audio's Monitor 300 – packing no fewer than four drivers into its sizeable cabinet (three of which are orange) – and the partly horn-loaded R-610F from Klipsch aiming to upset the applecart with an accurately pitched curve ball.
Also inside this month's issue: Cambridge Audio's Edge NQ/W streaming preamp/2x 100 power amplifier, Wilson Audio's adorable TuneTot standmount loudspeaker, Audiolab's 6000CDT CD transport, NAD's C 588 belt-drive turntable package and Focal's Elegia closed-back headphone. Plus, Music Legends celebrates the 50-year career of Johnny Cash and Beautiful System looks at a luxury music system from American audio specialists Mark Levinson and Revel.
And don't forget to enter our Markaudio-Sota Cesti MB standmount speaker competition worth £995 by clicking here

Lee Dunkley, Editor
Inside February's issue

: exclusive review of Piega's Premium Wireless 701 active speaker, Chord Electronics' Huei phono stage, plus six powerhouse integrated amps go head-to-head and much, much more…
Standout tracks from our
Music Reviews
section, plus our current favourites to play in the
HFC
office.