Monitor Audio A100 - £399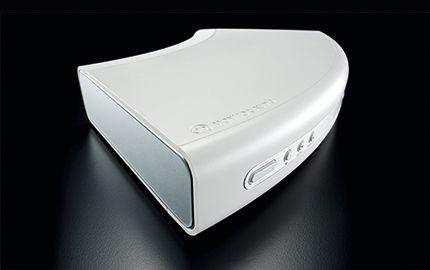 Awesome sonics and stunning design mean Monitor Audio's first amp will be more than just a head turner, says Adrian Justins
For Essex-based Monitor Audio the only way is not loudspeakers, which it can make and sell pretty much standing on its head. After dabbling in speaker docks and impressing with its W100 AirStream active desktop stereo speakers it is now entering the new world of amplification and streaming.
Sporting AirPlay rather than Bluetooth, the A100 is very much aimed at the Apple crowd with their MacBooks, iPhones and iPads crammed with AAC, AIFF and ALAC files in iTunes. That's not to say non-Apple devices are excluded from the party, PCs and DLNA sources connected to wireless routers can join in the fun if they can run iTunes (version 10 or later) and/or can be controlled by Monitor Audio's remote control app (iOS and Android).
If you have a penchant for hi-res audio you'll no doubt have mixed feelings about iOS, which maxes out at 16-bit/44.1kHz when streaming from a phone or tablet. When using AirPlay to stream from a desktop or laptop running OSX you can indulge in full-fat 24/192 ALAC lossless files. DLNA also provides a means of enjoying lossless hi-res files including 24/192 FLACs. Additionally, the A100 has Airstream Direct, which allows you to stream audio from an iOS device in the absence of a wi-fi router.
Old-school tethering is possible thanks to a front-mounted USB jack that offers music playback of iOS devices, but not Android ones. You can, however, hook up the A100 to a TV or CD deck using its digital optical input or stereo phono analogue input and can output to a powered sub.
Looking from above like a section of a giant Polo mint, the A100 cuts an unusual dash with its wedge shaped footprint. From the front it offers few clues as to its function. There's no display window, just a smattering of buttons and lights. There are controls for altering the volume, powering on/off and three input buttons – AirPlay/DLNA, optical and analogue – that glow bright white when selected.
The back panel is a lot narrower than the fascia and the sockets feel a little crammed in. This, and the fact that they're slightly recessed, means that my thickly collared analogue phono plugs only just squeeze in. Pleasingly, the speaker terminals are made from high-quality metal rather than inferior plastic. The whole unit is built like a battleship from a rigid polymer and die-cast aluminium chassis. This also acts as a heat sink to help dissipate the heat from the 50W per channel Class A/B amp.
There are five inputs if you count the USB and the fact that DLNA shares the wireless input (AirPlay sources will always override DLNA), but there are just three LED-lit source buttons and the lack of display does prove annoying at times.
The activity status of the unit is indicated by an LED light in the centre, which can glow various colours, remaining solid or pulsing. Every time you switch the unit on it pulses blue as it spends around 20 seconds re-establishing a network connection, which is hard to stomach if you're using the A100 as part of a TV sound system and can't hear what you can see.
And with a multitude of statuses (there are six colours and numerous flashing sequences) it's fair to say you'll need the instruction manual, which of course is only available as a downloadable PDF.
Monitor Audio does at least include a quick start guide in the box, which provides instructions for making a network connection to a wireless router and implementing an over-the-air firmware upgrade. This guide is an IKEA-style job with no written instructions other than to provide a list of iOS devices that are compatible with establishing an AirPlay link. In a nutshell, you have to make a USB connection and press a required sequence of buttons (including the wi-fi sharing button on the rear) in response to the LED light's status. Frankly, it's a bit of a game, but if you're good at reading Morse code you should be fine. At least this method avoids the malarkey of dealing with passwords and URLs in a browser.
Although there's an app for the A100 it doesn't offer much in the way of controlling the basic features such as volume and source selection. These, along with transport controls, are found on the supplied remote, which is about the size of a large pebble. There is no form of EQ adjustment, no treble or bass control and no DSP modes.
The app is really rather uninspiring to look at it, it takes an age to re-connect with the unit every time you access it, doesn't always show all of the networked sources and crashes occasionally. Perhaps it's no surprise that Monitor Audio doesn't actually mention the existence of the app in its own instruction manual.
Sound quality
With 2x 50W output, there's enough clout on offer to drive any small-to-medium sized monitors rated between 4ohms and 8ohms impedance. Starting with the analogue input connected to a CD drive I am instantly enamoured by the A100's smoothness, detail and staging. The finger clicking and bass plucking at the start of Diana Krall's My Love Is is quite sumptuous and the vocals have a mesmerising quality that fills my listening room with ease.
What strikes me is not just the amazing clarity that a class A/B amp offers, but the sense of airiness and balance throughout the dynamic range. The amp does need at least 20 minutes or so to get the sonic juices flowing properly, but once fully warmed up it purrs like a Range Rover, effortlessly bounding along and taking the roughest of tracks comfortably in its stride.
The King's Singers' version of Paul Simon's The Boxer is equally engaging with spine-tingling harmonies that really have to be heard to be believed.
Nor is it a case of clarity over warmth and energy. The vocals at the start of Chris Jones' Darlin' Cory are hauntingly engaging, while the guitar strums with refinement and gusto.
Results with AirPlay are no less impressive, Silent Shout by The Knife proves that bass extension is particularly impressive, underpinning the mid-range and high notes of the synth to perfection. For sheer definition you can't beat a bit of Animals by Martin Garrix, and the A100 is bang on the money, especially with the crescendo and popping sounds that really ping out with awesome precision.
DLNA streaming of hi-res files is the cream on the cake, offering incredible scale and depth to recordings such as a 24/192 download of Mozart's Violin Concerto No.4 in D Major.
Conclusion
All in all, the A100 is a fairly simple proposition – wireless streaming, a couple of wired inputs and a high-quality DAC and amplifier. There are no built-in third-party services such as Spotify, Deezer or internet radio, and USB playback is severely limited. But streaming from other devices is a cinch when using AirPlay. While not quite as slick or reliable, DLNA compatibility at least provides access to hi-res audio downloads and rips. There are one or two operational quirks and complexities that will keep you on your IT toes, but the rewards sonically speaking are so stupendous that it is no great difficulty to forgive the A100 its minor foibles.
LIKE: Superb performance; cool design; AirPlay integration
DISLIKE: No display; poor app; slow to start up; hi-res is a faff
WE SAY: Operation isn't perfect, but it delivers the sonic goods beautifully
DETAILS
PRODUCT Monitor Audio A100
ORIGIN China
TYPE Network media amplifier
WEIGHT 1.9kg
DIMENSIONS (WxHxD) 359 x 55 x 204mm
FEATURES
• Quoted power: 50W RMS per channel
• Sources: AirPlay (Mac, iOS, PC), USB (iOS only), DLNA network, Airstream
• Lossy formats: MP3, WMA, AAC, Ogg Vorbis
• Lossless formats: FLAC, ALAC, LPCM
• Optical digital input, RCA phono in, USB, screw speaker terminals, subwoofer out
DISTRIBUTOR Monitor Audio
TELEPHONE 01268 740580
WEBSITE monitoraudio.co.uk

SPONSORED VIDEO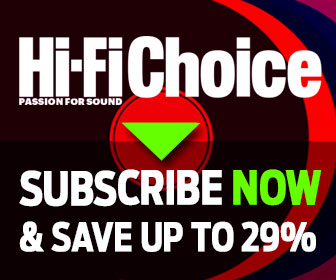 Inside this month's issue:

Cambridge Audio Alva TT V2 turntable, Meclo N50-S38 EX music library, Neat Petite Classic standmount, Sennheiser Momentum 4 Wireless headphone, six moving-coil phono preamps in our Group Test and much, much more...
Standout tracks from our
Music Reviews
section, plus our current favourites to play in the
HFC
office.