NAD C 588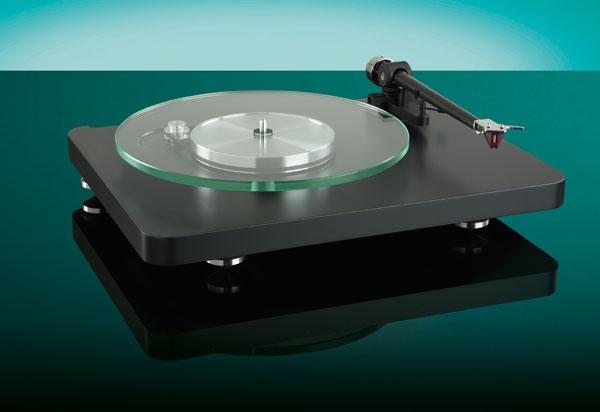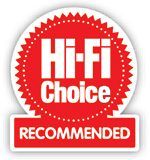 Despite being a consistently successful player in most aspects of the hi-fi market over the last 40 years, there is one component around which NAD has never managed to establish a lasting legacy. Its turntables have performed well, but with one notable exception, haven't grabbed the public's imagination. From the 101 and 202 models of the seventies, through the Garrard-sourced 5020A and 5025, the direct-drive BSR-based 5080, the mysterious 5125 and the Rega-made 533, C 552, C 555 and C 556, NAD certainly can't be faulted for a lack of effort. The notable exception was, of course, the 5120 – arguably the company's most memorable turntable. After an initial hiccup courtesy of an unusual tonearm design, the re-designed model reigned supreme as the early to mid-eighties £99 champion. Made by Tesla (no – not that one) in Czechoslovakia, as it was known back then, the company was then taken over to become Pro-Ject.
You might be one step ahead of me here, but if not I don't think I'm dropping a spoiler on a par with unveiling the guilty party in Agatha Christie's The Mousetrap by revealing that the C 588 is, in fact, made by Pro-Ject. As a result, NAD has come full circle from its eighties vinyl-based successes, which sees this new turntable offering marking a very promising start for the newcomer.
In the case of the C 588, the result is a two-speed, belt-driven design based around a rigid MDF matt black plinth with pleasingly sculpted corners, sitting on four pointed metal feet that incorporate 'tuned isolation'. Set into the plinth is a precision AC motor, driven by a proprietary control circuit that takes in a 15V DC supply from a wall-wart PSU and generates a stable and smooth AC signal to drive the motor. Only one frequency is generated and so speed change involves moving the belt manually. You can even swap the pulley to achieve a 78rpm option, should you so desire. On top of the alloy sub-platter sits a 10mm-thick glass platter with its own felt mat.
The tonearm is something of a Pro-Ject 'greatest hits' affair, which is definitely no bad thing. It is based around a conventional dual pivoted bearing assembly, with a carbon fibre arm tube terminating in a fixed and pleasingly shiny headshell. A screw near the bearing housing can be loosened to allow the arm to be rotated to set azimuth correctly, and the whole affair can be raised and lowered to optimise VTA.
The C 588 comes pre-fitted with an Ortofon 2M Red moving-magnet cartridge (HFC 345). There's a quick setup guide, and the company's website yields a full instruction manual download, which is much clearer and goes into just the right amount of detail. The packing box also contains a stylus protractor and a natty NAD-badged stylus balance should the urge to tweak grab you or should you want to try a different cartridge. A lid is fitted, but lacks the radiused corners of the plinth.
Sound quality
With the C 588 fully warmed up and stylus in groove, the deck produces a typically bold and dynamic sound. The Ortofon 2M Red is a good part of this as it is peppy with plenty of crispness and get up and go to its presentation, and the package gels beautifully. As a result, at the top end the NAD offers detail aplenty, but without ever giving the sense that it is trying too hard or forcing things. The treble is clean and tight, with a lack of the edginess that can afflict some similar designs. That said, the deck is a little sensitive to poor recordings and doesn't quite manage to get past them to truly reveal the detail beyond. An example of this is Bubbles from Biffy Clyro's MTV Unplugged LP – the recording is spacious and detailed, but the top end is rather curtailed and splashy as the C 588 struggles a little to cope.
Give the NAD something that's better recorded and it laps it up. Solar from Ben Sidran's Bop City LP bounds along with gusto and a beautifully precise sense of timing. Cymbals ring out strongly and the piano is layered beautifully behind it, with Phil Woods' alto sax leading proceedings with authority. In fact the C 588 proves something of a whizz at generating a gloriously wide soundstage, but without falling into the trap of leaving a gap in the middle. The NAD sets up a lovely swathe of action across the stereo soundstage that really reminds just how good vinyl can be, even at this relatively affordable level.
In terms of depth perspective, the C 588 also does well. Initially I feel it's a little two-dimensional, but further listening reveals that its stage width is actually very good; it overshadows the front-to-back aspect, which is actually perfectly competent. Kacey Musgraves' Butterflies proves that while the NAD may not push detail off into the background as well as some, it has no problem at all in pulling forward the main action to stand nicely clear.
It also proves to be highly capable at the low end. Again, initially it appears as though it's going to be a little lightweight but actually everything you need to hear is present and correct. There is just no unwanted resonance or wallow and so when you really listen in to the music, it's all there. Bob Marley's Waiting In Vain doesn't bumble along with a poorly defined lump of low end like it can do sometimes; instead there are properly defined bass notes and a tight, punchy underlying rhythm.
Conclusion
The links back to NAD's successful 5120 model are quite apt here, as the C 588 carries its ancestor's torch admirably and, not unreasonably, improves on it in many areas, too. The C 588 is a well thought-out package at a very competitive price that deserves to do very well indeed. AS
DETAILS
Product: NAD C 588
Price: £699
Origin: Austria
Type: Belt-drive turntable
Weight: 9.2kg
Dimensions: (WxHxD) 435 x 125 x 340mm
FEATURES
● 33/45rpm
● Carbon fibre tonearm fitted with Ortofon 2M Red cartridge
Read the full review in
March 2019 issue 447

SPONSORED VIDEO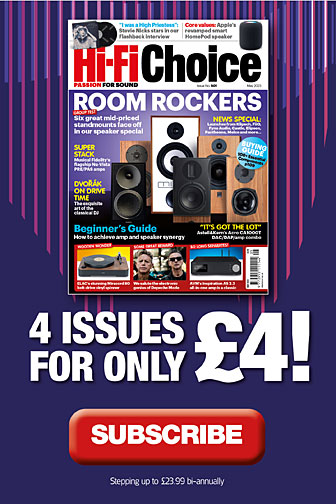 Inside this month's issue:

Wison Audio's exquisite Sasha V floorstanding loudspeaker, Origin Live Sovereign S/Agile turntable/tonearm, Final Audio ZE8000 true-wireless earbuds, Astell&Kern AK PA10 portable headphone amp, Aretai Contra 100S standmount speaker and an integrated amplifier Group Test