Tannoy Revolution XT 6F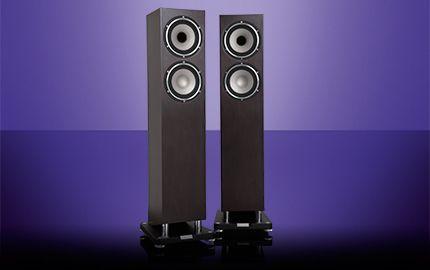 Vive la Revolution! Tannoy's XT 6F newly re-engineered dual concentric floorstanding loudspeaker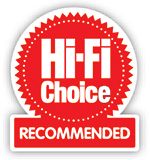 We all know what a good speaker should do, but how to do it is another matter altogether – there are many different ways of attempting this. Moving coil drive units in a wooden box are the most common and simplest type to produce, but arguably the most flawed. Still, because the concept is so old there has been plenty of time to refine it, and Tannoy came up with its own solution nearly 70 years ago. Its first dual concentric design – the Monitor Black of 1946 – was a coaxial speaker combining mid/bass and treble units in one drive unit. This was not sold in cabinets, but as research tools for testing microphones, due to the exceptionally flat frequency response.
It soon found its way into hi-fi speakers, when Tannoy made a monitor for Decca recording studios. Whereas normal speakers fire sound out at you from different places on the front baffle, Tannoy's driver produces it from the same place. Think of a violin playing a single note; a standard speaker will have different parts of this (including its harmonics) coming from two or more points in space at the same time. A Tannoy dual concentric driver, however, will produce all the note's spectral components from a single place at precisely the same time. This brings great phase coherence and better off-axis response too, making the speaker image far more accurate.
The driver has been refined over the years. Indeed, this year has seen one of its most radical redesigns, with a new Omnimagnet motor and Torus Ogive Waveguide. Both mid/bass and treble drivers now use a single shared magnet and a special waveguide integrating a donut-shaped (Torus) tweeter diaphragm and bullet-shaped (Ogive) phase plug. The tweeter has been moved forward for better time alignment and a shallower but more flared waveguide is said to give better high-frequency directivity.
The Revolution XT 6F is the speaker chosen to debut this new driver in. The '6' refers to its 6in dual concentric driver, which includes the 25mm PEI dome tweeter and the 150mm multi-fibre mid/bass unit, which crossover at 1.8kHz. There's an additional 150mm bass unit that works in parallel below 250Hz using a blend of paper fibres. The crossover is a passive low loss second order low pass, first order high pass type.
Sound quality
There's something instinctively right about the sound of this loudspeaker. Reviewing quite a few as I do, you find yourself able to guess in seconds if it's going to end in tears, and after a minute or so you have 'triangulated the sound' enough to see if your first thoughts were true. This early period, when a speaker reveals itself, is an intense one, and is also when it lives or dies in the showroom. From the off, the Revolution XT 6F impresses, but not in the sense of sounding dramatic or impactful, but rather because it doesn't. It presents itself as a 'mature' product for its price, devoid of the usual frequency peaks and troughs that are often deliberately – or inadvertently – engineered in.
The first track on the CD player is Spacer, a classic piece of disco music, courtesy of Chic but performed by Sheila and B Devotion. It's a worthy test, with lots of energy at both ends of the frequency spectrum and a wonderfully sinewy rhythm that soon reveals whether it can stop and start properly. It comes over as tonally well balanced; there's no sign of lumpiness to it, although coming from an electrostatic you would have to concede that the upper bass has a subtle weight that helps propel pop music along on in a most pleasing way. Treble is very good too, being clear and crisp if not quite as delicate as the very best at the price. In-between this is a pleasingly open and well integrated midband with a surprising amount of clarity, both from a loudspeaker at this price and also from a Tannoy. It's certainly a touch more well defined and seems able to give a more intricate rendition of what is actually in the recording than I've heard before from a speaker in this segment bearing this great name. The result is that Spacer comes over in a most enjoyable way; sounding warm, smooth, expansive and yet engaging. The lead vocal is sweet and expressive.
Moving to something altogether more contemplative, and the beautiful ambient strains of The Cocteau Twins' Lazy Calm shows just how good the new Tannoy is at imaging. Not that this was ever in doubt of course, but still it serves up
a cathedral-like expanse of sound, imaging far left and right, and also hanging back nicely. This is further underlined when I move to the Ralph Vaughan Williams stirring Symphony No.2, only to hear the soundstage open up still further. Indeed, the Revolution XT 6F is able to show off its even tonal balance, delicate midband and obvious ability to recreate a recorded acoustic in three dimensions. I am also struck by the fine string tone delivered on this recording; earlier entry-level Tannoy dual concentrics had a tendency to sound a little 'cuppy', but the latest drive unit is a model of openness and neutrality by comparison. It may not necessarily have been voiced as such, but the Tannoy proves an excellent choice for classical music.
One often finds that loudspeakers that score highly in traditional aspects of performance – bandwidth, smoothness, detail, etc. – fare less well in their ability to entertain and involve the listener. But not so with the Revolution XT 6F, which again proves highly adept at extracting the music's essential rhythm from the electrical signal it is presented with. This is a highly enjoyable design that bounces along at a high rate of knots.
John McLaughlin's excellent Love And Understanding is a powerful piece of guitar-based jazz fusion and the Revolution XT 6F shows its excellent transient response with some dizzyingly fast strummed electric guitar strings and hi-hat work. It proves well able to get into the groove, powerfully showing up the fine rhythmic playing of the instrumentalists, as well as the dynamic accenting that makes the music sound so expressive.
In absolute terms the Tannoy isn't brilliant at dynamics – it's only a medium-sized box with three drive units after all is said and done – but it is excellent at capturing those all-important subtle nuances of the music. It also does well for its size in bass extension, having a smooth and deep bottom end that doesn't sound like it's struggling too hard with lower bass notes. Overall, there is nothing I can find to mark down this speaker at the price; it's an excellent performer with a special talent all of its own.
Conclusion
Tannoy is going through something of a purple patch with some very strong affordable and mid-price speakers out there, all of which have garnered a reputation for musicality as much as that trademark expansive sound. To this list we now need to add the Revolution XT 6F, which performs far better than it has any right to. Add those traditional values you get from the dual concentric driver – starting with that wonderful 'point-source' imaging – to its highly engaging sound and this is likely to win many friends in an already highly competitive marketplace. DP
DETAILS
PRODUCT: Tannoy Revolution XT 6F
PRICE: £999
ORIGIN: UK
TYPE: 2.5-way floorstanding loudspeaker
WEIGHT: 16.3kg
DIMENSIONS: (WxHxD) 269 x 1005 x 317mm
FEATURES
● 1x 150mm dual concentric driver with 25mm tweeter
● 1x 150mm woofer
● Quoted sensitivity: 90dB/1W/1m
DISTRIBUTOR: Tannoy Ltd
TELEPHONE: 01236 420199
WEBSITE: tannoy.co.uk

Read full review in issue 400










SPONSORED VIDEO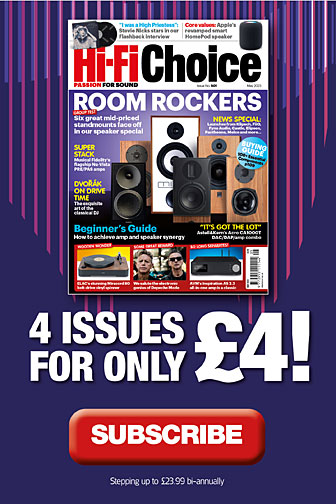 Inside this month's issue:

PMC prodigy1 standmount, Goldring E4 cartridge, Cyrus TTP Turntable, Naim Nait 50 integrated amplifier, Sennheiser Ambeo Soundbar Mini, mid-price DAC Group test and much, much more