Astell & Kern AK240 - £2,200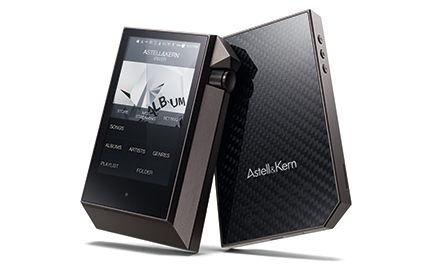 Built like a battleship, the AK240 is Astell & Kern's most sensational portable hi-res player yet. Adrian Justins is impressed
No sooner had A&K started selling its flagship AK240 portable hi-res audio player than it announced it had also upgraded its two original portables, the AK100 and AK120 – reviewed issues 370 and 375 respectively. While the junior members of the AK club have been given new finishes and received a raft of performance enhancing measures (including Cirrus Logic CS4398 DACs) the AK240 remains the out and out leader of the gang. The defining feature of the flagship model is the presence of an extra XMOS processor, which provides native DSD support at both 2.8MHz and 5.6MHz. The cheaper models can playback 2.8MHz and 5.6MHz DSD files, but only by converting and downsampling to 176kHz PCM.
It won't take long to fill the AK240's 256GB of internal memory with DSD tracks (12.5min per GB), but there's enough space to accommodate 350 hours of music at 24/96 resolution. Plus the microSD card slot can provide a further 128GB of storage. The AK120 II's internal memory is 128GB, while the AK100 II's is 64GB.
At £2,200 the AK240 is nearly three times more expensive than the AK100 II and £700 more than the AK120 II. To untrained eyes the AK240's off-beat and asymmetrical design arguably looks less appealing than one of the latest smartphones, but it's made from premium-quality materials including duralumin, which is an aircraft-grade alloy of aluminium, copper, magnesium and manganese. The shape and hard edges give it something of an industrial look and feel. A premium leather case is supplied, although this is arguably to protect other items from the AK240 rather than the other way round, given the player's hardness and the sharpness of its edges. Using the case leaves the screen and external buttons and sockets accessible (aside from the SD card slot), and at least means you're less likely to cut a hole in your jacket pocket.
Take control
The standout external feature is the volume adjustment dial, a finely milled cylinder that clicks as it rotates. If the screen is on, you see a lovely radar-style sweep overlay that changes position as the volume changes. There are tiny transport buttons on the opposite edge, a power switch on top and a home screen button built in to the screen. Annoyingly, you can't lock the player so it's possible to unintentionally change tracks, etc by accidentally activating the controls in your pocket.
Connections comprise a USB Micro-B input for charging and data transfer plus a dual-purpose 3.5mm headphone socket/digital optical audio output (note that DSD is not output optically) and a 2.5mm output for using balanced headphones with a special mini-XLR adapter cable.
Getting your tracks onto the player is a doddle, but the file transfer process is not iTunes compatible (so no automatic playlist copying), but dragging and dropping albums or tracks is simple. While the player is compatible with both ALAC and FLAC and can display metadata including resolution details, it automatically renames tracks according to their original ID3 download or rip name. I copy two versions of several tracks from Peter Gabriel's So, but my name alterations are deleted so only by selecting and playing each track can I tell my ALACs from my FLACs. I guess most people will only have one version of each track, but it's annoying if you've changed the names of any tracks.
The other option for transferring tracks is by streaming over wi-fi. With the MQS streaming server installed on your computer you can browse and select tracks of any resolution for download. I find dragging and dropping via USB a lot more efficient and a lot faster. Anyway, my computer isn't necessarily on when I want access to my music via the player.
The 3.31in WVGA (480 x 800) AMOLED screen is a decent size, has good clarity and is nicely responsive to touchscreen operation. It doesn't take too long to figure out how to navigate the player, with options to select music by track, artist, album, etc readily available. With the emphasis being on hi-res, within in each genre you have the option to view all types of tracks, DSD only or MQS only.
A row of tiny icons along the top screen shows the player's status for such matters as the EQ, gapless playback, DAC use (internal or external), wi-fi, Bluetooth, battery, etc. You drag the bar down to access and adjust the settings. The EQ (which is not available during DSD playback) has a Pro setting or you can create your own settings by drawing your finger in a curve across the screen, which is slick and useful. Neither slick nor useful as far as Mac users are concerned is the AK240's ability to operate as an external USB DAC, which is limited to Windows XP, Windows 7 and Windows 8 only.

Sound quality
Even using unbalanced Audio-Technica headphones the AK240's DSD playback is simply music to my ears. Vivaldi's La Stravaganza Concerto in D Minor Opus 4 no 8 is an incredibly decisive and utterly unblemished sound. The cellos are so clean and dynamic it feels as if they are playing inside your head and their terrific verve and energy almost lifts you off the floor, while the violins sound sweeter than a summer pudding served with clotted cream. Dropping (in terms of resolution) to a 16-bit/44.1kHz FLAC download of Vaughn Williams' Fantasia on a Theme by Thomas Tallis the marginal drop off in overall clarity (no doubt also affected by the fuller orchestration) is more than compensated for by a profoundly elegant and beautifully timed performance. The player takes the variation in loudness within the piece in its stride, with no danger of distortion during the crescendo.
Changing pace somewhat with an AAC download from iTunes of the Martin Garrix electro dance classic Animals, the AK240 again serves up the audiophile goods. The bass is meaty and powerful and the mids and highers of the synth are belted out with such gusto and tightness that you can happily crank up the volume and listen to the track without fear of aural fatigue setting in.
The 24-bit/48kHz studio master download from Linn of Peter Gabriel's So is equally divine. The nuanced duet Don't Give Up with Kate Bush has a cleanliness and polish about it that transports you to the recording studio. It's not as finely detailed as top-flight DSD, but makes the original CD version seem muddy and strained by comparison. The punch in Sledgehammer meanwhile makes Vitali Klitschko's upper cut seem more like a slap from Charles Hawtrey.
Since hearing the AK240 with balanced headphones at a hi-fi show I have been eager to compare balanced with unbalanced in more controlled conditions. But while A&K's website espouses the virtues of using balanced cans, you need a replacement cable, which is terminated with an XLR jack, plus an XLR-to-2.5mm adapter. I have not been able to find the necessary parts for any of my headphones as even A&K doesn't routinely supply them. Still, even Sennheiser's senior acoustic engineer, Alex Grell uses his AK240 with unbalanced IE80s, because, as he told me at a recent press event: "It's too much hassle, and not needed."
Conclusion
Is the AK240 the ultimate hi-res portable? Not quite – operationally it's not perfect, but the build quality is insanely good and the AK240's ability to take medium-resolution files and squeeze every lost drop of sonic goodness out of them, in combination with its native DSD playback, makes it a truly wonderful player. It's madly expensive compared with most other players and the AK120 II should offer a comparable sub-DSD performance for a lot less dough. Still, if money is no object, the AK240 certainly warrants consideration.
LIKE: Superb sound across all file formats
DISLIKE: Clunky operation; inelegant design; expensive
WE SAY: Redefines what's possible from a portable audio player
DETAILS
PRODUCT Astell & Kern AK240
ORIGIN South Korea
TYPE Hi-res digital audio portable player
WEIGHT 185g
DIMENSIONS (WxHxD) 66 x 107 x 17.5mm
FEATURES • 3.31in WVGA (480 x 800) AMOLED touchscreen
• Cirrus Logic CS4398 x2 (Dual DAC)
• 256GB memory, expandable to 386GB via Micro SD
• 16-24-bit playback at 44.1, 48, 88.2, 176.4 and 192kHz
DISTRIBUTOR Computers Unlimited
TELEPHONE 0208 2008282
WEBSITE unlimited.com astellnkern.com
Inside this month's issue:

Group Test of cable looms, Yamaha's stunning all-analogue A-S3200 integrated amplifier, Pro-Ject's T1 Phono SB budget turntable, Rega's affordable io amplifier, Cyrus' ONE Cast streaming amp and much more...
Standout tracks from our
Music Reviews
section, plus our current favourites to play in the
HFC
office.