NAD M33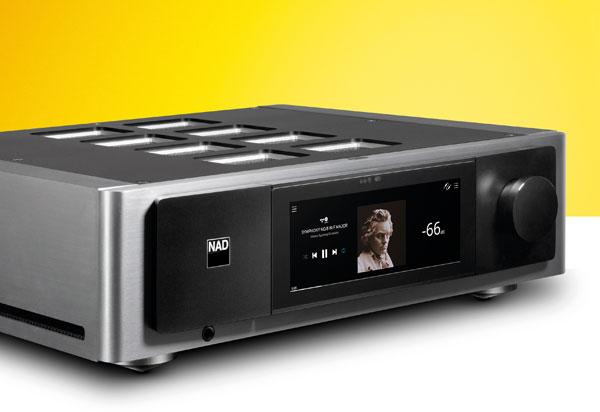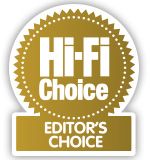 "Simple," said Apple's head honcho extraordinaire Steve Jobs, "can be harder than complex. You have to work hard to get your thinking clean to make it simple. But it's worth it in the end because once you get there, you can move mountains." Prophetic maybe, but when it comes to hi-fi one of the criticisms levelled by long suffering spouses of enthusiasts is the 'unnecessary' need to have multiple boxes cluttering up their living space when one will do the job just as well. And it's been the emergence of complete 'just-add-speakers' systems in recent years that has been able to appease both parties in an effort to ensure continued marital harmony.
As part of Canadian parent company Lenbrook, NAD is perfectly positioned to cater for this sector of the market, thanks in part to its compatibility with the BluOS family of multi-room speakers, servers, players, amps and receivers produced by sister company Bluesound. Unveiled last year (and reviewed back in HFC 451), the company's M10 appeared to be the perfect embodiment of the all-in-one streamer, combining flexibility, style and great build quality in a compact chassis with proper 'grown-up' hi-fi sensibilities that not only garnered it with one of HFC's coveted Editor's Choice badges, but also EISA's (Expert Imaging and Sound Association) prestigious Best Smart Amplifier award for 2019-20.
Described by the Association as a "true master of modern music playback," the M10 has created some rather sizeable shoes for its successors to fill and NAD is clearly hoping that its latest additions to the Masters series – the M33 before you and the M50.2 streamer sans amplification – can repeat the trick and lightening can indeed strike twice.
Following the 'if-it-ain't-broke' line of thinking for the M33, NAD has effectively scaled up the M10 concept into a full-size chassis boasting a new amplification section claiming "a minimum of 200W per channel" complete with network and Bluetooth/Apple AirPlay 2 connectivity. Following the lead of its Class D predecessor, the M33 employs an Eigentakt amplifier module produced by Danish brand Purifi – itself founded by maestro of all things Class D, Bruno Putzeys.
Connectivity is impressive and incorporates a wide selection of digital inputs. Two coaxial and a brace of optical inputs are joined by an AES/EBU socket and there's HDMI ARC for hooking up your TV should you wish. Analogue inputs – converted to digital at user-selectable sample rates up to 24-bit/192kHz –include a line input, a set of balanced inputs and MM phono input. A set of preouts is also on hand and can be used either full-range into an external power amplifier or configured as low-pass filtered subwoofer outputs. There are two sets of speaker binding posts, enabling the option of bi-wiring or two-zone operation. Meanwhile, around the front the headphone output is powered by its own dedicated amplifier module, while the two-way implementation of the Qualcomm aptX HD Bluetooth module allows music to be streamed wirelessly to suitable headphones.
The M33 can stream from network sources via either wi-fi or Ethernet – at up to 24-bit/192kHz – and offers access to subscription services including Spotify, Amazon Music HD, Deezer, Qobuz and Tidal (with added MQA decoding for Tidal Masters). TuneIn is on hand for all your internet radio needs and the USB input allows playback from storage devices. Completing the picture, the streamer is Roon-ready, despite the fact that our review sample shows up as available, but "uncertified".
Network access enables the M33 to become the beating heart of any multi-room setup with compatibility for both Windows and macOS desktop apps and a comprehensive series of third-party smart home solutions including Apple, Control4, Crestron and Lutron is incorporated. And should you wish to let your voice take control, Amazon Alexa, Google Assistant devices and Siri (via Airplay 2) are all supported.
Those that prefer to operate their system in a more traditional manner are well served by the neat but conventional remote control handset or by employing the Android or iOS BluOS app on your portable device. Simply touching the window above the full-colour TFT screen brings the M33 to life and you can then let your fingers do the talking as you navigate the multiple feature menus. Inputs can be renamed, those that you're not using can be hidden and you can even fine tune the calibration thanks to the inclusion of Dirac room correction. A small microphone is bundled to measure your room and there's a choice of five memory profiles that can be saved for different seating positions or listening conditions – ie: curtains open or closed. Dirac Bass Management is on hand for those using the two subwoofer outputs. There are conventional tone controls and the speaker outputs can be switched to bridged mode to deliver a more than healthy 640W should you require it. Completing the picture for those that hate buying a product only for it to be superseded by a far superior model, NAD's Modular Design Construction offers futureproof peace of mind in the shape of two blanking plates at the lefthand end of the back panel. Removing these allows an expansion card to be slotted in should you wish to improve the functionality with, say, an improved DAC or streaming card further down the line.
Like the M10 before it, the M33 matches all that jazzy functionality with an equally appealing design. Build quality is comparable with a battleship, while boasting the sleek sophistication and usability of a luxury sports car. The combination of aluminium and gloss finishes affords the chassis a feeling of solidity, while the inclusion of magnetic iso-point feet help keep internal vibrations to a minimum. Best of all is the thought that's gone into its operation. The large, crisp display comes to life when you hover your hand above it and displays cover art in all its glory. Reach towards the panel while music is playing, meanwhile, and the sensor switches into control mode so that you can make any adjustments with ease. It's a small detail maybe, but it's the sort of thing that marks out the difference between a merely good and a genuinely brilliantly thought-out proposition.
Sound quality
While setting up single-box solutions such as this is usually just a case of hooking up your speaker of choice, one of the most time consuming things can be the necessary process of checking for any available software or firmware updates. In the case of the M33 this is certainly worth doing as prior to doing so its volume control and input selection is decidedly erratic to say the least. Update performed it behaves itself a lot more, allowing it to show just how impressive it can be. In short, anything the M10 can do, the M33 can more than match.
Like other recent NAD amplifiers that employ Class D technology, the M33 has two essential components to its sound. Firstly, it's always crisp and clean, effortlessly extracting supreme levels of detail and delivering stunning dynamics regardless of source. It then partners this with an unerring knack to play everything just about as loud as you could ever want without any obvious indication of hardening or edging setting in. Sure, you could argue that at very low levels it sounds a bit flat, but then who wants to listen to their music quietly? As soon as you turn the volume up, however, the soundstage starts to open up and envelope the listener so that they feel more involved in the performance. We opt to partner it with a range of different loudspeakers, including everything from Focal's Chora 806 (HFC 465) to neat's Iota Xplorer (HFC 435) and in each case the results are nothing short of exceptional as the amplifier manages to make the most of the speakers' different capabilities.
The level of control it is able to display despite increasing volume levels is perfectly illustrated by Manuel de Falla's The Three Cornered Hat and Nights In The Gardens Of Spain by The Orchestra Of The Americas. From the thunderous opening, mixing tempestuous percussion and blaring brass before giving way to sultry more intricate orchestration, the M33 is never out of its depth. It deftly handles dynamics and detail in a way that enables the music to flow, resulting in a performance that is equal measures bold, expressive and dramatic. Just as adept at bringing out the warm glow of the playing as well as the scale of the orchestra, it proves as striking with the mellifluous flow of the strings as it is with the punch of the rhythm section.
Switching to Yo-Yo Ma's Bach Trios highlights beautifully focused insight into this double bass, cello and mandolin arrangement with the former two instruments revealing a sonorous yet tightly defined sound that perches elegantly above Chris Thile's tight snapping mandolin.
Sidestepping into different territory, Liam Gallagher's MTV Unplugged is an absolute blast with the M33 digging out the different layers of instrumentation through Champagne Supernova for a performance that is packed with detail, ambience and atmosphere.
Finally, our trusty vinyl copy of Elvis Costello's Armed Forces is called into action to see how the phono stage fares, and it doesn't disappoint. From the off-kilter jauntiness of Accidents Will Happen to the more catchy Oliver's Army, the M33 blasts the spikey guitar out with bombastic solidity and attack that proves more than a match for its digital showing.
Conclusion
Since seeing NAD's M10 last year we were under the impression that it was all the system we could ever reasonably require, and so consequently it's been one of our go-to recommendations on our Letters pages. However, the M33 seems to have raised the bar even further. In it's full-size guise it offers the same style, flexibility and ease of use combined with a performance that's just as arresting with analogue sources as it is when streaming. Throw in the futureproof peace of mind that comes with the upgrade slots, and it's difficult to think of a safer pair of hands to underline the fact that what you're investing your money in is something really rather special. HFC
DETAILS
Product: NAD M33
Type:Network music system
FEATURES
● Quoted power output: 2x 220W (8ohm)
● Digital inputs: 2x coaxial; 2x optical; 1x AES/EBU 1x HDMI; 1x USB-A
● Analogue inputs: 2x stereo RCAs; MM phono stage
Read the full review in
Issue 466

SPONSORED VIDEO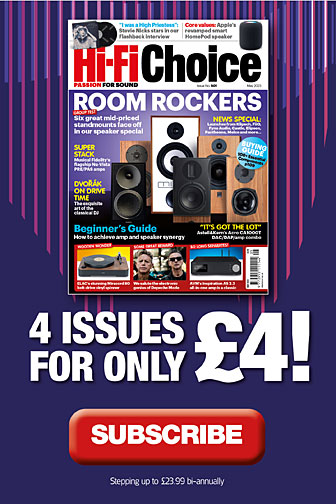 Inside this month's issue:

Wison Audio's exquisite Sasha V floorstanding loudspeaker, Origin Live Sovereign S/Agile turntable/tonearm, Final Audio ZE8000 true-wireless earbuds, Astell&Kern AK PA10 portable headphone amp, Aretai Contra 100S standmount speaker and an integrated amplifier Group Test