Cyrus 8xpd - £1,650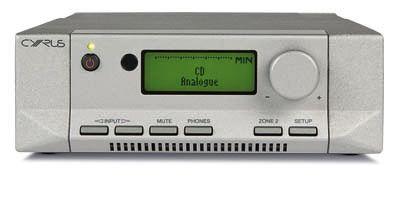 Cyrus 8xpd
With its excellent credentials, the shoebox-sized 8xp d is an amplifier to contend with
One of the undeniable advantages of surface-mount electronics assembly is that it allows a manufacturer to get more into a given space. The Cyrus one-size-fits-all case is half-width and of quite modest height, but this amp includes one of the biggest mains transformers we've seen in an integrated amp. Behind it are the output and preamplifier stages and a most impressive array of inputs and outputs. There are six 'normal' analogue inputs, a 'Zone 2' output, two preamp outputs, twin speaker outputs on BFA terminals, a mini-jack headphone output, a socket for connection to Cyrus's popular PSX-R power supply upgrade and no less than five digital inputs: two each optical and electrical and one USB.
We're absolutely in favour of amps growing digital inputs. OK, it may not be the absolute ultimate in audiophile purity, but at this kind of price it adds considerable value and saves hassle and shelf space. Mention of the large mains transformer and PSX-R give the clue that Cyrus is serious about power supply quality and that theme is followed with extensive regulation inside the 8xp d. The main amplifying circuitry is fairly conventional, with good-quality modern integrated circuits for most signal-handling functions, including volume control.
Sound quality
It seems the sound of this amp is notably fast and dynamic – and that has both ups and downs, depending, of course, to some extent on the music and each listener's preferences. Not surprisingly, it went down quite a storm in the Led Zeppelin track, with plenty of compliments about its strong sound, wide soundstage and forceful vocals thrown in.
At the other end of the spectrum, the Mahler orchestral excerpt was felt a little lacking in drive and excitement, but this particular piece of music doesn't really have much for an amp to get its teeth into: rather, one needs great control and plenty of detail for the track to work well.
The 8xp d does have control and detail, but, perhaps, not quite as opulently as some of the others in this group. It does, on the other hand, have good bass, maybe not the most extended ever but full-bodied and naturally toned. Again, it depends a little on context, sounding at its best with a rock drum kit rather than an orchestra or church organ in full flow.It made a good job of the small-scale ensemble in our baroque track and one listener described it overall as 'clean, but not beautiful'
We mustn't pass over the DAC, which is a strong point in this amp's favour, offering clear and very well balanced sound, a clear upgrade over our resident budget CD player and equally assured via all flavours of input connection.
LIKE: Fast, dynamic sound. DAC adds value; good upgrade potential
DISLIKE: Sound seems to lack some detail, particularly in complex music
WE SAY: Probably best heard in the context of a Cyrus system, this amp has some great qualities

DETAILS
Origin: UK
Weight: 6kg
Dimensions: (WxHxD) 215x75x365mm
Features:
• Inputs: 6 line level
• 2 electrical S/PDIF
• 2 optical S/PDIF
• USB
• Twin speaker outputs
• Dual preamp outputs
• Zone 2/tape output
• Headphone output
• Nominal power: 70W
Distributor: Cyrus Audio
Telephone: 01480 435577
Website: cyrusaudio.com

Inside this month's issue:

Group Test of cable looms, Yamaha's stunning all-analogue A-S3200 integrated amplifier, Pro-Ject's T1 Phono SB budget turntable, Rega's affordable io amplifier, Cyrus' ONE Cast streaming amp and much more...
Standout tracks from our
Music Reviews
section, plus our current favourites to play in the
HFC
office.