Cyrus CD XT Signature - £1,750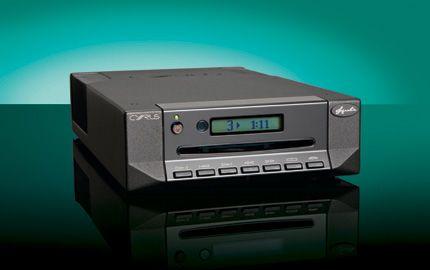 For those looking for their best - and likely last - ever CD transport, Cyrus gives you its CD Xt Signature. David Price listens in
History appears to be repeating itself. The sound of vinyl never really came good until the format looked distinctly over the hill, and now we see the same thing happening with Compact Disc. As DAC technology gets ever better, suddenly we're finding that the little silver disc is actually capable of really rather fine sound. Digital-to-analogue converters are at last able to properly do the job they were designed for, and CD is finally beginning to sound right.
Of course, the forward march of technology means that physical media aren't going to be the favoured format of the future – expect the world to migrate to hi-res files stored on computer devices and away from optical discs stored on shelves. But still CD has an enormous worldwide following for whom it makes an awful lot of sense. Reflecting this, Cyrus' range of CD players is getting ever smaller for the aforementioned reason. But it has consolidated its range and the new CD Xt Signature is said to be the very best the company has ever made, no less. Well I certainly hope so, because it is without doubt the most expensive!
Five years ago, I remember Cyrus' Peter Bartlett sitting down, looking me square in the eye and telling me his company was investing hundreds of thousands of pounds in its very own optical disc mechanism. Many in the audio business would have thought this to be about as sound business sense as flying halfway around the world with a huge bag of money and then throwing it into the North Atlantic. Let's just say, when you could buy any old DVD-ROM drive, tweak it lightly and chuck it in your CD player for pennies, Cyrus' new Servo Evolution mechanism didn't appear to make commercial sense – especially when the curtain was coming down for Compact Disc as hi-res began its inevitable ascent.
Perhaps it was a canny move after all, though, because as supplies of OEM optical disc transports either dry up or get ever further away from audiophile applications, there's more of a need for such a thing. The company's decision to bet the farm on a superlative CD mechanism not only gave its own silver disc players a new lease of life, but has made them sustainable into the future – as well as permitting the release of products such as this. Despite the continuing demand for CD players, there are very few people selling bespoke, high-quality CD transports any more.
The CD Xt Signature is Cyrus throwing the kitchen sink at the problem. It has all the best bits of everything the company knows about silver disc spinning. This starts with the improvements made to Cyrus' recent Anniversary System CD player, which includes the latest version of the Servo Evolution firmware that controls the way the laser tracks the disc, to optimise the accuracy with which it does it. It uses a special front slot-loading assembly and a specific laser is fitted along with bespoke motors too. Altogether, the mechanism is able to track the pits in the disc as accurately as possible says Cyrus. This gives over 20 percent fewer read errors than the Philips CDM12 mechanisms used in the previous generation of Cyrus (and many other) CD players. The idea is that by not having to come back to retry the read, there's less power supply drain from the servo; it's better to get it right first time.
Then there are the tweaked power supplies. Normally Cyrus puts a good, small toroidal transformer inside its half-width box and offers the option of a larger, stiffer power supply in a separate box – which sells as the PSX-R for £500. But in the CD Xt Signature, the lack of any DAC circuitry makes space for more sizeable power providers. Two separate power supplies are said to provide huge reserves of juice, which effectively removes any need for an offboard PSX-R power supply. These power feeds are heavily filtered so they're as pure as possible on reaching the mechanism. So while the Xt Signature might be expensive, it effectively has the equivalent of a £500 PSX-R inside. The company says the unit also features an advanced loader with LED disc detection technology for better detection and loading control.
A quick word about the Servo Evolution mechanism. Being so finely tuned, anyone who knocks the unit while playing will find that it may pause or jump, as the laser momentarily loses track. That's because it's been set up to read from good discs in optimum conditions. This also means that the mech is a bit fussier than some about playing poor discs, and slightly slower accessing tracks too. My experience with SE mechs tells me that if your CD collection is about as reflective as a black hole, you'd be better off with a less specialised machine. To those of us who treat our discs reasonably well, however, the CD Xt Signature plays them perfectly. Meanwhile if you have got a few dodgy discs, I find that a clean with Russ Andrews' excellent ReVeel works wonders.
Sound quality
The essential sound of the Cyrus is smooth, stable and rhythmically coherent. It has a mastertape-like ease and flow to the music, and instruments are rendered realistically in the recorded acoustic like few other transports I've heard. Despite its diminutive physical dimensions, the scale and general confidence of the sound is immense. The only thing that marks it down from seriously high-end designs is its bass, which isn't quite as prodigious as you'd get from a five-figure Esoteric, for example. It's solid and confident, firm and articulate – and certainly a good deal stronger than the transports in similarly priced CD players.
The taut bottom end feeds up to a most excellent mid-band which seems very good at digging down into the spaces between the notes on music with repetitive beats, be it the jazzy strains of Herbie Hancock's I Have A Dream or the thumping drum and bass of Goldie's Inner City Life. Rather than a perfunctory reading of the rhythms on these tracks, it pushes right into the music to retrieve the entirety of the note. Compared to the excellent but cheaper Audiolab 8200CD for example (which is the sort of CD player prospective CD Xt purchasers will be upgrading from), there's a more relaxed and supple feel to the music as a whole. It sounds less stressed, less brittle and more like an organic event before your very ears. Indeed, this really defines the Cyrus; it has a sense of ease that simply doesn't sound like digital. The music flows organically, rather than coming over as forced or artificially enhanced in some way.
Treble is excellent too, being crisp and smooth and well extended. Again, it's amazing how a transport can change the 'feel' – if not the actual tonal balance – of the high frequencies. The shimmering cymbal work on Rain Tree Crow's Pocketful Of Change is something to behold, sounding so spacious and three dimensional set in front of David Sylvian's moody vocals. This open top end helps enormously in the transport's excellent rendition of spatial clues; rarely do you hear a three dimensional soundstage so convincingly recreated from a 16-bit digital disc. Percussive instruments, which play a big part on this track, seem like they're being reproduced in Cinemascope, such is the immersive sound that stretches wide left and right of the loudspeakers. Only the very best CD players (transport and DAC combinations) can pull this trick off, in my experience.
Conclusion
It's an awful lot to spend on 'just' a transport, but I have never heard anything that comes close at this price. The Cyrus CD Xt Signature doesn't quite have the measure of the ultra high-end designs still on sale, but it's a lot cheaper, and indeed is way better than Cyrus' basic CD t transport. It brings a sense of openness, depth and dimensionality to Compact Disc that you rarely hear, along with a wonderfully smooth, even and stable sound that's rare in its solidity and sophistication. Good news then, CD is still alive and kicking – don't throw away your little silver beer mats just yet!
LIKE: Stable, spacious, musical sound; slot-loading design|
DISLIKE: Disc mechanism struggles with poor discs
WE SAY: Superb 'affordable high-end' silver disc spinner
DETAILS
PRODUCT Cyrus CD Xt Signature
ORIGIN UK
TYPE CD transport
WEIGHT 3.6kg
DIMENSIONS (WxHxD) 215 x 73 x 360mm
FEATURES
• Servo Evolution mechanism
• Backlit LCD
• 1x optical, 1x coaxial digital out
• Cyrus MC-BUS connections
DISTRIBUTOR Cyrus Audio Ltd
TELEPHONE 01480 410900
WEBSITE cyrusaudio.com

SPONSORED VIDEO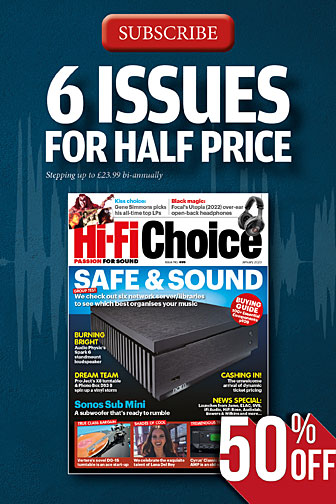 Inside this month's issue:

Six wireless speakers duke it out in our Group Test, Mitchell Acoustics' uStream Go portable Bluetooth speaker. HiFi Rose's RS250A AV streamer, Sumiko's Blue Point No. 3 MC cart and a World Exclusive first test of Q Acoustics' 5000 range