Marantz CD6005/PM6005 - £350/£380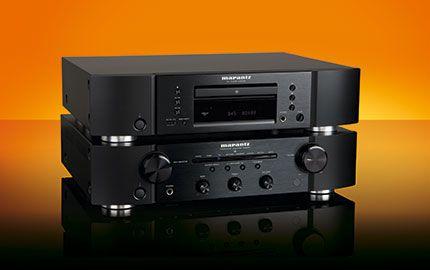 It's finally time for Marantz's budget CD player and amplifier to get a refresh and David Price is suitably impressed
Flashy products come and go, sensations soar up the sales charts and then fizzle away and a procession of award winners fill dealers' shelves. But amidst all this drama and chaos, there's one thing about which you can always be sure – Marantz budget separates will always offer quality. Marantz's entry-level CD player and amplifier are never going to be stinkers! Nor, to be frank, are they going to be dramatically different from their predecessors, save a tweak here and a feature change there.
Residing on the very first rung of the Marantz silver disc-spinning range ladder, the CD6005 doesn't offer SACD playback functionality. But most won't be troubled by this, as the format isn't exactly set to take off. Instead, the company has spent the money in a very economical way but where it's most important to get the best possible – something Marantz is rather good at doing! Your £350 buys you the very same reliable CJDKT690 disc playing mechanism fitted to its predecessor, feeding a Crystal Semiconductors CS4398 DAC, digital filter and noise shaper IC. The analogue output stage gets Marantz's HDAM-SA2 amplifier modules, and the company says new customised block capacitors are fitted along with high-speed Schottky diodes. There's been some tweaking of the mechanical aspect, with a new metal bottom plate and the coppered stabiliser plate on the power regulator to minimise vibration.
The major concessions to modernity – things you wouldn't find in an equivalent budget Marantz of just a few years ago – are the new remote control, a front panel USB input for iPods and a revised low power (0.3W) standby arrangement. An extended period of non-use slips the machine quietly into standby mode. In other respects, including the decent power supply, the '05 is similar to its predecessor. As with the amp, the CD spinner comes in a choice of black or silver and it feels sturdily made considering its modest price point.
The PM6005 integrated amplifier gets rather more drastic surgery, following the fashion for offering a bundled DAC built in to the amplifier, meaning you can hook up anything that outputs a coaxial digital or Toslink signal and play it direct through the amp via the built-in 24-bit/192kHz high Crystal Semiconductors CS4398 (as per the CD6005). It's not always a good idea to put noisy digital electronics inside an amplifier, so Marantz has taken the trouble of secreting it in an extra metal housing inside.
The PM6005 is also noteworthy for using discrete components throughout the pre and power amplifier sections, with no ICs in the signal path. Marantz says doing it the old-fashioned way means it is possible to refine the sound more, thanks to the use of specially selected components. A decent sized, low impedance shielded toroidal transformer provides the juice, via customised main capacitors.
High-quality Japanese Sanken 2SA1694 and 2SC4467 output transistors are used to deliver a claimed 2x 45W RMS per channel into 8ohms.
As well as the two digital inputs, it has six analogue inputs including MM phono. Tone controls are fitted, but work too intrusively for my ears; it is best to press the 'Source Direct' button and defeat them along with the silly Loudness button (is it still 1975?). Also specified are binding posts for two pairs of loudspeakers, with front panel switching; sadly these are of barely acceptable quality, feeling flimsy and liable to break after a few moments of less than delicate handling. The supplied Marantz System Remote controls the amplifier as well as CD player and network player sources.
Generally, the quality of finish seen in both these components belies their low prices. You're never really aware you're in the cheap seats, so to speak, because the controls work smoothly and there are no disconcerting bangs and pops. Only the aforementioned sub-par rear socketry on the PM6005 lets the side down, and that odd hatch on top of the amplifier's vented top plate isn't its prettiest feature.
Sound quality
As you might expect, this Marantz combo sounds big, fat and warm. Both components have been voiced to hide their budget origins as well as is possible, and in this Marantz has succeeded. They simply don't sound like your average, cheap, screechy budget hi-fi separates. Indeed, they're so good that you can put them through some pretty accomplished, high-end speakers and they still won't give the game away. In absolute terms, all they ever get to being is a bit diffuse and opaque – in short, if you want vast tracts of detail, then buy something better!
First, each component in isolation. Driving a Creek Destiny 2 – an excellent integrated that's around five times the price of the PM6005 – the new Marantz CD6005 sounds very nice indeed. Treble is crisp and spacious – maybe not the world's sweetest or best finessed – while midband is smooth and open with a good sense of image placement. Bass does its own thing happily, sounding surprisingly strong and tuneful for a cheap silver disc spinner, and the overall result is a very enjoyable rendition of REM's Maps and Legends. The player picks through this rather murky mix surprisingly well, throwing out Peter Buck's multi-layered guitar tracks and Mike Mills' pleasing harmonies, behind singer Michael Stipe's monotone.
With bigger, sassier pop music, like Calvin Harris' Get Ready For The Weekend, the CD6005 dives in and has fun, sounding bouncy and game for a laugh. That big, warm bass now begins to drag things slightly, softening the impact of the propulsive bottom end that gives the track its motive force, but it's still a really pleasing thing to listen to. Likewise, the 6005 sits on dynamic contrasts just a touch, giving the sound a slightly flat and compressed feel – but again the player's natural tonal warmth makes it feel as warm as a winter woolly, which is just what you want from a budget silver disc spinner. Basically then, it's big and warm, but a little lacking in dynamic punch and transient speed.
Running the PM6005 from an Audiolab 8200A CD player, and it's spooky how that rich, slightly soft and hazy sound of the CD6005 is repeated with its matching amplifier. The rather sudden action of the volume control gives too much loudness from around nine o'clock to 12 on the dial, making it hard to trim lower listening levels easily. But when you've got used to this, you'll not fail to like the big-hearted nature of this integrated. It seems to bounce along with a smile, determined to enjoy whatever you play through it, without a care in the world. UB40's One in Ten is very tuneful, the Marantz pushing out plenty of bass that sounds surprisingly supple, while the midband is wide and airy, with lots of detail to the percussion. Vocals aren't as smooth as they might have been, but never grate; indeed the amplifier's only real sin is that of omission, as it fails to drill down into the low-level detail.
Put a warmish, softish CD player together with a warmish, softish integrated, and there are no prizes for guessing what sort of sound they make as a pair! But the great thing is that they'll suit percussive, but tonally slightly light and bright speakers – such as the Acoustic Energy AE301 standmounters for example – down to a tee. Hook them up with the powerful Q Acoustics 2050i floorstanders and you have a very synergistic combination. It's almost as if Marantz has sat down and designed a system to be used very successfully in 'real-world' budget conditions, and compensated for the slightly stark nature of many inexpensive loudspeakers. The overall effect is very enjoyable, and it makes me just want to keep on listening.
Conclusion
Designing budget separates such as these is the art of the possible and it all comes down to how cleverly you make the compromises. Neither of these components will threaten the best £1,000 product, but nor will you be lamenting the fact that you haven't spent such a sum. Essentially then, these Marantzs' sins are those of omission, they won't offend, but it's just that they don't give you as much as other, pricier designs will. They are, however, excellent value – but their key problem is that some rivals are too; this combo faces stiff competition from the likes of NAD and Cambridge Audio, both of which field very strong players in this section of the market. My suggestion is that anyone that's interested should go and audition them, and I'll be surprised if you aren't beguiled by the sound that this recently tweaked dynamic duo can make.
CD6005
LIKE: Open, smooth sound; fine build at the price; styling
DISLIKE: Nothing at the price
WE SAY: Excellent budget CD player, you can't ask for more
PM6005
LIKE: Big, musical, warm, spacious sound; decent facilities
DISLIKE: Flimsy speaker binding posts
WE SAY: Strong budget amplifier with surprisingly fine sound
DETAILS
PRODUCT Marantz CD6005 and Marantz PM6005
ORIGIN EU/China
TYPE CD player and integrated amplifier
WEIGHT (CD6005) 6.6kg; (PM6005) 7.6kg
DIMENSIONS (WxHxD) CD6005 440 x 338 x 105mm/ PM6005 440 x 370 x 105
FEATURES
(CD6005)
• CD, CD-R/RW and USB (iPod) playback
• Support for WAV, MP3, AAC and WMA music files
• 24-bit/192kHz Crystal Semiconductor CS4398 DAC
• Discrete headphone amplifier
• Centre-mounted disc mech
(PM6005)
• Power output (quoted): 45W RMS into 8ohms
• 5 RCA line inputs, 2 digital inputs
• Moving magnet phono input
• Source direct
DISTRIBUTOR Marantz UK
TELEPHONE 02890 279830
WEBSITE marantz.e

SPONSORED VIDEO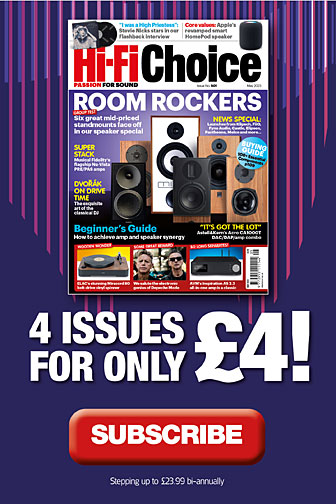 Inside this month's issue:

PMC prodigy1 standmount, Goldring E4 cartridge, Cyrus TTP Turntable, Naim Nait 50 integrated amplifier, Sennheiser Ambeo Soundbar Mini, mid-price DAC Group test and much, much more