Cyrus Stream X - £1,400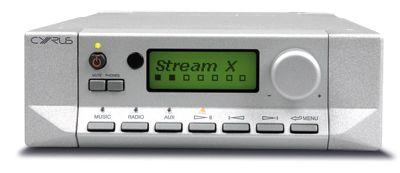 Cyrus Stream X
The digital-only output may restrict the appeal, but Cyrus's latest has some nice features to it
Cyrus offers a range of three Stream devices, of which this is the simplest, offering as it does just a digital output. It's Stream XP includes a DAC and hence analogue outputs, while the flagship Streamline goes the whole hog and includes a power amp and speaker outputs. For the purposes of this review we alternated between Cyrus's own DAC X and a Cambridge Audio DacMagic, the latter keeping the total price more in line with the rest of the group.
In terms of features, this streamer is rather out on a limb in present company. It features Ethernet and wireless network connections, of course, and a USB socket (just the one), but it also has five digital inputs: two optical and three electrical, making it unusually well suited to the job of digital 'hub' in a sound system.
Although that makes it more flexible, there's less flexibility on the streaming side as there seems to be no access to the various online streaming services apart from internet radio. That works well enough, though we reckon the display of bitrate is, at least, sometimes wrong: Radio 3 at a claimed 57kbps, for instance, sounded and behaved a lot more like 320kbps.
We mentioned the remote control, and that's definitely a glory of this system. It's a radio-connected bi-directional control which gives a great deal of information on its built-in screen. It adds a couple of features, including the ability to search within a track, though only at a fixed, rather slow, rate. It slightly improves on the front panel for ease of use, but either way this is a simple enough device to use.
For once, Cyrus's universal case is not at all stretched to accommodate the workings: the power supply is switch-mode so there's no big transformer and the main circuit board is mostly empty anyway. Small daughter-boards carry most of the network and RF components.
Sound quality
Our 'blind' listening panel heard this streamer via the DAC X and this all-Cyrus system went down rather well, with favourable comments on several aspects of its performance.
It seems it's not the most exciting and foot-tapping sound ever, but several aspects of the sound will appeal to lovers of classical music in particular, including the very assured way in which the sound rises and falls through long, slow dynamic changes.
Detail is also good, indeed one of the best in the group. It's there in plenty, but is never forced on one's attention and it is kept very neatly in proportion as part of an over-arching whole. Nevertheless, if you want to hear exactly what's going on in a recording, this is one very good way of getting to it.
Bass seems a shade on the full side from time to time and treble is generally clean, becoming just a shade coarse when it's very busy. Otherwise this is a highly neutral unit and if its presentation is a little tame for some tastes, its lack of exaggeration will make it a favourite with others.
LIKE: Particularly good on the detail front – generous but not oppressive
DISLIKE: Treble loses some grip; requires an external DAC
WE SAY: This is a capable unit that makes a sensible digital 'hub'
DETAILS
Origin:UK
Weight: 2.2kg
Dimensions: (WxHxD) 215x86x385mm
Features:
• Inputs: Ethernet, Wi-fi, USB-A (rear), 2x optical and 3x electrical S/PDIF
• Outputs: Electrical S/PDIF
• Formats: WAV, FLAC, AIFF, WMA, MP3, AAC/MP4
• Max resolution: 24-bit/96kHz
Distributor: Cyrus Audio
Telephone: 01480 410900
Website: cyrusaudio.com

SPONSORED VIDEO
Inside this month's issue:

Our 500th issue reports on the Bristol Hi-Fi Show, April Record Store drop, Rega's Elex MK4 integrated amp, Tangent's PreAmp II and Power Ampster II, a high-end headphone group test and much, much more