Focal Spirit Classic - £299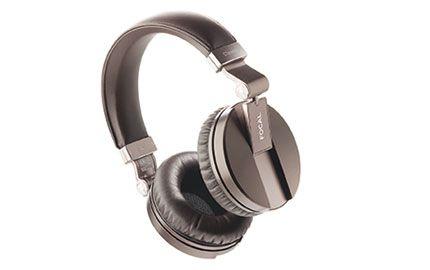 The Spirit Classic is a headphone with an effortless but musically arresting style that warrants your full attention in any environment
Headphones have taken over the audio world for all but the cognoscenti (that's us, we know about sound). And the well established hi-fi brands have all been scrambling to get on the band wagon too, even brands that have previously not been involved with domestic audio are getting in on the act; I even saw some Marshall branded headphones in a Paul Smith store the other day!
Focal got its first headphone to market a couple of years ago, that was the Spirit, late last year it added two more models, the Spirit Pro and Spirit Classic. The latter is an audiophile version of the Classic with higher build and, its claimed, sound quality than the standard Spirit. The two models are very similar in appearance, but when you put them side by side the Classic looks positively deluxe with its leather padding and brushed aluminium metalwork. It also has larger and thus more comfortable ear pads and a pair of connecting cables in the box, one with an inline remote the other for home listening. The latter is a chunky OFC type and 4m long, so you don't have to sit right next to the source.
Beauty on the inside
Under the slick exterior it has matched 40mm drive units that employ Mylar cones with a titanium dome. As with the other Focal cans the Classic is a closed-back type. This may be designed for the audiophile, but Focal understands that even they leave the house once in while. I like the finish, which is described as hot chocolate metallic and I like the memory foam in the earpads and headband, it genuinely enhances long-term comfort and that's worth having in a headphone.
I start off listening with a Russ Andrews HP-1 headphone amplifier connected to a Resolution Audio Cantata in music streaming mode, out of interest I contrast the Classic with the standard Spirit headphone. The newer and more expensive model has a similar character, but greater clarity and a much more distinct sense of timing, it offers up vocal inflections and tonal depth with considerable ease. The balance is still on the warm side, but this doesn't get in the way of the music and you can close your eyes and immerse yourself in the sound rather more easily than is possible with the base Spirit. The closed-back nature means that the soundstage is kept in your head and external noises are not so obtrusive. If you do all your listening at home, however, the more expansive sound of an open-back design might appeal.
The Classic is very involving with a good piece of music, Joni Mitchell's Free Man In Paris has plenty of verve and feeling with the excellent musicianship clear to enjoy. Out of interest I compare the Focal with the MartinLogan Mikros 90, this is a smaller on-ear design that has very clear mids and highs, but lacks warmth by contrast. It's a balance that emphasises detail and assists timing, but is less appealing overall. Back with the Classic and moving on to Cornelius' Fit Song it immediately becomes apparent that this tune had been written for headphones, the lively use of panning works superbly on the Focals, they are fast despite their relaxed presentation.
I also try this headphone with an AudioQuest Dragonfly DAC/headphone amp, a USB stick-sized device that has a USB plug at one end and a 3.5mm headphone jack at the other. This proves to be a better tonal match to the Classic, it's clarity in the high frequencies making for a faster and more dynamic overall result that means chamber tracks like La Folia (Gregorio Paniagua) have a greater sense of space and there's plenty of tonal variety on offer from the early instruments.
That's the spirit
Using the same source with a MacBook Air laptop, I contrast the Classic with Bowers & Wilkins P7, this has greater clarity through the upper mid that benefits cymbals and seems to bring greater roundness to bass notes. The Focal, however, has the upper hand when it comes to pace, it sounds a little veiled, but this doesn't detract from its ability to reproduce the more interesting and engaging aspects of the music. Playing Weather Report's Birdland I home in on Jaco Pastorius' beautiful fretless bass and once again wonder what he would have been doing today if he were still alive.
The Spirit Classic is a headphone that's worthy of the Focal name, its closed-back nature makes it suitable for use on the move, but its resolution and timing with an effortless but musically arresting style mean it warrants your full attention in any environment.
TELEPHONE (+33) 477 435700
WEBSITE focal.com
Inside this month's issue:

Marantz's SACD 30n & Model 30 SACD player/integrated amp, Acoustic Energy's AE520 floorstander, Pro-Ject's Debut Carbon EVO turntable, desktop DAC Group Test, John Lennon remembered and much more...
Standout tracks from our
Music Reviews
section, plus our current favourites to play in the
HFC
office.