Icon Stereo 20PP - £500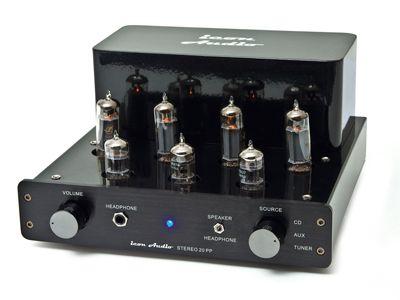 20 gives plenty
Icon Audio has taken its cue from the Leak Stereo 20 for its latest entry into the budget valve market, says Jason Kennedy
Beside the Quad II, the Leak Stereo 20 (ST20) is one of the most sought after British valve amps of yore. Introduced in the mid-fifties by H J Leak, it sold in substantial numbers for over a decade, but today even unrestored examples cost more than Icon is asking here.
The Stereo 20PP's circuit is based on the original ST20 and uses the same output valves in a push-pull configuration. It only delivers 15 watts per channel, but as any glass audio enthusiast will tell you, it's not how much power you have, but how you use it that counts.
Major influence
The Stereo 20PP is not a copy of a Leak ST20, which had valve- rectification and a slightly different line-up of double triodes – all 12AX7s (ECC83), rather than the two on either side of a 12AU7 (ECC82) in the 20PP However, the company has used a very similar circuit in this amp's front end, along with EL84 pentode output valves in an ultralinear configuration for the output stage and this gives it the right to cite the ST20 as a major influence. With the popularity of triode-output amps in recent times, this more efficient Class A/B topology has been overlooked, so it's good to see it making a comeback.
The amp's plus points include the use of point-to-point wiring rather than a PCB, which is generally considered a good thing.
Headphone benefit
We don't know of any other established brands that offer a valve amp at this price, so it would appear to be pretty good value. You can, of course, get far more power for your money from a solid-state alternative like the similarly priced Rega Brio-R, (HFC 352), which has the luxury of a remote control and runs significantly cooler.
It looks pretty smart with its acrylic valve cover and shiny black paintwork, although the quality of the socketry on the back panel is more indicative of the asking price. The amp has three line inputs and a record output, alongside small three- way speaker terminals. On/off switching is on the side at the back and there is a headphone output on the front.
Excellent pace
With a mere 15 watts on tap you theoretically need an unusually sensitive speaker to get any level out of this amp. Fortunately, the nature of clipping in these amps is very relaxed and, in practice, it can drive real-world speakers to decent levels without sounding uncomfortable.
It's power limitation is most apparent in the bass, where things seem distinctly rolled-off compared to the Brio-R, for instance. Treble is also a little restrained, but the musical goods are delivered in a very appealing fashion by the rest of the band. Here it has excellent pace and can produce a surprisingly deep soundstage. Image height is limited as a result of the smoothed treble, but you can hear right into recordings nonetheless.
What it does well is to focus entirely on the music, with a fluidity and coherence that even expensive transistor amps struggle to deliver. And, as is usually the case with valves, it's also good at tone, enriching the timbre of voices and instruments in a very appealing manner.
Sweet sound
The Rega Brio gives you more energy and vitality, along with a distinctly wider bandwidth, but doesn't have such a sweet midband. The 20PP will sound best with any speaker that has a better-than-average ease of drive, but if your room isn't huge its push-pull nature means that it can cope with most sensible designs.
We found it immensely musical, if not hugely revealing, but at this price there is always a trade-off and it's one that has been well-judged in this homage to a British classic.
LIKE: A taste of valve fluidity, pace and musicality, at a very affordable price
DISLIKE: Runs hot and has limited bandwidth
WE SAY: Focuses on the heart of the music at the expense of the tonal extremes

PRODUCT:
Icon Audio Stereo 20PP
ORIGIN:
China
TYPE:
Integrated valve amplifier
WEIGHT:
10kg
DIMENSIONS:
(WxHxD) 310x200x270mm
FEATURES:
• Power output: 15w/8ohm
• Line inputs: 3
• Ultralinear push-pull
• EL84 pentode output valves
• Headphone output
• Optional triode operation
DISTRIBUTOR:
Icon Audio
TELELPHONE:
0116 2440593
WEBSITE:
iconaudio.com

SPONSORED VIDEO
Inside this month's issue:

Our bumper collection of the best kit to pass through the HFC test lab over the last 12 months is here to help you pick from essential turntables, speakers, amps, DACs, streamers, DAPs, headphones...
Standout tracks from our
Music Reviews
section, plus our current favourites to play in the
HFC
office.