Marantz Melody Stream M-CR510 - £250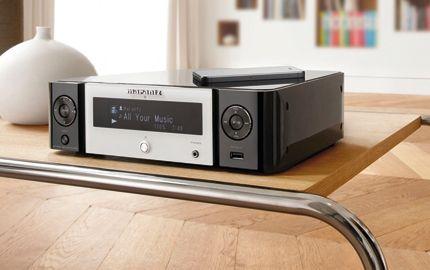 Marantz reboots the style system with this all-digital affair that pleases Adrian Justins immensely by embracing hi-res audio
If you were one of the few people who bought a style system during the last decade you probably risked derision from your cleaner, never mind your tech-savvy mates unable to fathom why you'd accept all of the compromises of such a purchase.
Now style systems appear to be enjoying a revival. This is partly fuelled by an austerity-induced nostalgia for simpler times. Then there is the need for better quality sound when watching TV on a skinny flatscreen, plus the evolution of contemporary audio delivery mechanisms such as internet radio, hi-res audio, home networking and wireless streaming from smartphones and tablets. Style systems can satisfy all of these needs. Strictly speaking the Melody Stream (or M-CR510) is a network receiver rather than a system as it doesn't come with speakers, although Marantz recommends partnering it with its own LS502 speakers.
Functionality includes compatibility with hi-res 24-bit/192kHz FLAC and WAV files, while ALAC playback maxes out at 24/96. Obviously, you can't stream hi-res files over the airwaves, but the unit features AirPlay support making it easy to listen to standard (CD) resolution files from Apple products. With DLNA on board it's possible to stream music from computers and non-Apple portables via wi-fi but Bluetooth has been shunned, which is a shame as aptX has shown how good Bluetooth can be when listening to down-sampled hi-res audio.
To enjoy the pleasures of hi-res you need to use either the Ethernet on the rear or the front-mounted USB. Spotify and Last.fm clients are built-in, as is a vTuner internet radio.
The socketry selection should meet most expectations, with front and rear USBs, a headphone jack, digital optical audio input, subwoofer output, stereo phono in and banana plug-compatible screw speaker terminals. A digital coaxial input would have been nice, but at least having a digital optical input offers compatibility with decks and with most TVs allowing the Melody Stream to be used as a soundbar (with speakers added). USBs provide iPod playback, but also handily offer iOS device charging. An alarm/timer feature secures the unit's right to be used in a bedroom.
Style-wise, the Melody Stream cuts a terrific dash. At 30cm wide and 8cm tall, it's small enough to sit tidily on a table top or bookshelf and its high-gloss, all-black or black and white design with curved edges gives it an elegant and contemporary feel. The front-mounted USB is the blot on the landscape of an otherwise attractive fascia, but when the unit is viewed from across a room it can hardly be seen. Connectivity on the rear is recessed, a nice touch that helps keep the various plugs and cables from sight when seen from above. The white text on black LED display is impressive, with a range of letter sizes and icons, and a smooth scrolling action. The unit comes with a large, utilitarian-looking remote control, although its generous proportions ensure all of the buttons are spaciously laid out and ergonomically it's easy to get to grips with. Additionally, a fair number of controls are embedded into the two circular buttons either side of the central display.
There's also a new Marantz iOS and Android app for smartphones and tablets, which is more enjoyable to use with slick icons and a handy qwerty keyboard making text entry quicker. While the iOS app is happy to stream M4A, MP3 and 16-bit/44.1kHz AIFF files, hi-res files are precluded from playback on Apple portable devices. You can access FLAC files using the Music Server or directly on a flash drive or portable hard drive using the USB connection.
A full manual is provided in PDF form on a CD-ROM, but a printed quick start guide is included with four network setup options, the simplest of which (Ethernet cable aside) is to plug in an iOS device to the rear USB and press very briefly the adjacent red Wi-Fi Connect button. This generates a message on the screen asking for permission to share wi-fi settings – accept the request and you're all networked up, simple as that.
As with all recent Denon and Marantz wi-fi network systems and wireless speakers you have to press the Wi-Fi Connect button very briefly. Any longer than a quick press and the unit goes into WPS search mode as if you had pressed and held the button for the full three seconds. Taking the router option to setting up is also trouble-free, with the Melody Stream simply scanning for my network and inviting me to enter a password or connect via WPS. Text input is about as painless as it can get, even using a remote control and the single line display rather than the dedicated iOS app.
Output is easy to tweak, using either the app or the remote and LED display. In terms of tonal tweaking, the Melody Stream offers simple bass and treble adjustment and dynamic bass boost. Additionally, there are four presets for boosting and/or cutting lower and higher frequencies to match your speakers. The app lets you select from eight sources, including the music library stored on the portable device and the iOS app doesn't exclude DLNA server integration.
When you land on an internet radio station the app handily lists all available podcasts as well as the live stream option and you can save stations as favourites for speedy access. The info button on the handset reveals the codec and bit-rate on the LED screen. Tuning in to a radio station requires a bit of patience as it takes a good 10 to 15 seconds before it connects to the stream and anything can be heard.
Sound quality
For the performance, I cut to the chase and test the Melody Stream's mettle with a 24/192 FLAC download of Haydn's String Quartet in D played from a USB flash drive. The unit's energy and ability to deliver every last drop of detail is abundantly clear as the strings whizz along. Everything sparkles with the kind of clarity that's surprising from a unit at the price and the Melody Stream seems happy to hit high volumes without hitting the buffers of distortion, maintaining a pleasing tonal balance. The bass in Jean Michel Jarre's Oxygene Part IV (24/48 ALAC) can really trip up an inferior system, but here it remains tight and controlled while the treble of the synth glides along.
Similarly, with the 24/192 rendition of I'm Gonna Laugh You Right Out of My Life by Claire Martin you can't help but feel enraptured by the delicate tinkling of the ivories and Martin's husky vocals. The Melody Stream does a more than reasonable job too with lower-res sources. The Manic Street Preachers' Rewind The Film is pleasing enough, but the orchestration feels marginally opaque and James Dean Bradfield's vocals don't resonate as convincingly as Richard Hawley's.
Conclusion
Marantz deserves praise for producing the versatile Melody Stream. It's a beautiful-looking unit with cutting-edge digital features, and could hardly be easier to use despite the relative complexity of its functionality. But unlike, say, wireless speakers people aren't rushing to buy stylish network media receivers and it may just be ahead of its time. It lacks a couple of killer features – such as Bluetooth – that could potentially attract a much wider audience. But for what it is, the way it looks and what it does at the price, it's hard to fault
LIKE: Looks fab, is a blast to own and use and delivers super hi-res audio
DISLIKE: No Bluetooth; ALAC limited to 24/96; large remote control
WE SAY: A delightful product, but can it find a market for itself?
DETAILS
PRODUCT Melody Stream M-CR510
ORIGIN China
TYPE Network media receiver
WEIGHT 2.7kg
DIMENSIONS (WxHxD) 409 x 160 x 302mm
FEATURES
• Quoted power: 60W RMS per channel
• Sources: vTuner, Spotify, last.fm, AirPlay, USB, DLNA network, iPod
• Lossy formats: MP3, WMA, AAC
• Lossless formats: FLAC HD 24/192, ALAC 24/96, WAV 24/192
DISTRIBUTOR Marantz Europe
TELEPHONE 02890 279830
WEBSITE marantz..co.uk
Inside this month's issue:

Group Test of cable looms, Yamaha's stunning all-analogue A-S3200 integrated amplifier, Pro-Ject's T1 Phono SB budget turntable, Rega's affordable io amplifier, Cyrus' ONE Cast streaming amp and much more...
Standout tracks from our
Music Reviews
section, plus our current favourites to play in the
HFC
office.