Myryad Z40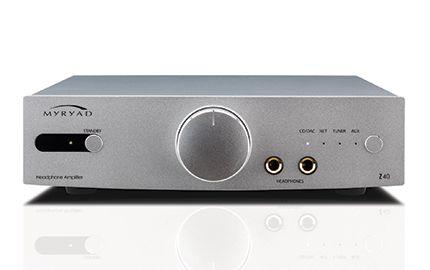 Looking for a very flexible headphone amp for late-night listening? The Z40 might just be the model for you...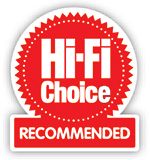 Alongside the vinyl boom, the growth in headphone sales has been one of the big drivers for the audio industry in recent years. As well
as headphones themselves, their supporting ancillaries have been on the up, and the latest manufacturer to join the fray is Myryad with the Z40 headphone amplifier.
As part of the Z Mini series, the Z40 is a half-width component representing Myryad's entry level but with the functionality that matches its full-size components. Like its larger sibling
it also sports the 'DC5' (Double Complementary Cross-Coupled Cascoded Current feedback) circuit used in a number of the company's products and reworks it for headphone use. The Z40 is Class A in operation and Myryad claims it can drive any dynamic headphone to any level. This is achieved by the fitting of two gain settings connected to a conventional volume pot.
The Class A circuit is fed via a toroidal transformer located in its own compartment, and the Z40 is relatively unusual at the price as it features a full-size IEC mains input as opposed to a wall-wart. The Z40 is fitted as a full preamp and has four RCA inputs and an RCA pre out on the back alongside a pair of proprietary Smart My-Link connections for system integration with Myryad's other components. Like a number of rivals, there's a pair of 6.35mm headphone sockets – which will appeal to anyone lucky enough to own two sets of identical headphones.
If you are looking for any form of digital input, the Z40 will need to be paired with the matching Z25 DAC – costing £595 – when it becomes available in May. The absence of any form of remote control is more keenly felt on a device with this number of inputs, but there are no complaints about the build and finish. This is a solid and well thought out device built to a high standard.
Sound quality
Connected to a Naim ND5 XS network audio player (HFC 352) and a pair of Beyerdynamic T 70 headphones (HFC 361), the Myryad shows that the attention lavished on its innards hasn't been wasted. Although the T 70 isn't exactly the most sensitive headphone going, it still only requires a low gain setting to go impressively loud. The noise levels are low to the point of being non existent and this allows the Z40 to feel pleasantly dynamic even with music that's presented from a backdrop of silence.
Listening to Vieux Farka Touré's The Secret, the Myryad reveals itself to be a fine partner to enjoy the undulating rhythms and lightning-fast guitar work that's on show. Everything is presented in a wonderfully open and effortlessly informative way, which lets you hear exactly what is going on without getting the feeling that the music has been dissected.
The tonality is also extremely good. The headphone amplifier handles voices, instruments and percussion with accuracy combined with a slight tonal sweetness that makes it extremely easy to listen to for extended periods of time. Even with the closed-back Beyerdynamics it has no trouble creating a believable sense of space and is able to portray the relationship between the performers with ease. This pleasing spatial ability is also something that works proportionally to the scale of the music you are listening to at the time.
By the same token, weaknesses in the Z40's performance are a little harder to come by. Compared with Creek's OBH-21mk2 that won the headphone amps Group Test in HFC 403, the Myryad can come across as a little sterile with high-energy tracks.
The boisterous California by Grimes has a little more bite with the Creek, and works with this track better. The Myryad is commendably agile, but it never seems to have the same sense of energy. The bass response from the Z40 is sensational – a wonderfully tight, deep and controlled series of impacts that can extract more low end from a set of headphones than you might expect. This integrates beautifully into the rest of the frequency response and whether it
is called upon to deliver the swell of an orchestra or some heavyweight electronic rumbles, it does so in an engaging manner.
Conclusion
My time spent with the Z40 suggests Myryad has put considerable effort into its latest arrival. The absence of digital decoding will rule it out from some setups, but this is an exceptionally well thought out headphone amplifier that delivers a consistently strong performance across a wide variety of music. ES
DETAILS
PRODUCT: Myryad Z40
PRICE: £395
ORIGIN: UK/China
TYPE: Headphone amplifier
WEIGHT: 2.6kg
DIMENSIONS (WxHxD): 215 x 56 x 228mm
FEATURES
● 4x RCA line inputs
● 2x 6.35mm headphone sockets
● Class A operation
● Pre out
DISTRIBUTOR: Armour Home
TELEPHONE: 01279 501111
WEBSITE: myryad.co.uk

To read the full review click here
Inside this month's issue:

Group Test of wireless in-ear headphones, Vertere's DG-1 turntable and Phono-1 Mk II phono stage, T+A's Series 8 mini system, Freddie Mercury's lockdown tips and much more...
Standout tracks from our
Music Reviews
section, plus our current favourites to play in the
HFC
office.