NAD D 7050 - £799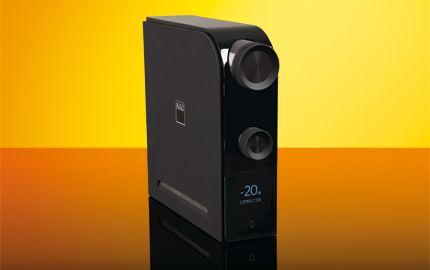 This keenly priced all-singing network amp promises plenty of style, but what about its sonic substance asks Andrew Simpson
You may think you've already seen the D 7050 gracing our review pages in recent months, as it looks strikingly similar to NAD's D 3020 amp and D 1050 DAC, both of which we tested back in issue 379. The D 7050 here, however, is an altogether more thorough package, and employs NAD's Direct Digital circuitry (see Q&A), handed down from the company's high-end Masters Series. This circuit ensures all preamp functions are performed in the digital domain, which NAD says helps keep unwanted noise low.
Being a digital amp means that the D 7050 is bereft of analogue inputs, but digital inputs are well served across four S/PDIF sockets shared over coaxial and optical, alongside USB and Ethernet ports. Output sockets include a single set of loudspeaker terminals, a headphone jack and an analogue preamp out, which can also be configured to feed a subwoofer via RCAs. As with any streamer worth its saline, the NAD accepts the usual range of file types including FLAC/WAV/ALAC and can handle files up to 24-bit/192kHz via its digital inputs and 96kHz via USB, which is also the maximum that I manage to achieve over wi-fi.
Speaking of wireless, the NAD welcomes streams served via UPnP/DLNA networks, Apple's AirPlay and Bluetooth (via the aptX codec). There's no dedicated internet radio player installed, so you have to stream this from an external device, such as a computer.
Physically the D 7050 doesn't look, feel or behave like most traditional hi-fi boxes, and for this it should be commended for daring to be different. The way its digital display rotates à la smartphone screen, to be legible when laid flat or stood on end, is plain cool.
In the flesh the rubberised matt and contrasting reflective finish is classy, and its two large rotary knobs (for volume and input) are smoothly governed with just the right amount of resistance. Underneath its dextrous finish, the case is actually made from plastic, although it feels genuinely solid, more so than many steel boxes in the same price bracket. Using a plastic case that doesn't block RF also means NAD can hide the unit's wi-fi and Bluetooth antennas inside, negating rear panel clutter of dongles and transmitters.
Setting up the D 7050 is a breeze. There's no on/off switch on the unit, so the matching remote is called upon to bring the screen to life. Getting it on to a home network simply involves pressing the unit's rear panel WPS button, and likewise on a home router (in my case a BT Home Hub) followed by a few seconds of waiting while the two find each other and
the wi-fi symbol becomes static. Operation via NAD's dedicated app is equally simple to get going. Once downloaded, simply select your device and enter your wi-fi key to be given access to all of the D 7050's features, ranging from selecting inputs to specifying the sub's crossover point.
Unlike apps from the likes of Cambridge Audio and Linn, NAD's app cannot access or initiate playback from a music library on your network, so playback needs to be started at the client end of things (for example your computer, smartphone or tablet), and then controlled using the app to select the input you require and adjust the volume.
Sound quality
Fresh out of the blocks and feeding a pair of Audiovector Mi 3 Signature floorstanders, the NAD immediately presents itself as an articulate performer. Unlike similarly priced products with strong personalities, it doesn't have an obvious penchant for one type of music over another, instead it simply gets on with the job and tries to unearth as much musical detail as it can muster.
Streaming The Police's Walking On The Moon from Spotify through my iPhone 4s over AirPlay garners cleaner than expected results, given the limitations of the combined source hardware and software. The D 7050 ensures Stewart Copeland's distinctive cymbal flourishes within the track are crisp enough to allow the source's shortcomings to be forgiven, and Andy Summers' guitar notes retain sufficient jangle to bring my tweeters to life.
Beaming a 16-bit/44.1kHz ALAC file of Carole King's So Far Away over AirPlay from my laptop gets far more out of the NAD, as it's put to work extracting the piano notes from within the mix and defining their precise leading edges. Using this streaming solution really throws the door open for it to demonstrate how it can unearth extra degrees of subtlety, and it doesn't disappoint. The D 7050 lets each haunting note from King's ivory keys hang in the air with just the right amount of natural ring, controlling the track's tempo.
Despite driving a pair of £3,000 loudspeakers, which present a modest load, the NAD keeps everything in check across the frequency band. Although compared to the best of the Class AB breed at the price, it can sound a tad apathetic. King's performance is brimming with emotion and on some levels I'd welcome more of the realism that gets Carole's voice pulling at your heart strings.
Turning back the years to hear Jon Strong's 1993 track Bad News On The Mountain, reissued as a 24/192 FLAC on Linn's 40th Anniversary Collection, really plays to the NAD's strengths, especially when piping it directly into the S/PDIF coaxial input. It's a first class recording that the amp exposes with aplomb. Strong's electro-acoustic guitar strings appear to resonate with exceptional vibrancy and the echo of the drum's rimshot clicks take me closer to the studio master. Not that you'd know the quality or content of the source from glancing at the NAD's front panel, as its minimalist display only shows volume, selected input and wi-fi strength, so there's no song name, track information or file type to interrogate.
The bass is evenly controlled, but in power terms it lacks the wallop of some of its rivals. With the D 7050 pushing my Audiovectors to more modest levels, the slow pounding kick drum of Ben Howard's Black Flies packs less punch than I'm used to and the bass texture isn't as rich or fulsome as the best at this price, but this is perhaps the trade off it makes in return for its more holographic window into the music.
Conclusion
The D 7050 is a well thought out and stylish package that's achingly simple to use, despite being loaded with streaming options and digital inputs. What this means is that you'll spend more time enjoying your music, which gets to the heart of what hi-fi should be all about. Sound wise its digital DNA is evident, and it may not have the sonic scale or emotion to match the best of its analogue rivals, but it's effortlessly clean and fluid sounding without being overly bright or revealing.
LIKE: A breeze to use, clean sound and unique looks
DISLIKE: Sounds quite dry; no analogue inputs
WE SAY: Stylish little package that's easy to use with sensible features. Sonics are even handed, but lack some passion
DETAILS
PRODUCT NAD D 7050
ORIGIN Canada/China
TYPE Network streamer/amplifier
WEIGHT 2.2kg
DIMENSIONS (WxHxD) 70 x 235 x 270mm
FEATURES
• Network music playback (wi-fi, AirPlay, Ethernet and Bluetooth)
• 50W digital Class D amplifier
• USB and S/PDIF inputs
• Support for ALAC/WAV/FLAC/MP3 up to 24-bit/192kHz (96kHz over USB)
DISTRIBUTOR Seven Oaks Sound & Vision
TELEPHONE 01732 459555
WEBSITE nadelectronics.com
Inside this month's issue:

Group Test of cable looms, Yamaha's stunning all-analogue A-S3200 integrated amplifier, Pro-Ject's T1 Phono SB budget turntable, Rega's affordable io amplifier, Cyrus' ONE Cast streaming amp and much more...
Standout tracks from our
Music Reviews
section, plus our current favourites to play in the
HFC
office.