NAD DAC 1 £300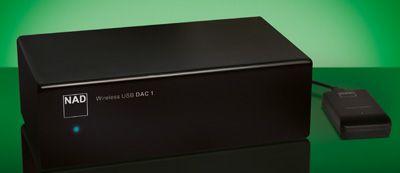 No cables, no bother!
NAD's new £300 DAC connects both wirelessly and effortlessly. But, asks Richard Black, how does it fare against the competition?
In recent years, wireless hi-fi has taken off in a big way, comfortably banishing bad memories of analogue wireless headphones of yore. With wi-fi , AirPlay, Bluetooth and various proprietary formats, we have plenty of choice in terms of sending digits from one place to another. Not all of these are entirely trivial to set up, though, and they aren't all bit-perfect either: Bluetooth, for a start, so far only supports transmission of lossily coded data.
Quick and easy
We're always keen to try out new twists on the subject. NAD got us interested from the start, with a combination of low price and promised simplicity. And indeed this really is about as simple a solution as one can imagine. You connect the transmitter to a USB socket on your home computer (any of the usual fl avours) and connect up the DAC itself to your hi-fi via either analogue or digital (electrical) connection, and off you go.
We've installed various bits of USB hi-fi over the years, but this was the quickest and easiest of the lot, running within seconds of connection on both PC and Mac computers, not even going through the business of installing itself on the computer, as it appears to use a pre-installed default profile.
That said, you may still have to look at the Preferences menu to make sure audio playback is routed to the appropriate device and in this case things are not quite as clear as they might be: the system is called 'USB Headset' which is not strictly accurate.
PCs seem to be more inclined to direct audio to the most recently connected device, while Macs need to be pointed that way manually. No big deal if you're familiar with computer set up, but you have to make sure you look at the right 'Preferences' menu – the one for the whole computer, not the particular playback application. This kind of thing is what makes computer audio just that little bit less 'plug and play' than we might all wish.
Against that, we were delighted to fi nd that the transmitter and receiver (that is, the DAC unit proper) seem to 'fi nd' each other almost instantaneously and without any manual intervention at all. Even if you change the channel, you only have to do it on one unit. No access codes to enter, no 'visibility' to set, nothing. If all wireless connections were this simple the world would be a better place.
Decent specification
The other thing about this system is that it doesn't incorporate any element of remote control, so you still use the computer's own mouse, keyboard and display – in other words, you need them nearby. But if you are using a laptop you can have it by your listening seat and not worry about running cables across the floor to the hi-fi . Importantly, too, the quality ought to be better than that at the computer's own analogue outputs, especially if you use the USB DAC1's digital output to connect to your choice of upmarket DAC.
The DAC chip chosen by NAD for this unit isn't the highest performer on the market, but it has a very decent specification, comfortably better than that intrinsic to 16-bit audio in most ways. Analogue output circuitry is simple, but similar to that of most budget CD players.
Our only concern on reading the data sheet for the DAC was the line that said 'Sample Rate – 16-bit/48kHz'. We would neither demand nor expect 24-bit operation from a device of this nature, but the sample rate rang alarm bells because PCs in particular are known to convert the data rate of audio sources and the quality of that process is not above question. Would that be the case here?
Promising delivery
It seems, in fact, that 48kHz is the fixed, non-optional data rate of this DAC. We tried very hard to get bit-perfect transmission, but even players like Cool Edit and Foobar failed, nor did we succeed on a Mac platform. However, the Mac rate conversion is noticeably higher quality, subjectively and objectively, and enabled us to become quite enthusiastic about the sound.
It actually compares very well, at best, with CD players of the £500 variety, producing sound that's clear, detailed, lively and with particularly excellent bass weight and extension. In short, it delivers what it promises.
Via PC we were less convinced and various tests pretty much convinced us that the sample-rate conversion within the computer was largely to blame. Even a Chord DAC couldn't rid the sound of residual muddle and the dreaded 'smeary window' syndrome, where you can hear more or less what's going on but, try as you might, not quite all the details.
The fact that the DAC1's analogue outputs sounded similar suggests NAD has done a good job at the conversion and analogue output part, but corrupted digits will never give best quality.
Good budget quality
Evidently what's needed is a slightly more sophisticated approach, which somehow allows bit-perfect streaming. It's not entirely NAD's fault that PCs do such a lousy rate-conversion job, but a better workaround would be a real plus. Lacking that, sound is more in the decent background music category than true hi-fi , or good budget quality if you own a recent Mac.
LIKE: Gets digital audio across the room with no trouble at all
DISLIKE: Hampered by fixed data rate, involving sub-optimal rate conversion
on most computers
WE SAY: For Mac users who benefit from much better sample rate conversion

DETAILS
PRODUCT:
NAD USB DAC1
ORIGIN:
Canada/China
TYPE:
Wireless USB DAC
WEIGHT:
0.4kg
Dimensions:
(WxHxD)
135x35x70mm
FEATURES:
• Unbalanced analogue out
• Electrical digital out
• External power supply
• USB transmitter dongle included
• Fixed sample rate 48kHz
DISTRIBUTOR:
Armour Home Electronics
TELEPHONE:
01279 501111
WEBSITE:
nadelectronics.com


SPONSORED VIDEO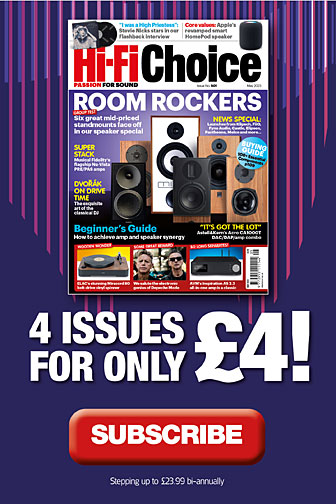 Inside this month's issue:

PMC prodigy1 standmount, Goldring E4 cartridge, Cyrus TTP Turntable, Naim Nait 50 integrated amplifier, Sennheiser Ambeo Soundbar Mini, mid-price DAC Group test and much, much more