NAD C 658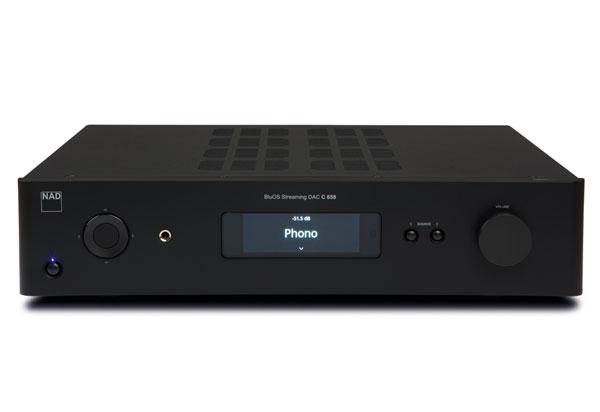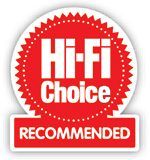 If you are looking to build a streaming music system from scratch, one of the more interesting decisions to make is whether to follow the time honoured tradition of building a setup with a dedicated source, amp and loudspeakers or combining the first two components in some way. Increasingly, preamp functionality is being added to source components, and the need for separate units is diminishing.
NAD has been mixing source and preamp duties for some time, with the C 510 Direct Digital DAC and preamp garnering a glowing review back in HFC 395. Clever though the C 510 was for the time, as a DAC it still required external digital sources. The C 658 reviewed here combines DAC, streaming and extensive preamp duties and shows just how far things have moved on since then.
As with NAD's M10 all-in-one reviewed in HFC 451, the C 658 uses the BluOS streaming platform and supports 24-bit/192kHz PCM formats inclusive of MQA. This is backed up by a healthy selection of onboard streaming services, including full support for Tidal and Qobuz together with internet radio, and it's multi-room compatible with other BluOS products to share hi-res music around the home – all tied together with an excellent control app.
The streaming module is backed up by two coaxial and two optical digital inputs, a USB-A connection for direct attachment of an external drive plus two MDC (Modular Design Construction) bays that allow for an optional HDMI 4K switcher to integrate with AV sources as well as providing an upgrade path for new tech developments in the future.
All this sounds very much like the natural successor to the C 510, but there is a crucial difference as the 658 incorporates two analogue RCA line inputs plus a moving-magnet phono stage. It's worth noting that this isn't an analogue preamp with a digital board and like the C 510, the volume adjustment is performed in the digital domain. Although the control on the C 658 is slower to ramp up and down, fine adjustment is equally impressive.
The aesthetics of the C 658 are unmistakably NAD. The front panel is darker than components of old, but it isn't quite black and looks functional rather than elegant. Unlike the vivid and full-colour display sported by the spectacular M10, the one here is more prosaic – but it does supply plenty of information about its status and has a decent menu-driven setup. A large and complex remote is supplied, but I imagine that for the most part users will opt for the BluOS app.
Sound quality
Connecting the NAD to a Chord Electronics TToby power amplifier (HFC 423) via XLRs results in total silence with no unwanted hum or side effects. Initially using the BluOS streaming module, a 24-bit/96kHz FLAC of James Taylor's Today, Today, Today is detailed and spacious and the presence of the vocals is very impressive, but lacks the warmth of some other digital front ends at a similar price. The C 658 is built around an ESS Sabre DAC of unspecified type and while it doesn't have every attribute I know this chip can offer, there are traces of it.
Connecting a Lindemann Limetree Bridge (HFC 453) via digital coaxial sees the NAD keep the same benign qualities as benefits hi-res material from Tidal and Qobuz streaming services. Equally, while it remains perfectly listenable with Deezer's Premium 320kbps service, it's clear that this is compressed material and doesn't flatter to deceive otherwise.
The analogue inputs are much more reflective of the source equipment that's connected and even though there is a process of analogue-to-digital conversion being undertaken internally, my Michell GyroDec playing via a Cyrus Phono Signature phono stage (HFC 408) retains all the qualities I associate with the pairing. This demonstrates that the NAD's built-in phono stage is good rather than great with low noise levels and plenty of gain, but isn't as rich and exciting as I hoped for. Emily King's Forgiveness lacks some of the sheer passion that I know is present in the recording. As an integrated option, it's perfectly acceptable, but if your vinyl format habit goes beyond occasional listening via a mid-priced turntable you'll want to seek out other dedicated phono preamp options.
With Dirac's room EQ and correction systems onboard things get more interesting as the C 658 further demonstrates its considerable flexibilities. This takes microphone readings of your room and adjusts the output to compensate for peaks and troughs. Using the setup system is fiddly and there are some loud and alarming noises as it runs through taking acoustic measurements of its surroundings, while the results can be a bit hit and miss depending on the type of listening environment. It works best dealing with more challenging loudspeaker placement, suspended floors and room modes, and can really earn its keep.
The most impressive aspect is that none of the corrections it suggests for my listening space result in a sound that I feel is either forced or unnatural. You do need to be careful to establish what you want from it, though, as it is just as keen to 'correct' the slight upper midrange lift characteristic of my Neat Momentum 4i floorstander as it is the aspects of the room and depending on the nature of your partnering equipment, you may find that it affects the character of your system's presentation more than you had anticipated. Equally, if you are struggling to 'dial-in' equipment to a room, it proves to be a useful tool.
Conclusion
In many ways the NAD manages to be a great answer to a lot of potential system-building questions. Combining the excellent BluOS operating system with a very well-featured preamp has resulted in a convincing front end that is just a power amplifier and pair of passive loudspeakers – or indeed a pair of active ones – away from forming a complete and highly capable music system. ES
DETAILS
Product: NAD C 658
Price: £1,500
Origin: Canada/China
Type: Streaming DAC with preamp
Weight: 10kg
Dimensions: (WxHxD) 435 x 100 x 405mm
FEATURES
● 24-bit/192kHz-capable DAC
● Inputs: 2x coaxial digital; 2x optical digital; 2x stereo analogue RCAs; 1x MM phono
● Outputs: 1x stereo XLR; 1x stereo RCA
Read the full review in
October 2019 issue 454

SPONSORED VIDEO
Inside this month's issue:

Our bumper collection of the best kit to pass through the HFC test lab over the last 12 months is here to help you pick from essential turntables, speakers, amps, DACs, streamers, DAPs, headphones...
Standout tracks from our
Music Reviews
section, plus our current favourites to play in the
HFC
office.