Hegel HD30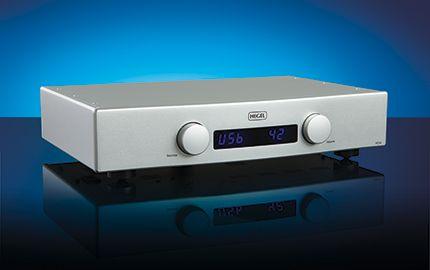 Can Hegel's new DAC emulate the light and shade of Norway's midnight sun and polar nights?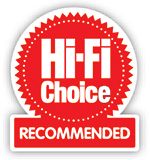 Norwegian brand Hegel has many years experience in implementing DAC technology, both within its highly regarded integrated amps and standalone digital converters. So the advent of a new 'reference DAC' has many eager to hear more. In an eraof DACs becoming smaller and more portable for a new generation of headphone users, it's refreshing to see Hegel buck this trend and produce a full-width option that unashamedly seeks to put audio quality first. The Norwegian company is a big believer in making its products convenient and simple to use, and the HD30 can be considered a veritable 'plug 'n' play' hub of digital connectivity.
With a choice of eight digital inputs, a high-quality volume control and both balanced and unbalanced analogue outputs, it's probably fairer to call this a DAC/digital preamp with streaming abilities. I connect up a Shanling CD-T100 as a reference transport via the coaxial connection as well as MacBook Pro running Audirvana+ via USB. Downloading DSD drivers from Hegel's website is easy, but it's vital to understand that there is a tiny dip switch next to the USB port that can be set in an A or B position. The former restricts playback to 24-bit/96kHz files while the B position opens up performance to enable 24-bit/192kHz and DSD64/128 files to be played. It is a little curious that such an important feature is tucked away and is a little fiddly, but once understood it is a simple enough adjustment.
Alongside the coaxial, three optical, USB, BNC and AES/EBU inputs, the HD30 also sports an Ethernet connection. Hegel prides itself on understanding the reality of how music fans store and access their music, and the HD30 is designed to get the best from AirPlay as well as function as a DLNA digital media renderer. In practice this means plugging it into your router will give you access to any music that's stored across your network and the simple ability to push music to the DAC from a smartphone or tablet with your software of choice.
Physically, the HD30 is a substantial full-width unit weighing in at 6.5kg, hinting at the mass of the dedicated toroidal transformers powering the separate digital and analogue sections within. Here the chassis is beautifully finished in silky silver, although a matt black option is also available. The front panel shares the same thick and gently curved solid aluminium fascia used across other Hegel products and a simple blue LED display is flanked by two rotary controls that select input and volume. As with other products from the manufacturer, the display only communicates the minimum of information about input selected, sample rate and volume, and in a blue that can be tricky to read in bright sunlight. I have come to appreciate Hegel's 'less is more' approach to displays and its focus on the music, not the data.
The supplied remote control is a very sturdy all-metal affair that along with all the usual operations can turn off the display altogether and even enable computer tracks to be skipped backwards and forwards. Internally, the HD30 boasts dual-mono DAC configuration in a system it calls 'SynchroDAC', meaning that left and right channels are processed by separate converters, in this case a pair of AKM4490 chips from Asahi Kasei. This doubling of DAC duties is just one example of how Hegel claims to have reduced distortion, noise, phase issues and jitter to a minimum, while in turn maximising the dynamic range and signal-to-noise ratio.
Sound quality
I kick off listening with David Bowie's Moonage Daydream exquisitely covered by Rae Morris on CD. The opening piano chord has a deep and rich resonance alongside tiny acoustic details that places a very solid, believable instrument centre stage. Rae's plaintive voice joins the piano, fully rounded with lush detail and real emotion and it's clear this DAC is something special. Some higher-end rivals feel a need to be impressive, to resolve more detail or create more bass or dredge up more finely filigreed treble, so that side by side you can hear one DAC is superior to another. After only a few bars I can already tell the HD30 is doing something impressive, but not because it's showy or driving the music home. More that it's getting well out of the way and leaving as few fingerprints on the recording as possible. This is a stripped-back rendition of this song in every respect. With just sparse vocals and piano, the noise floor is critical and I'm rewarded by being able to pick up more of the tiny nuances of the singer's intonation, breathing, piano pedals and the subtle reflected sounds of the intimate recording studio. Furthermore there is something beautifully relaxed about this DAC. Not that it is in any way laid back or soft. Far from it, detail, bass and attack are there in spades, it's more that the low perceived noise floor seems to let previously hidden and acoustically vital detail become apparent, so that the performance is presented more holistically and effortlessly. I feel able to focus wholly on the music and the communication. On lesser DACs, stripped-back tracks can sound good because they don't stretch the machine's abilities. Here the starkness of the music reveals the HD30's consummate skill.
Playing a DSD64 download of Joachim Eijlander playing JS Bach's Prelude from Cello Suite 1 in G major, the HD30's display assuredly shows the letters 'DSD' and I'm greeted with a sumptuous rendition with extra drama. It's easy to consider this a simplistic piece, but the Hegel is throwing up masses of new insight and depth. The track appears to start with a quiet but newly pronounced inward breath or bow movement that creates new suspense. Joachim's dexterity and expression is thrown into sharp relief by the transparency and dynamics of the HD30. Contrasts of light and shade seem that bit cleaner, clearer and more lucid. Notes that bounce and flow are that little bit more lyrical, while other more emphatic phrases have extra rasp with deep snarls coming from the cello. The large acoustic ambience of the recording venue seems to extend far further behind the speakers than I'm used to and I feel certain that the HD30 is helping me discern more vital micro-dynamic acoustic detail from less and less unwanted digital noise. The HD30 does the big stuff quite wonderfully, but the tiny stuff even better.
I play a lossless rip of The Other Side by Public Service Broadcasting via the network connection, controlling playback via an iPhone. Multiple layers of insistent rhythms build and build with real momentum and punch and the Hegel is digging significantly more bass quantity and quality from the recording than I expect. The archive moon landing commentary in this track, with its wonderfully atmospheric ambience is layered brilliantly over 21st century bass
riffs and brooding keyboards. The instrumentation falls away to near silence leaving the solitary voice of a tense mission controller, crackling static and a deep throbbing heartbeat, creating a brilliantly tense and emotive rendition of this thought-provoking piece. I've struggled with this track previously, but here the Hegel tells a new story that makes utter sense. And somewhat fittingly, the near silences are equally as important to the story as the deep bass and soaring keyboards.
Conclusion
At £3,200 the HD30 is a considerable investment, but Hegel can deservedly use the term reference DAC. It seems to extol the virtues of high-end technology with the art of how to apply those technologies for maximum benefit. Digital issues associated with jitter appear to be banished, but I suspect it's also some old-school attention to power supplies and refined analogue output stages that gives this product so much finesse and subtlety with the ability to play music so sweetly. The HD30 is also extremely consistent across every digital input. Often with DACs one finds a preference for one input over another, but I am struck by how even handed it is. It's even tolerant of more impoverished files from iTunes, only occasionally laying tracks bare that have a particular lack of substance. If you favour a host of digital sources, from CD players to laptops and stored files on a server, the HD30 can form the beating heart of a very refined digital system that will flatter your worst music and present your best recordings with new insights and simply effortless communication. CW
DETAILS
PRODUCT: Hegel HD30
PRICE: £3,200
ORIGIN: Norway
TYPE: DAC/digital preamp
WEIGHT: 6.5kg
DIMENSIONS (WxHxD): 430 x 100 x 310mm
FEATURES
● Dual mono 32-bit/192kHz sigma-delta DAC
● DSD64/128 playback
● Inputs: 3x optical; coaxial; USB; Ethernet; BNC; AES/EBU
● Analogue outputs: RCA; balanced XLR
DISTRIBUTOR: Hegel Music Systems
TELEPHONE: +47 22 605660
WEBSITE: hegel.com

Click here to read full review

SPONSORED VIDEO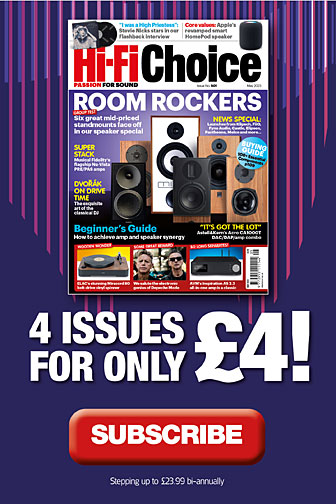 Inside this month's issue:

PMC prodigy1 standmount, Goldring E4 cartridge, Cyrus TTP Turntable, Naim Nait 50 integrated amplifier, Sennheiser Ambeo Soundbar Mini, mid-price DAC Group test and much, much more