Quad Vena II Play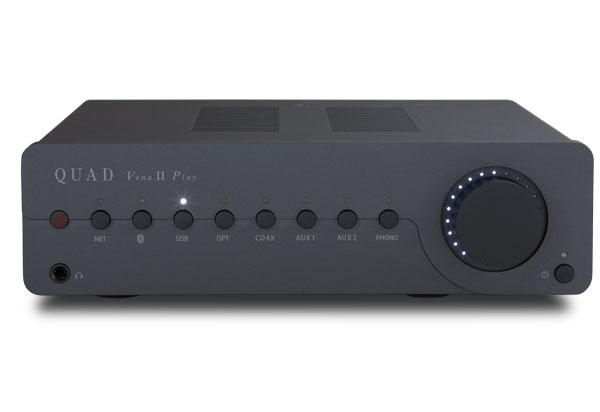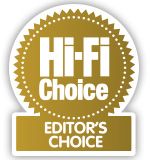 Following the Vena II integrated amplifier/DAC that received an Editor's Choice award for its updated feature set and dynamic and detailed sound when we saw it in HFC 448, it's hard not to be intrigued by the arrival of the new Vena II Play. Quad clearly feels that there is room for further improvement and so has augmented the standard Vena II with a full suite of network music streaming functionality provided by DTS Play-Fi for an additional £150.
This subtly changes the Vena II into an extremely compact and attractive smart integrated amplifier. Quad's parent company IAG is committed to the DTS streaming platform, which has also appeared on fellow brand Audiolab's 6000N Play network audio player (HFC 453) to deliver comprehensive streaming service support with the ability to network with other Play-Fi products around the home, regardless of who they are manufactured by.
What is notable is that the inclusion of Play-Fi doesn't affect the existing functionality of the Vena II as an integrated amplifier. The only physical differences between the Vena II Play and the 'basic' version is that the new model loses an optical input while the digital outputs have been completely removed. You still get single coaxial, optical and USB inputs making use of an ESS ES9018K2M DAC, while analogue connectivity runs to a pair of RCA line inputs and a moving-magnet phono stage that uses the same JFET-based design as its non-streaming sibling. There's also a 6.35mm headphone socket and RCA preamp output, which is something of more than curiosity value from a brand that makes power amplifiers or for integrating a subwoofer.
From the front, the Vena II Play has the same pleasing sense of proportion as its sibling and that classic Quad aesthetic that doesn't really look like anything else available – it's only available in the standard Lancaster grey finish. The build quality is excellent and there are some lovely touches like the volume control with its LED indicators that track the level as it's increased or decreased. The forest of wi-fi antennas that results from the Play-Fi platform in addition to the Bluetooth antenna undermines the retro look slightly, but there's an Ethernet connection should you wish to eschew the wi-fi antennas.
Another advantage that the Vena II Play possesses is that the interface is far less dependent on a control app than is often the case with many rivals. You get direct front-panel access to the various inputs and a physical remote control, which is small but usefully comprehensive. If you simply want to listen to a record or use it to boost the sound of your TV, there is no need to fire up a phone or tablet to do so, which means you're more likely to use the extra connections.
Even in the short time since I used the Play-Fi platform on the Audiolab 6000N Play, the implementation on the Quad feels a little slicker and more responsive, and proves to be entirely stable throughout the review process. Further improvements are possible via future updates.
Sound quality
Quad is naturally keen for owners to partner the Vena II Play with its S-Series speakers, but intrigued to hear how it performs with more upmarket designs, I opt instead for Spendor's £1,100 A1 standmount. Streamed from my Melco music library, from the first few bars of Jack Savoretti's Between The Minds, the Quad shows that the addition of the streaming section has not affected the virtues of the integrated's music performance. Even with the compact and sealed cabinet of the Spendor, it is immediately apparent that the bass extension is impressive. It manages to push the standmount to produce a muscular and beautifully controlled low end. The sweeping Black Rain proves to be propulsive and very compelling to listen to, possessed of the scale it needs to be truly convincing even from these relatively diminutive components.
As the decoding hardware is very similar to the Audiolab 6000N Play, it doesn't come as too much of a surprise to find that it shares many of the same positive attributes. It can take material like Jarvis Cocker's outstanding, world-weary vocal turn in Air's One Hell Of A Party streamed from Qobuz and effortlessly find the emotional connection within. The manner in which the ESS DAC is implemented sees it deliver on all of the standard virtues we've come to expect from the design – superb detail retrieval and a wonderful sense of soundstage space to name just two – but there's also a sense of warmth and tonal sweetness to the presentation that adds a human quality to the sound. It's usefully forgiving of compressed streams too and manages to make internet radio sound pretty appealing provided you don't drop the bit-rate too far.
Crucially, DTS Play-Fi feels good enough as an interface to make you want to explore the Quad's performance and can comfortably hold its own via the spread of available streaming services. In a perfect world, the inclusion of AirPlay or Chromecast would be a welcome final addition, but the Bluetooth connection is good enough to handle most of these requirements.
Unsurprisingly, the Vena II Play's performance elsewhere is pretty much indistinguishable from the standard version. I cannot think of many playback source combinations that will exhaust the connectivity on offer here, and the Play should be able to accommodate a fair degree of 'stretch' with sources purchased further down the line. The built-in headphone amplifier is particularly accomplished and delivers an excellent listening experience with Audio-Technica's ATH-A2000Z headphone (HFC 412). By contrast, the moving-magnet phono stage has to content itself with being pretty good rather than truly great, but I'd still say that it's more than up to the job of giving life to turntables in the £300 to £500 price range.
Conclusion
The Vena II Play successfully blurs the boundary between integrated amps and all-in-one systems to the point where people looking for either could happily buy it and be delighted with their purchase. In its compact and charmingly nostalgic chassis it packs enough connectivity and performance to ensure that very few devices at a similar price can match it. Crucially, the improvements that have been made to the DTS Play-Fi streaming platform are enough to ensure that Quad's outstanding integrated baby has gone and got even better with greater flexibility to boot. ES
DETAILS
Product: Quad Vena II Play
Price: £800
Origin: UK
Type: Integrated amplifier/DAC/streamer
Weight: 4.7kg
Dimensions: (WxHxD) 313 x 94 x 302mm
FEATURES
● Quoted power output: 2x 45W (8ohm)
● 32-bit/384kHz and DSD256-capable DAC
● Digital inputs: 1x optical; 1x coaxial; 1x USB-B; 1x Ethernet; aptX Bluetooth; wi-fi
● Analogue inputs: 2x RCAs; 1x MM phono stage
Read the full review in
January 2020 issue 457

SPONSORED VIDEO
Inside this month's issue:

Our bumper collection of the best kit to pass through the HFC test lab over the last 12 months is here to help you pick from essential turntables, speakers, amps, DACs, streamers, DAPs, headphones...
Standout tracks from our
Music Reviews
section, plus our current favourites to play in the
HFC
office.